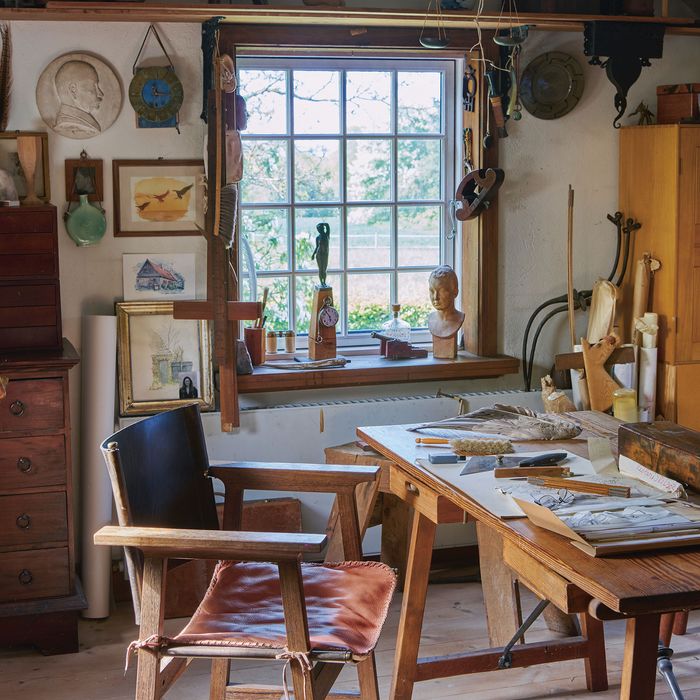 Jens Quistgaard's home and studio, Strandgaarden, Denmark, May 2021
Photo: Morten Rasmussen
If you own a piece of tableware produced by Dansk, flip it over. There's a high probability that, below the logo, there's a small monogram reading "IHQ." That's designer Jens Harald Quistgaard — for decades, the most productive (though not the only) maker of Dansk's accessible Scandinavian tableware and home furnishings. Starting with the "Fjord" cutlery pattern in 1953, his work was a major part of bringing European-style modernism into upscale American homes, and it has never really looked dated or gone out of style. (Food52, which bought Dansk in 2021, can barely keep its reissues in stock.) Curiously, Quistgaard as a brand of his own has stayed a little under the radar over the years — you don't often hear his name mentioned alongside Eero Saarinen's or Grete Jalk's — and Stig Guldberg's new book, Jens Quistgaard: The Sculpting Designer, aims to bring him out from under the corporate shadow.
Although Quistgaard designed mostly tableware and similar small objects, he did a couple of interiors — notably the shiplike home of Dansk's founders in Armonk, New York, as well as his own house. In this excerpt from the new book, Guldberg describes visiting the latter space for the first time.
A Visit to Strandgaarden
One day he phoned to invite me to dinner at his home. He wanted me to meet his wife, Lisbeth, and see some of the things he was working on; other than that, we would just "blather, brag, and drink red wine." I clearly remember the last part of the drive through the south Zealand landscape, the hills and the winding roads, before I — full of anticipation — swung up the drive to Strandgaarden, an old farmhouse that formed a quadrangle, which he had converted and renovated himself many years back. Dressed in a white khaki suit and wearing a wide-brimmed hat, Quistgaard stood in the portal to greet me with a big smile. With his beard and long cane, he could have stepped right out of a painting by one of the 19th-century Skagen painters.
It would be an unforgettable visit.
In an ebullient mood, Quistgaard showed me into the parlor, a tall-ceilinged room with a roaring fire in the large open fireplace, where we would have dinner. The room was decorated with antique furniture and paintings; heirlooms combined and contrasted with designs and furniture from Quistgaard's own hand. Hunting trophies adorned the walls, and, on open shelves and in cupboards, antique jars stood side by side with bronzes created by his father, the sculptor Harald Quistgaard (1887–1979). A large glass display case was full of curiosities Quistgaard had picked up on his travels around the world, testimony to his curiosity and cosmopolitan openness: Etruscan ceramics, Japanese teapots, antique glasses, porcelain figurines, and much more. Some of his own favorite designs were featured too: a beautiful teapot in sterling silver, rustic cast-iron candleholders, large bowls and trays in exotic wood types, and a couple of his distinctive easy chairs in Brazilian rosewood with a chromed steel frame.
The interior took me by surprise. It seemed grander and more aristocratic than I had imagined, but the refined atmosphere was counterpointed by Quistgaard himself, who filled the room with unpretentious warmth and laughter. It was obvious that this was an artist's home, a warm and unassuming setting for life. Case in point, to get to the beautifully laid-out dining table, one first had to stride over the vacuum cleaner, which had been parked absent-mindedly in the middle of the room.
While Quistgaard eagerly showed me around, regaling me with stories, I was struck by his charisma, his engaging warmth, and his humor. His gaze, when he looked at me, was attentive and focused. He told me the stories of the many objects in the room with great enthusiasm: "This is my game bag; I inherited it from my grandfather. The lion above the door is one that my dad made in plaster when I was a boy. And that piece in the cabinet over there, that's a genuine Etruscan ceramic, a real passion of mine." His family obviously played a pivotal role in his life, with a grandfather who had been a landed proprietor and a father who was a sculptor. I was also struck by his almost encyclopedic knowledge. Not book learning but insights clearly based on firsthand observations and experiences.
Whether the conversation turned to Roman architecture, botany, salmon fishing, Chinese characters, or whatever, Quistgaard was seemingly on home ground and was able to add a firsthand experience or a new perspective. It was all very interesting, of course, but also a bit one-sided as the evening wore on. At some point in the evening, I thought I might try to turn the tables and casually brought up the nightingale, a topic where I felt convinced I could hold my own and thought I might even the score a little. As I would soon discover, it was a fool's errand, for of course Quistgaard knew the nightingale like the back of his hand and immediately began to demonstrate the little bird's repertoire of warbles and growling. When the topic turned to the disproportionate relationship between the size of the bird and the volume of its song, which can reach almost painful levels, he mused, "Imagine if it were the size of a cow — they would be able to hear it in Rome!"
Adapted from Jens Quistgaard: The Sculpting Designer, by Stig Guldberg. Phaidon, $89.95 US/$115.00 CAN, 2023.