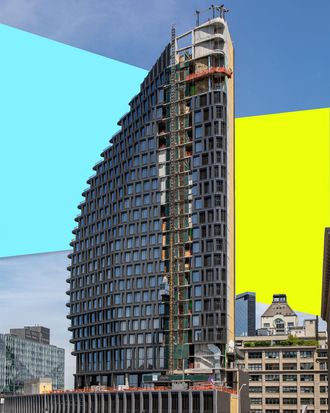 Photo-Illustration: Curbed; Photo: Jani-Markus Häsä/Alamy Stock Photo
The neighbors have nicknames for Olympia. "The ocean liner," "the villain's lair," "the Miami mansion," and, most to the point, "the eyesore." The sail-shaped, charcoal-colored 26-story condo tower sticks out from Dumbo's blocky warehouses like a thumb, curving perfectly to cut off a once-cherished view of the Manhattan Bridge from the northern tip of Henry Street in Brooklyn Heights. It looks a little like all of those things — an ocean liner, a villain's lair, a Miami mansion. But what it most looks like is an advertisement for — well, itself.
The building was designed very intentionally to attract eyes. Kids being dragged down the pedestrian path of the Brooklyn Bridge can easily spot the giant pirate-ship-themed play structure on its wide outdoor balcony. And parents in the front seat can stare at its massive outdoor pool and sprawling tennis court. Then there are the wide terraces, which crawl up the southwestern corner of the triangle-shaped building, arrayed like opera boxes high above the fray with VIP views of the harbor. Interested buyers who are inclined to look into the building further will find out that inside, there is a basement bowling alley, a gym, a juice bar, a sauna, play areas (indoor, outdoor), and towel service.
All of this is expensive. Which is also part of the appeal — this is a building for people who want people to know they've spent a lot of money. There are already a lot of conspicuously expensive luxury buildings in the borough, like Quay Tower nearby in Brooklyn Heights or 1 Boerum Place, but the price per square foot at Olympia has beaten their old records. Apartments start at $1.8 million for a 795-square-feet one-bedroom, about $700,000 more than similar listings at a luxury condo a block away or an old-school converted warehouse next door. But it's working. The building has sold 36 percent of its 76 units since going on the market in October 2021, according to data analyzed by UrbanDigs. (A respectable figure, according to appraiser Jonathan Miller, who says that new developments generally take between two and three years to sell out.) 22 apartments priced at the luxury range, between $4.3 million and $12.9 million, have sold. And in January, its penthouse sold for $17.5 million, setting a boroughwide record for price per square foot for a new development.
The triangle of land where Olympia now rises was once a parking lot and the last slice of prime Brooklyn waterfront sold by the Jehovah's Witnesses, which put it on the market in 2017, advertising 250,000 square feet of buildable space. The place was a developer's dream: It sat outside Dumbo's historic district and hadn't been rezoned since 1961, allowing for dense residential. Plus a developer could go even denser if it planned the building with a "community use." And when Fortis bought the land in 2018, for $91 million, later securing a $163 million construction loan, according to TheRealDeal, it planned for that — telling neighbors in 2019 that 100,000 square feet would go toward a charter school. The Planning Department says Fortis designed the community-use space for a nonprofit hospital and related facilities.
The meeting about the charter school was the only community outreach that the developer did, remembers Mallory Kasdan, a co-founder of the Dumbo Action Committee, who sat in on the meeting. According to Stephen Levin, the councilmember for the area at the time, the developer didn't even have to go through a land-use-review process.
So what went up on the corner of Front and York was entirely the vision of Fortis, the developer, and its architect, Hill West. Architect Stephen Hill of Hill West says Olympia was designed to echo the neighborhood in subtle ways. Take the building's concrete base, textured with deep vertical stripes, a pattern that Hill says "came from the bridge most importantly but also from the buildings of Dumbo and industrial timber buildings of the past." Inside, the lobby features stones meant to mimic Dumbo's cobblestones, and cabinetry by Workstead was "informed by Dumbo's industrial past," said a spokesman for the design firm. "However, we were very cautious to stay away from any stereotypical 'nautical' design references. One word that came to mind was oceanic — It evokes something much deeper and rooted." Then there are the sculptural concrete gates outside, which Hill says were designed to evoke Brooklyn's "piers."
Only those gates actually function to separate the building from Dumbo. The concrete columns form a porte cochere, where owners drive through to a basement garage (spaces are $200,000) and take an elevator straight to their floors, avoiding the neighborhood entirely. (The two penthouse units have an extra perk: private garage entrances.) To Hill, the columns create a "decompression space." "We wanted to create this transition where that demarcates that your home starts here and you drive through those arches." But one neighbor joked to me that he calls the sculptural concrete gate a "poor wall" designed "to keep the poor people out." In a similar way, Olympia's pirate-ship playground at the bridge level seems like an attempt to play on the aesthetics of the neighborhood that rejects what's actually there. The pirate ship may be whimsically nautical, but the closest public playground, three blocks away, also features a pirate ship with three faux masts and sails, making Olympia's seem like the — well, much better version. The one the public doesn't have access to.
People in the neighborhood are tired of all the new construction. Over the past few years, the mega-size, 408-unit condo Front & York arrived, as did the 165-unit condo at 98 Front Street and the 225-unit condo at 69 Adams Street, which is going up now. "There's so many new buildings it's just one more icon of extravagance," said Richard Mauro, who has lived in the area for 50 years and considers himself its unofficial historian. But still: The sheer price of Olympia has been a shock. "It's ridiculous. The cost of it, the cost per square foot. The notion that this neighborhood has now arrived because this lofty thing for very, very wealthy people has been planted," said David Levy, a 66-year-old copywriter who lives next door at 70 Washington St., where some units that long had a view of the bridge found themselves looking at Olympia's back well or cleaning up its mess (concrete fell on one resident's patio).
Agents in the neighborhood were hopeful that at least Olympia's arrival might have a cumulative effect on the neighborhood — that it would pull blue-chip buyers out of Manhattan. "A lot of property owners were anticipating that because of the super-high price points" — the average sale price for a condo in Dumbo in the last quarter of 2022 was $1.9 million, where Olympia's prices start, while the average sale per square foot in the neighborhood is about $1,444 per square foot, according to data from the appraisal firm Miller Samuel Inc., compared to Olympia's $4,102 per square foot for the penthouse — "that would translate into sales being lifted overall in the neighborhood," said Charlie Homet, a Compass agent who lives down the street and tracks sales through a local newsletter. But Homet found that the buyers who toured Olympia weren't all that interested in Dumbo. "They aren't stopping at Olympia and moving on and looking somewhere else," he says. "The buyers there are Olympia-focused."
But mostly the feeling seems to be that that building is just — a little much. "It's not grandma's apartment," said Gerard Splendore, a Coldwell Banker Warburg agent who's lived and worked in the area since the 1980s. "It's for people who want to show their wealth and have evidence they made it." (One couple, on a recent tour, said they were looking to "start a family and 'upgrade'" from the Edge, a glassy high-rise perched farther up the East River in Williamsburg.) Still, to Splendore, those buyers are showcasing their bad taste. "It looks like a cruise ship that has 10,000 passengers on it, which to me is a lot of people's idea of just living hell." "There's something about it that's trying too hard to be futuristic, when meanwhile it's literally positioned next to one of the greatest landmarks in all of the United States," said Spencer Bailey, an architecture critic who watched it go up from his home nearby. "To think of all the beautiful buildings that could have been built next to the Brooklyn Bridge — it pains me."