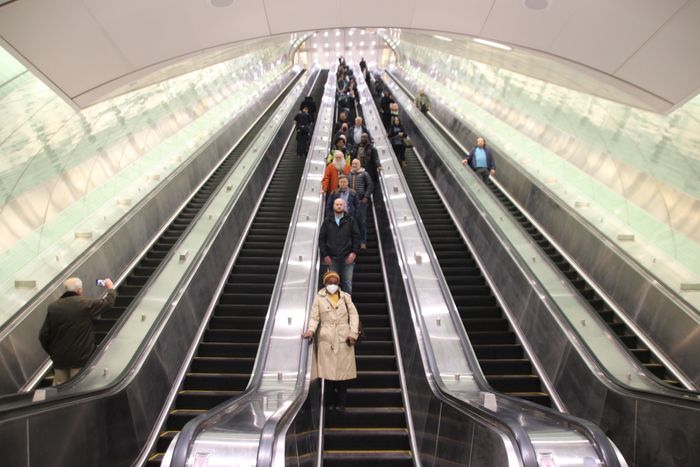 Photo: Christina Horsten/picture alliance via Getty Images/dpa/picture alliance via Getty I
It seems like the city is embroiled in one controversy over benches after another: Amtrak passengers have long complained that shiny new Moynihan Station has no options but to sprawl out on the floor, the MTA openly admitted that it was removing subway benches to prevent homeless people from sleeping on them and ignited an internet firestorm, and "leaning bars" — an uncomfortable substitute for seating — are still being offered instead of a real place to sit down. The latest installment of this saga takes place in Grand Central Madison, the $11 billion LIRR terminal that opened in January. This week, MTA officials are voting on new rules of conduct for the station that include a 90-minute time limit per person per calendar day for its benches.
According to the MTA, the policy isn't technically a new one: "This is an existing rule for Grand Central Terminal that was adopted for the Grand Central Madison Rules of Conduct to ensure there is one set of rules for one building," MTA spokesperson Michael Cortez said in a statement. "A customer should not have to wait more than 90 minutes to catch their train, barring a significant service disruption." And if there are significant system delays, the MTA suspends the time limit.
The rule, like all anti-loitering rules, is likely to be selectively enforced to target homeless people. The Grand Central Madison rules also include other classics like a ban on lying down on the floor or across more than one seat. All this over just 29 seats tucked in a grim-looking corner by a ticketing counter. No more are planned. Yes, the rule is a problem. It's also a shortsighted "solution" that worsens an even bigger issue: The city's war on seating affects everyone who might want a seat while getting around on transit, and that means, potentially, everyone.