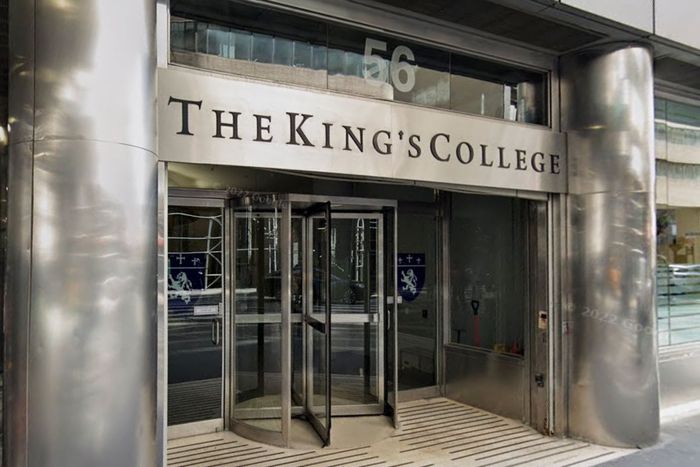 Students at the King's College, a small Christian school in Manhattan, are getting eviction notices slipped under their doors. As the Brooklyn Paper reported, the college is apparently in financial trouble and hasn't paid the rent on some student housing, which in this case are apartments in the Azure, the Downtown Brooklyn luxury high-rise where two-bedrooms go for about $4,500 a month.
King's College rents around 30 two-bedroom units in the building, each of which houses four students for a per-semester fee of $7,200 in room charges. The eviction notices started arriving in February, with most citing $9,000 to $10,000 in owed back rent, according to the student paper Empire State Tribune. Building management told the Brooklyn Paper that their calls to the college have been ignored.
The college, which was once infamously led by Dinesh D'Souza, announced earlier this year that it was in danger of closing and needed to raise $2.6 million to meet its "immediate needs." But the first real sign that something was off, at least according to students, was when the school announced it would no longer be offering free Chick-fil-A at its weekly Scripture reading. "God's chicken is no more," the dean of students told students, according to the Tribune. "That's kind of when everybody went, 'Oh, no, this is real. This is really real,'" a student told Inside Higher Ed. (An anonymous donor reinstated the free chicken after four weeks.)
The luxury housing is part of the draw for some students, but their presence has long caused friction for the other residents, who complained to the New York Post in 2019 about students running around in pajamas and taking over the gym. (Students were issued a "no-pj's" rule by the college, ostensibly to try to ease the tension.) One King's College student claimed that it was actually students from another college who "smoke pot and party loud" who were causing the problem, and that she had even called 311 on them.
King's College received a $2 million loan to get it through the spring semester, but the Tribune reports that this still won't cover the overdue rent. Meanwhile, the college has assured students that strong tenant protections in New York City will help keep them in their pseudo-dorms while the college figures out how to make payments. But it may be cold comfort to the student body: One student told the Brooklyn Paper that "to screw over our landlords" goes against the school's Christian message.