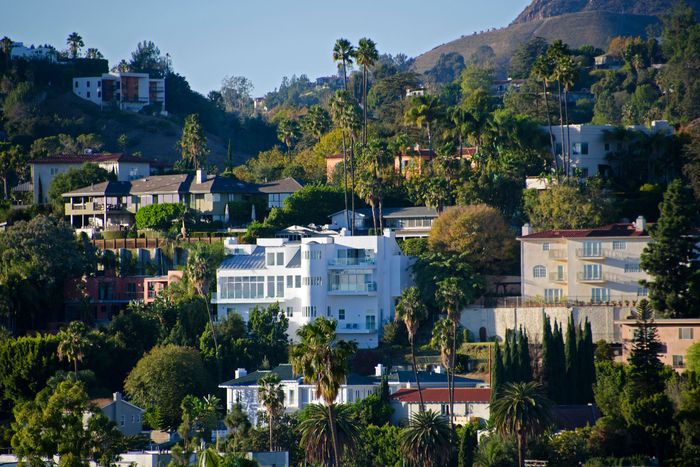 Photo: Mitch Diamond/Getty Images
A new real-estate transfer tax is set to kick in across Los Angeles on April 1, and the city's high-rolling realtors are apparently using the deadline to juice sales. As The Hollywood Reporter first reported, one listing for a $27 million megamansion that spills down a Bel Air hillside promises a $1 million bonus to the "broker who brings a successful buyer who closes escrow before April 1, 2023."
Measure ULA — also known as the "mansion tax" — was passed by L.A. voters in November to establish the city's first dedicated stream of affordable-housing revenue, funding both the development of public housing and tenant-protection programs. The measure adds a 4 percent tax to sales over $5 million and 5.5 percent to sales over $10 million, and it's estimated to bring in approximately $900 million each year to help combat the housing crisis. Sales over $5 million account for less than 3 percent of single-family home and condo transactions in the city annually, but the people in the business of buying and selling those mansions still campaigned bitterly against ULA, and immediately filed a lawsuit trying to overturn it once it passed. ("We are not philosophically against wealth taxes," Jason Oppenheim of the Oppenheim Group and Selling Sunset warned his clients in an email blast leading up to the vote, "but this initiative was not thought out by rational businesspeople, and it defies common sense and basic logic.") Now that it's about to take effect they've pivoted to exploiting various loopholes in the city's tax code, and cartoon-villain gimmicks like pretending their well-heeled clients are getting a discount.
The biggest fire sale — probably not the best term to use in these highly flammable hills — is a 260-acre parcel of land in Bel Air that slashed its price from $125 million to $60 million and then was put up at auction with a $39 million starting bid. The listing notes a "potential $2 million discount if purchaser closes by March 31, 2023." That price was so low for the area that the city was looking at buying the parcel to preserve it as open space, which is what should actually be happening in these hills instead of encouraging more residential development in the most wildfire-prone parts of the city.
While realtors are fretting that sales over $5 million will freeze after April 1, the tax is unlikely to upend L.A.'s mansion market, according to Shane Phillips, a housing-policy analyst at UCLA's Lewis Center for Regional Policy Studies, who co-authored a report on ULA's potential impacts. "I don't find it surprising or concerning," he said of the stunts. "Policy and tax changes always change people's behavior to some extent." The impact from these beat-the-clock sales will be small relative to the revenues from the tax itself, which, unfortunately for the Selling Sunset crowd, has no end date.