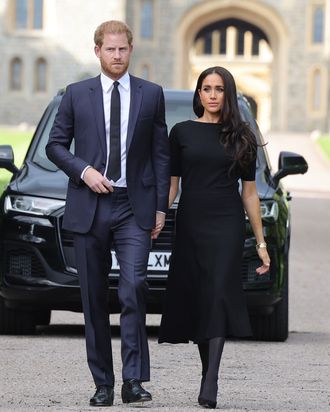 Photo: Chris Jackson/Getty Images
Prince Harry and Meghan Markle can no longer live in a house they don't live in. As The Sun reports, King Charles III has apparently booted the couple from Frogmore Cottage, their five-bedroom Windsor home. The reason: Harry's tell-all memoir, Spare, which includes a number of unflattering allegations against his family and at least one quote from BrainyQuote.com.
As one "insider" told The Sun, "This eviction surely spells the end of Harry and Meghan's time in the UK." The cottage was gifted to them by Queen Elizabeth II as a wedding present in 2018 and has now been given to Prince Andrew, who is disgraced and apparently doesn't even want it because it has 25 fewer bedrooms than his current home. The royal couple, who are now Frogless, are reportedly shipping their stuff from the cottage to their smelly estate in Montecito, California.