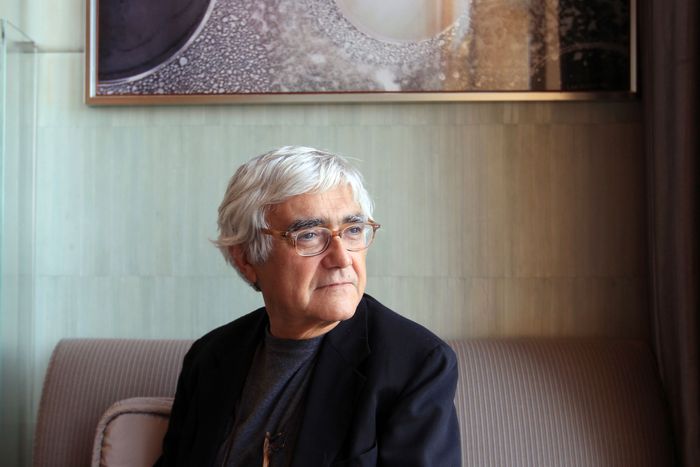 Architect Rafael Viñoly, who died on March 2, 2023.
Photo: Jonathan Wong/South China Morning Post via Getty Images
The glasses suspended from a lanyard. The salt-and-pepper Beatles mop. The penchant for layering gray and black. Rafael Viñoly cut more or less the perfect figure of the New York City architect — serious-minded but amiable with an indulgent smile that could give way to a cool, impassive stare. He may have been born in Montevideo, Uruguay, and spent the earliest years of his career in Argentina, but his assumption of the role as a New York designer appears to have been total — the proof of his commitment to the "relatively small, rocky island," as he once called it, "with this urban experiment, which is so unique and irreproducible."
What Viñoly — who died on Thursday of an aneurysm at the age of 78 — left scattered across that island and its adjacent territories is pretty astonishing. Since emigrating to the U.S. in the late 1970s, the designer's eponymous firm completed no less than a dozen major projects in all five boroughs: from courthouses in the Bronx (two of them) to a performance venue in Manhattan (the interiors for Jazz at Lincoln Center) and academic buildings in Harlem, Brooklyn, and beyond. Viñoly has been as active in the city as just about any marquee-name architect of his day — at least when it came to big, institutional projects. But his biggest project in town, and the one for which he's most likely to be remembered, isn't one of the crunchy civic ones at all. It's the Midtown condo supertall at 432 Park Avenue — among the first supertalls to make the scene on Billionaires' Row and still, perhaps, the most polarizing.
Anyone so frantically prolific was bound to run into the clothesline of public opinion at some point. But Viñoly did not, it often seemed, make much effort to duck it. Infamously, both his 20 Fenchurch Street tower in London from 2014 (known, not quite affectionately, as the Walkie Talkie) and his Vdara resort complex in Las Vegas from 2009 (not known as much of anything) were discovered on completion to have a magnifying glass–like effect — their glazed façades concentrating and reflecting sunlight with sufficient intensity to zap the odd parked car. One such project may be regarded as a misfortune, but two starts to look like carelessness, and the recent fate of Viñoly's 2007 Bronx County Hall of Justice — with windows known to crumble of their own accord — suggests a designer whose attraction to ideas like transparency and simplicity trumped other, more quotidian considerations. "We bought a Maserati and got a Volkswagen," said one unhappy court official. "Not even a new one."
But looking at the city and at Viñoly's tenure here, the arc of his career points to something far larger than a few seasick rich folks swaying high above 57th Street. It points to something larger even than the 1,396-foot-tall tower itself — though, again, it's fair to ask what kind of reception the architect thought he would receive when he came up with a solution of such one-note simplicity for something so big — unless he counted on it to eventually assume a quiet dignity as others cropped up around it (which, arguably, it kind of has). No, what makes Viñoly's trajectory, and his passing, so poignant is the way it begins to put a capstone on a certain period of New York history and of the architecture world as it existed here in the last four decades.
When Viñoly arrived on these shores, he left behind a thriving career in Buenos Aires, and a productive yet tense relationship with the ruling junta there (still another contentious point, which the architect never resolved). Whatever the precise reasons for his departure, he found in Manhattan exactly what he and dozens of other aspiring designers did in those days: a place full of people who believed that architecture mattered, that the profession was a liberating force, a field of intellectual combat and artistic expression that could touch ordinary people, change the city, and change the world. Through the '80s and '90s, a clutch of emerging New York designers — Elizabeth Diller and Ricardo Scofidio, Tod Williams and Billie Tsien, Daniel Libeskind, Bernard Tschumi, a dozen others — existed in a shared ecosystem supported by the same institutional networks (the Architectural League, MoMA, the waitstaff at the Jones Café) until they at last began to build, graduating to become the global figure so many of them now are. And Viñoly was one of them.
That his designs were so sober, so formally restrained compared to those of many of his peers, only made Viñoly appear that much more earnest in his commitment to making a more beautiful, more functional New York. His first project in the city, a 1994 athletics facility for Lehman College in the Bronx, is plenty expressive up front (a nautiluslike curl of steel and glass), but what caught the eye of the New York Times's Herbert Muschamp was its blank, unadorned rear — a portent (as the critic saw it) of its creators' seriousness. "It's a relief that Vinoly doesn't try to make these walls interesting," Muschamp wrote. "Their uncompromising intelligence is clear enough."
In plenty of later projects around town, Viñoly manifested the same poise. His Spitzer School of Architecture at City College, for example, is nearly perfect (crisp and modest and clear) — as is his work on the campus of the Rockefeller University with its main laboratory suspended delicately over FDR Drive. The question is this: Can we still respond to this kind of work the way Muschamp did? Do we believe in the narrative of disciplinary goodness and purpose that lies behind it?
Viñoly certainly did. As did the other architects of his milieu. And their crowning moment was his in particular: the competition for the new World Trade Center. Although Libeskind would go on to secure the commission, it was Viñoly who originally won, thanks to a stunning proposal for a pair of open lattice-work towers that could be filled in as time went on. As remarkable as the scheme still appears, it is hard to see it now without seeing in it the germ of 432 Park — hard, in other words, to see past the accumulation of controversies, compromises, and dollars to the conviction that motivated a certain generation of local designers. The New York architect as we knew them is beginning to pass from the scene. A lot is going with them.