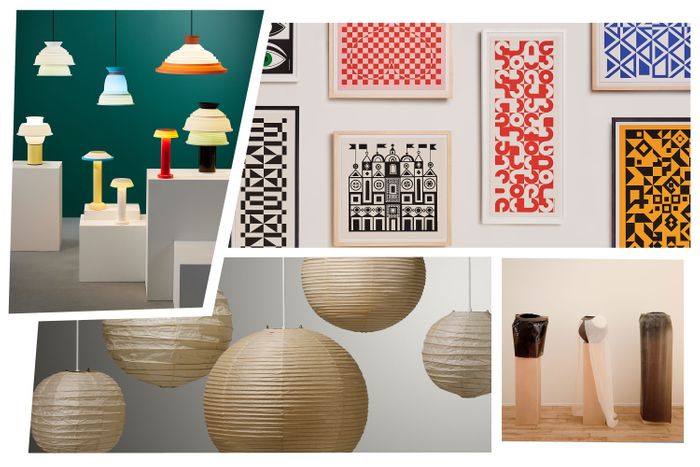 Photo: Courtesy MoMA Design Store, Herman Miller, Rago/Wright, Willian Jess Laird
The objects, designers, news, and events worth knowing about.
The Korean artist Kwangho Lee runs his studio a little like a research lab, where he applies traditional craft techniques to industrial materials. The results are surprisingly elegant: He's woven chunky chairs and sofas from extension cords and electrical wire using a knitting technique borrowed from jewelry-making; adorned copper tables with brightly colored enamel using a traditional Korean method called chilbo; and welded benches from sheets of brushed aluminum. Lee was inspired by his grandparents, who crafted household items from the materials they found on their farm, and he's making that family tradition his own by working with industrially produced goods. These works are on view in "Infinite Expansion" at Salon 94 Design, his first solo exhibition in the United States. The name is a reference to the repetitive, almost obsessive methods Lee uses to make the modular systems that form his work, from the stitches in his woven works to the four-by-four squares that comprise his metal furniture. It's a pleasure to experience his many variations on a theme in a single space, including a permanent installation of a knotted sculpture in the gallery elevator. Through April 1.
Mid-century designer Alexander Girard's folk-inspired printed fabrics for Herman Miller added jolts of color and energy into office interiors. His patterns were so popular that in 1972, the furniture company released dozens of Girard-designed "Environmental Enrichment Panels" (a rather wordy phrase for something hung most often on cubicle walls). The panels featured tessellated shapes, abstract figurative drawings, and his famous love symbol. Herman Miller has revived eight of these motifs as silk-screened prints on cotton paper, available framed (from $525) or unframed (from $195). store.hermanmiller.com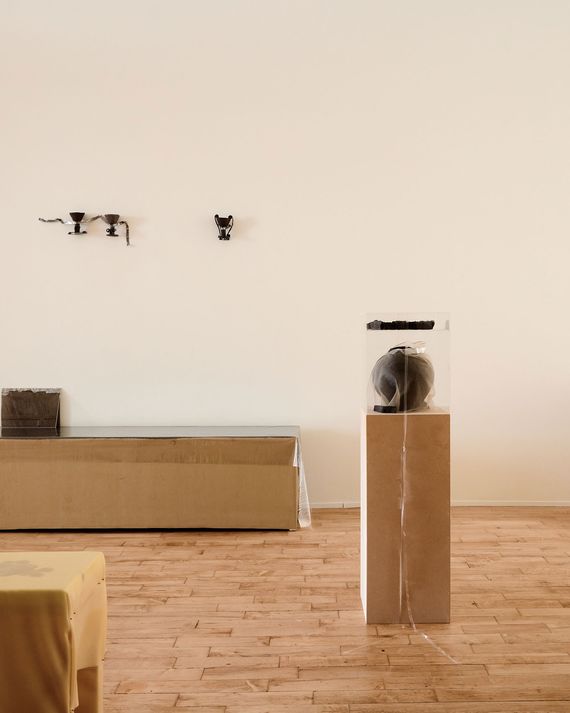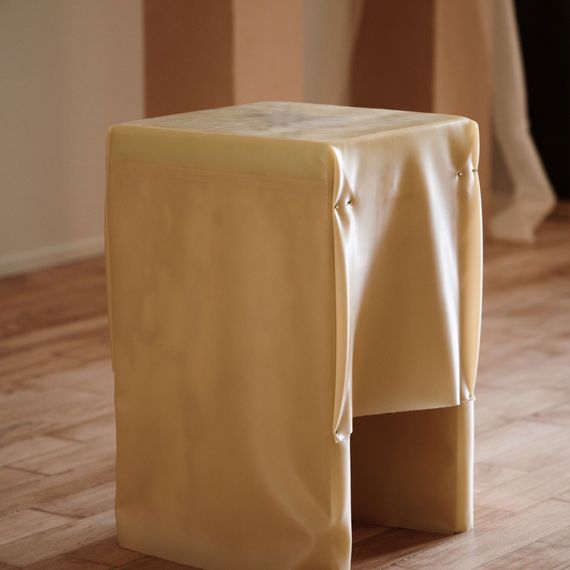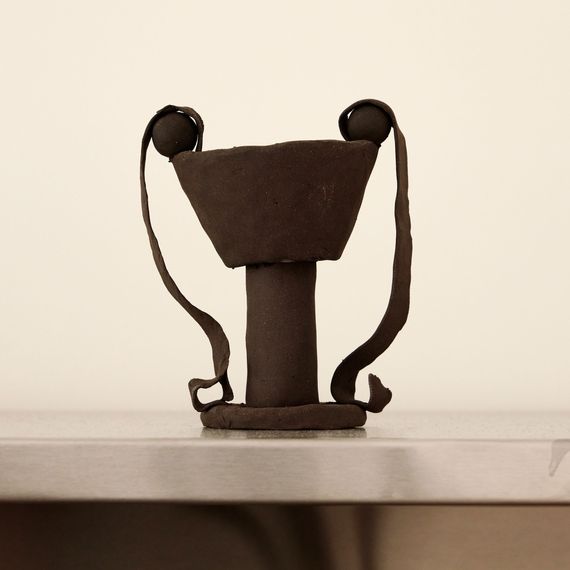 The Paris-based artist Beatrice Bonino recently decided to take a break from academia (she completed her Ph.D. in Sanskrit in December) and from her professional life as a set designer and curator in order to focus on her artistic practice and find some refuge from a challenging time in her life. The furniture and objects she's made over the past few months are now on view in "If I Did, I Did, I Die," her debut solo exhibition at the Jacqueline Sullivan Gallery. In the show, the sculptural pieces layer and join materials in unexpected combinations: a wall hanging woven from thick steel wool; rough, hand-built clay vessels dressed with delicate silk ribbons and bows; and wood stools enveloped in slick latex that's either snugly nailed down or loosely draped on small lingerie hooks. "Latex by nature is something that's really slippery, that doesn't like to stay in place," Bonino explains. This tension between the materials and the forms she has made with them runs throughout the exhibition: As Bonino says, "It's all about the binding, the securing of these things that inherently want to change." Through April 15.
Heading Upstairs at Public Records
Since it opened in 2019, Public Records has become a recreation center for Gowanus, as Vulture called it, growing to encompass a bookstore, listening bar, vegan café, patio, and music venue. Shane Davis, Public Records' co-founder and creative director, conceived of the space as the kind of "creative hub" that he and his friends would want to hang out in but couldn't find elsewhere. He and his cofounder Francis Harris have taken the same approach to Upstairs, a new lounge within the complex that's designed to look like a minimalist living room, with sleek white banquettes, glass-and-chrome cocktail tables, sculptural foam stools, custom plywood lounge chairs, and massive Ojas speakers. The vibe feels more like you're at a friend of a friend's swanky party than in a lounge. 233 Butler. Open Fridays and Saturdays.
On March 30, Wright is auctioning off more than 50 early and rare Akari light sculptures by Isamu Noguchi. Even if you can't afford to buy one (the lowest starting bid is $1,600), the collection is well worth exploring, either online or in a preview of the lots that will be on view at the High Line Nine through March 29. In his Akari line, Noguchi experimented with different shapes, from horn-shaped floor lamps to hourglass pendants, but the point of the series was not to experiment with form, as historian Glenn Adamson writes in an essay accompanying the auction, but to revive a Japanese industry that was devastated by WWII and to integrate sculpture with daily life. It was a successful endeavor and established a model of a contemporary designer working respectfully to modernize traditional industries so that they may endure. The "Taking Shape" collection in the auction, curated by collector Adam Edelsberg, includes a number of playful pieces, like a pair of pendants that look like upside down jellyfish and a table lamp that riffs on the sun and moon with its cast-iron base and white shade. Exhibition open through March 29. Auction on March 30.
A New Lighting Collection from Memphis Designer George Sowden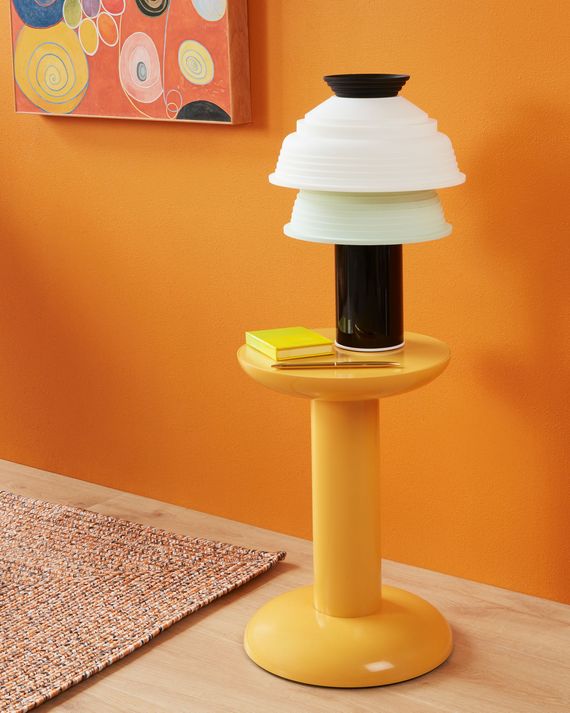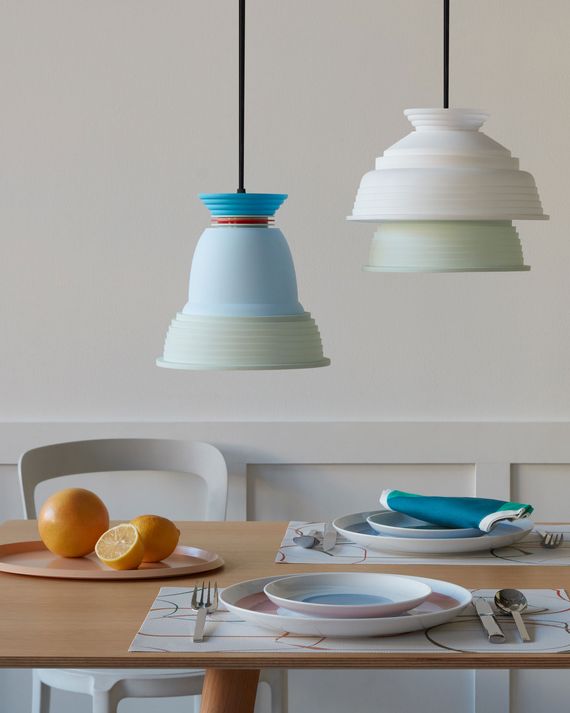 While the Memphis movement itself was short-lived — as a collective, the Memphis Group lasted from 1980 to 1987 — its artists never stopped thumbing their noses at the idea of "good taste" and continued to design audacious, vibrant objects long after 1987. The most recent revival of Memphis, which began nearly ten years ago, has brought newfound popularity to some of the lesser-known, original designers, including George Sowden, who's now in his 80s. Last year, he debuted a new series of lamps at the Milan Furniture Fair that are finally for sale in the U.S. at the MoMA Design Store. The geometric, color-blocked lamps are illuminated by LEDs, have silicone shades that gently diffuse the light, and feature touch controls. From $149 for a pendant to $499 for a floor lamp at store.moma.org.
TestBeds in MoMA's "New York, New Publics" Exhibition and in Edgemere
One of the mantras of designing in a densely packed 400-year-old city like New York, where they are no blank slates, is "work with what you have." Architects call it "adaptive reuse," and it's the focus of MoMA's "New York, New Publics" exhibition (which New York's architecture critic Justin Davidson reviewed last month). It includes designs for renovating New York City's public housing, the transformation of Long Island City's industrial waterfront into a park, and AR monuments that spotlight BIPOC history installed in places like Columbus Circle. One of the more eccentric projects is TestBeds, by the emerging architecture firm New Affiliates and Sam Stewart-Halevy. The studio had noticed that developers often discard the full-scale mock-ups of building façades they create to test how they'll look and how they'll perform against rain, snow, and wind, leading to a construction waste problem. Since 2018, it has been researching how these test structures could be turned into greenhouses, tool sheds, and gathering spaces. Ideas like this often stay on paper, but the architects, working with NYC Parks, installed the first TestBed at Garden by the Bay, in Edgemere, last year. It included a classroom and greenhouse plus a covered outdoor area that will protect gardeners when it rains. The total cost was $70,000, paid for through grants and private donations.