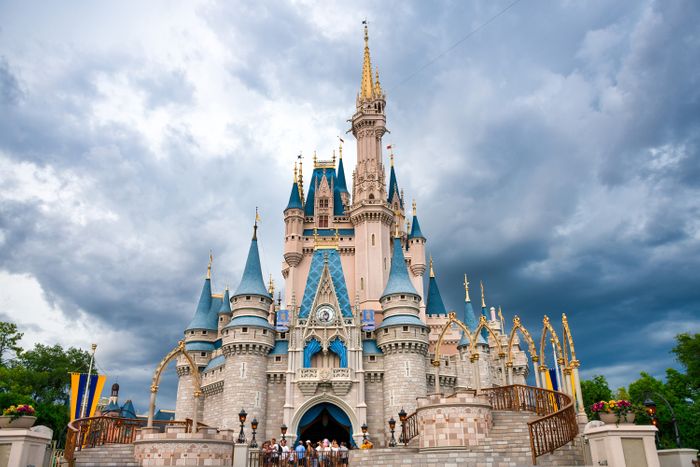 Photo: Roberto Machado Noa/LightRocket via Getty Images
The plot has thickened in Ron DeSantis's war against Disney. As reported this week by the Orlando Sentinel, weeks before the Florida governor stripped Disney of its decades-long ability to self-govern a special tax district, the previous Disney-aligned board of supervisors had granted the company sweeping powers in the district "in effect until twenty one (21) years after the death of the last survivor of the descendants of King Charles III, King of England." Which, unless the entirety of the British monarchy spontaneously kicks all at once, effectively keeps Disney in control of the former Reedy Creek Improvement District.
The "declaration of restrictive covenants" passed by the former Reedy Creek board is designed to maintain Disney's control over virtually everything regarding development in the district, including zoning, density, building heights, and development rights, as well as the corporation's existing power to sign off on exterior changes to other properties so they don't stray too far from the Disney vibe. Which basically means the board of the new district (renamed the Central Florida Tourism Oversight District by DeSantis) is left with vastly limited jurisdiction — mainly over public infrastructure, like roads. And while any living person's name could have been inserted into what is a fairly standard perpetuity clause, it does seem like Disney chose King Charles III as a very targeted response to DeSantis's declaration at the takeover: "Today the corporate kingdom finally comes to an end." Dramatic.
In a presentation on Wednesday, the five DeSantis-installed board members of the new district announced their plans to lawyer up and defeat this play by Disney. "It's a subversion of the will of the voters and the Legislature and the governor," said board member Brian Aungst Jr., an attorney and former mayor of Clearwater, Florida. "It completely circumvents the authority of this board to govern." (What's less clear is why it took so long for the new board to respond to a document that had been publicly filed on February 8, weeks before DeSantis staged his splashy takeover press conference.) But this bit of bureaucratic subterfuge likely explains why Disney didn't make much of a fuss after DeSantis's victory lap last month. "We are focused on the future and are ready to work within this new framework," Walt Disney World president Jeff Vahle said at the time. It just turns out that, at least in Disney's view, the new framework was basically the old framework, and now it lasts for a very, very long time.