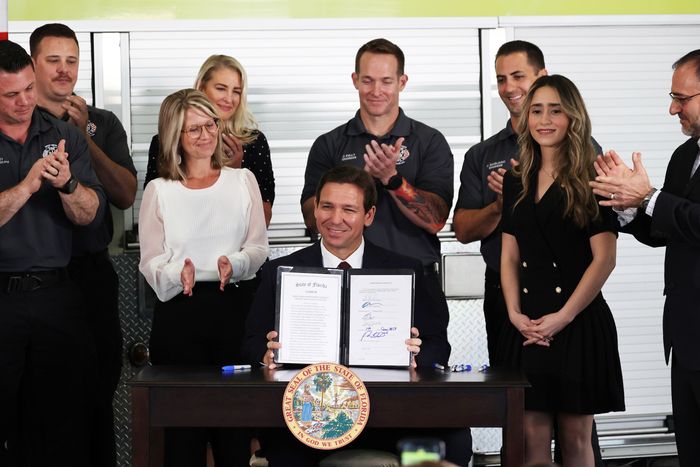 Photo: Ricardo Buxeda/Orlando Sentinel/Tribune News Service via Getty Images
"Today the corporate kingdom finally comes to an end," Florida governor Ron DeSantis announced on Monday at the Reedy Creek fire station, an enormous American flag draped behind him. "There's a new sheriff in town and accountability will be the order of the day." The town in question, more or less, is Disney World. The press conference was a celebration where DeSantis signed a bill largely stripping Disney of the ability to self-govern its kingdom within a state — the Reedy Creek Improvement District.
DeSantis has been at war with Disney since early 2022, when the company denounced his "Don't Say Gay" legislation, which, in part, prohibits public schools from offering classroom instruction on sexual orientation or gender identity to children younger than third grade and greatly constrains what students of all ages can hear in their classrooms. The company also pledged to stop giving money to Florida politicians and candidates who supported it, including DeSantis. While Disney still retains plenty of privileges in the state, DeSantis claimed victory at the bill-signing (which, by pure coincidence, took place on the eve of his book launch, a memoir billed as "a firsthand account from the blue-collar boy who grew up to take on Disney and Dr. Fauci"). Here's what we know.
Why does Disney have so much power in the state in the first place?
After the success of Disneyland in California, Walt Disney was looking at expanding his theme-park empire and Florida eagerly handed him control of 38.5 square miles of swampland outside Orlando. The Reedy Creek Improvement District was created by the state in 1967 to help Disney speed up construction of Disney World and EPCOT. Over the next five decades, it basically operated as its own separate, functioning government, with elected officials, a planning department, a water department, the aforementioned fire department, and even oversight of the country's largest monorail system. (The Reedy Creek Improvement District was not the only place like this in the state; Florida actually has 1,844 of these tax districts, including the second-most famous: a golf-cart retirement community named the Villages.)
And what did DeSantis change?
DeSantis first called on legislators to revoke Disney's Reedy Creek Improvement District in March 2022 after Disney employees successfully pushed the company to publicly disavow and help fight to repeal the "Don't Say Gay" bill, which the governor had just signed into law. Disney employees had signed an open letter urging their employer to condemn DeSantis and the bill, just as DeSantis was running for reelection. (Disney had previously donated a total of $100,000 to DeSantis's campaigns.) Nearly a year after first proposing to dissolve the Reedy Creek Improvement District — which DeSantis described as being controlled by a "woke Burbank corporation" — a special session of the state legislature was convened at DeSantis's request to wrest control of the district away from Disney. On February 27, DeSantis announced the state had seized the Reedy Creek Improvement District and renamed it the Central Florida Tourism Oversight District.
Is DeSantis in control of Disney World now?
Not exactly. The new law does take away some of the powers that Disney had under the Reedy Creek Improvement District, like the ability to build an airport (or nuclear power plant?) or claim eminent-domain property or exempt its developments from certain zoning and fire codes. The formation of the new district, including a new board of directors, means the way Disney builds, manages, and operates both its corporate offices and its theme parks will face oversight from a group of ultraconservative DeSantis loyalists.
So how will decisions get made?
The appointees to the restructured five-member board of the new Central Florida Tourism Oversight District are all political allies to the governor: Martin Garcia, a Tampa lawyer and prolific Republican donor; Bridget Ziegler, a Sarasota County school-board member and "parental rights" activist who co-founded the anti-LGBTQ+ organization Moms for Liberty (she's married to Christian Ziegler, who now chairs the Republican Party of Florida); Brian Aungst Jr., a Clearwater land-use attorney; Michael Sasso, an Orlando election lawyer and president of the local Federalist Society chapter; and Ron Peri, CEO of the Gathering USA, a large Florida Christian ministry. (The appointees will have to be confirmed by the Florida Senate, which approved state control of the new district 26 to 9, so these confirmations seem likely.)
If DeSantis wanted to punish Disney, why not just dissolve the district outright?
State legislators actually voted in April 2022 to dissolve the district, but after subsequent legal discussions, ended up orchestrating a takeover of the district instead. Due to Disney's estimated $2 billion in bond debt, the district was operating at a huge loss. Dissolving it would mean that the adjacent counties would have been forced to absorb those costs, which the Miami Herald estimated would have increased taxes for Orlando-area households by $2,200 annually. That wasn't a very politically palatable option.
How is Disney responding?
Disney hasn't mounted much opposition to the takeover. In a statement issued earlier this month, Walt Disney World president Jeff Vahle said, "We appreciate all that the District has done to help our destination grow and become one of the largest economic contributors and employers in the state," and "we are focused on the future and are ready to work within this new framework."
This is all about "wokeness," somehow?
DeSantis has basically been saying as much throughout this very public battle, including during his announcement of the state takeover of the district: "Disney came out against something that was really just about protecting young kids, and making sure that students are able to go to school learning to read, write, add, subtract, and not having a teacher tell them that they can change their gender." He and other speakers also spent part of the press conference denouncing Disney's content with LGBTQ+ characters, which was described as "dangerous." But it's not really about Disney, or at least not entirely. DeSantis is seizing a political opportunity with an eye towards the presidency.
Where are Democrats on DeSantis's actions?
While state Democrats have long criticized the amount of control Disney had in the district, they've pretty uniformly denounced the DeSantis takeover. "Removing a business's independence and ability to voice concerns of their own employees is wrong," said state senator Linda Stewart, who represents Orlando, calling the move "retaliation by the governor for Disney's vocal support for the LGBTQ community." But even Republicans have condemned DeSantis's actions. Former vice-president Mike Pence said DeSantis declaring war on Disney was "beyond the scope of what I as a conservative, limited-government Republican would be prepared to do."
Has the Walt Disney Hologram weighed in?
No, at least not yet.