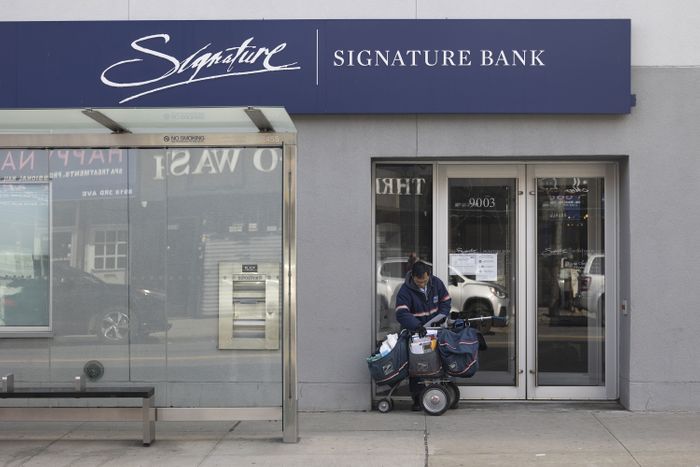 Photo: Angus Mordant/Bloomberg via Getty Images
Before the government took over Signature Bank this week, there were plenty of red flags: The bank was the go-to lender for the Trumps and the Kushners; it made risky bets, issuing loans for taxi medallions just before the market for them collapsed; and it embraced crypto to an extent few other major banks did (around 20 percent of its deposits were from that industry).
But tenants' rights groups had been waving their own flag in the faces of regulators for more than five years — showing up at Signature's shareholder meetings, meeting with its executives in boardrooms, and marching to its midtown headquarters. They wanted one thing: for the bank to stop offering easy money to their landlords. As one tenant told NextCity, "In the end, if we can force Signature to change some of their practices, that would be amazing."
Signature has been the second-biggest commercial real-estate lender in the city, holding $33 billion in loans last year that were mostly given to the landlords of multifamily apartments, according to Bloomberg. Some of those loans were for rent-stabilized buildings, but they didn't look like loans for rent-stabilized buildings. Instead of accounting for current rents and an incremental increase in those rents based on rates set by the rent guidelines board, some loans were calculated with the expectation that rent rolls would rise 15 percent a year, with some units flipping to market rate. As one housing lawyer discovered, some of Signature's loans were even configured to provide a separate pool of cash to buy tenants out of rent-stabilized units.
These loans incentivized landlords to harass tenants to leave or take buyouts, and left little cash to actually make repairs — forcing buildings into unlivable conditions, said Elise Goldin, a campaign organizer at New Economy Project, a community development coalition. Many of the landlords who received Signature's loans ended up on the Public Advocate's "Worst Landlords List," like the Bronx landlord Ved Parkash (2015's worst landlord), and the notorious East Village landlord, Raphael Toledano, who was even banned from conducting any real-estate business in New York for five years by Attorney General Letitia James.
In 2017, when James also singled out the top ten lenders to the worst landlords, she even called out Signature Bank by name (it was at the top of the list). The bank, in its own defense, argued that its loans to the worst landlords only amounted to two percent of its portfolio. But for a moment, the pressure seemed to work — Signature agreed to a set of new best practices for multifamily loans, and made a public pledge to stop lending to landlords with high numbers of violations or eviction rates, among other conditions. But it never followed through on its promises, said tenants' rights advocates. In 2022, James, as attorney general, prosecuted a landlord that banked with Signature for tricking tenants out of their leases, illegally destabilizing units, and falsifying documents to the state.
The crypto crash and a bank run might have been the straws that broke Signature's back, but its reliance on predatory multifamily loans might have eventually pulled the bank down, speculated Will Spisak, a senior program associate at New Economy. "These models are unsustainable." What made the math even more unsustainable was the 2019 rent-stabilization reform — which made it harder for landlords to convert their rent-stabilized units to market-rate ones. These loans were also a problem for Signature in the long term because they almost guaranteed that landlords were putting less money into the building itself (a common tactic for getting existing tenants out, by not making repairs or improving the building), which potentially made it harder to sell later. One landlord who banked with Signature, Sugar Hill Capital, has already gone into default earlier this month on 50 buildings, most of which are rent stabilized. "The finances still are not working," Spisak said.
Within 24 hours of the FDIC's takeover, Barika Williams, executive director of the Association for Neighborhood and Housing Development, which led campaigns against these loan practices, put out a statement on behalf of the organization calling Signature's collapse "no surprise." "Their multifamily lending was a huge problem and built on this very unstable house of cards and predatory practices," said Williams. "The things we were flagging are things the regulators could have more deeply scrutinized or required them to take more steps to fix."
For the time being, not much is happening with Signature's multifamily loans. The FDIC has set up a bridge bank that will continue to provide much of the same banking services to Signature's customers. Landlords will still have to make loan payments. And eventually, another entity, or entities, will buy up Signature's assets, including its loans to landlords — the only condition from regulators, for now, is that potential buyers leave the crypto business.
What's less certain is where landlords who have relationships with Signature can expect to go next, said Melissa Cohn, regional vice president at William Raveis Mortgage, who's seen a number of bank collapses affect her clients over the past 40 years. According to Cohn, Signature played a specific role in the ecosystem of mortgage lending: "They were more generous in their guidelines for loan approval," she said, requiring lower deposits, for example. And landlords won't find those generous guidelines now, Cohn says, not only because of the 2019 rent laws but also because of higher interest rates, and a banking climate that is more risk-averse — for good reason. That could create a vicious cycle, as landlords have less money to invest in buildings, and fail to get the same rents from new tenants. "If a landlord got people to rent based on promises of improved services or more amenities and now can't get the loans, that's an issue," Cohn explained. "They're not going to be able to get the rent increase they thought they might."
That's one reason why New Economy's Spisak and Goldin are anticipating that some of the landlords who relied on Signature may be going into foreclosure in the next few years. That can be a crisis for tenants, but it can also be an opportunity, said Goldin, who is helping push the city and state to pass bills that would make it easier for renters to buy their own apartments, like the Tenant Opportunity to Purchase Act, which gives renters the first rights to a building put up for sale by their landlord.
Still, Williams, the executive director of ANHD, says no one wanted this. "The dream is not that a bank collapses, because it creates so much instability and uncertainty." Instead, she said, "I think there's a feeling of frustration. It's a story we see time and time again, where low-income communities and communities of color say, 'Something's happening,' sound the alarm bell, flag it, write letters, do all the government processes around things — and oftentimes we are not heard."
She said ANHD has already been in touch with the FDIC to ensure the predatory loans aren't passed to another bank that maintains the same practices. "Whoever takes over has to reevaluate how these loans are structured," Williams said. "We have to chart a pathway out of this."