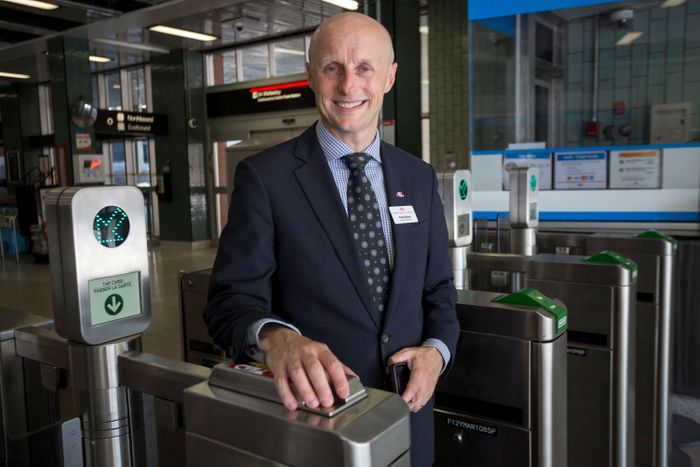 Photo: Nakita Krucker/Toronto Star via Getty Images
Train Daddy will soon be High-Speed Rail Daddy. Andy Byford — the London-based transit consultant who swooped in to save the MTA from certain doom and was driven out by Andrew Cuomo — has been named an executive vice-president at Amtrak. As Streetsblog reports, when Byford starts on April 10, he'll be overseeing Amtrak's high-speed network — a brand-new role created specifically for him.
For decades, both politicians and think tanks have proposed a low-emission, high-speed train network to link the country's major metropolitan areas. In 2009, Barack Obama, flanked by then-Vice-President Joe Biden (a "longtime Amtrak rider and advocate," as Biden called himself), announced a sweeping strategic plan for high-speed rail investment, followed by a proposed $53 billion in funding. Fifteen years later, the country has very little to show for it: The Boston-to-D.C. Acela is the only Amtrak corridor that's close to being considered a high-speed rail (it will qualify when its new rolling stock will hit 160 mph later this year). But Byford is good at turning things around. Although his work at the MTA was cut short, Byford was credited for his focus on improving frequency and service, as well as infrastructural proposals to modernize the system end to end. By the time he exited, on-time arrivals had improved from 58 percent to 80 percent, often through basic upgrades like fixing outdated switches. And while Byford has never focused specifically on high-speed rail, his recent stint as a Transport for London commissioner may prove instructive: There, he oversaw the completion of the Elizabeth Line, part of a high-frequency commuter-rail system that could serve as a good model for Amtrak's regional connections.
Still, Byford will have his work cut out for him. Biden has vowed to build the "cleanest, safest, and fastest rail system in the world," but high-speed rail was not made a funding priority in the federal infrastructure bill. The handful of high-speed rail projects underway elsewhere in the country are struggling and unwieldy because of how the country currently builds major transportation infrastructure projects. California's high-speed rail is currently under construction in the state's Central Valley, yet it's burdened with stratospheric cost increases and right-wing opposition trying to derail the project. Despite the obstacles, Train Daddy wanted to come back to the U.S. "I am excited and humbled to be joining such an American icon," he told the New York Times in a text. "I had a number of job offers but Amtrak and high-speed rail is where I want to be."