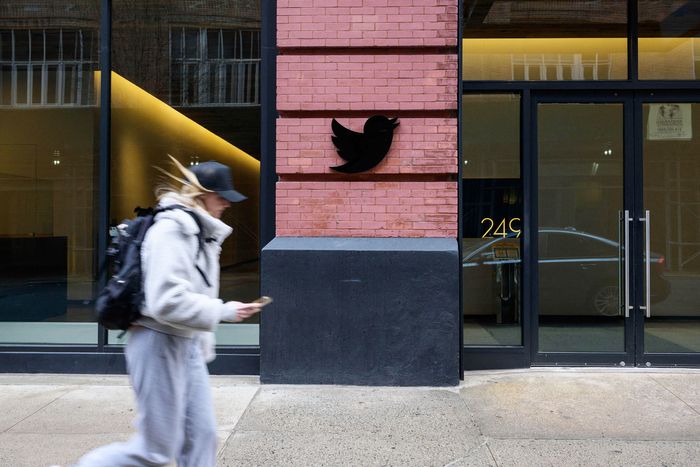 The exterior of Twitter's office on 17th Street, where it's now looking to sublease 200,000 square feet.
Photo: Angela Weiss/AFP via Getty Images
Elon Musk hates remote work so much that he has threatened to fire Tesla execs over it and encouraged employees to actually sleep in the office. But this belief is at odds with his other management strategy — making as much money as possible off of Twitter's assets. (Remember the fire sale of its office furniture?) This urge to make money wherever possible may be dictating his decision to sublease a portion of Twitter's New York office — a once-sprawling ode to millennial culture that included potted succulents, rosé on tap, and churro waffles in a free cafeteria.
That office is on 17th Street across two buildings between 7th and 8th Avenues — 245 and 249 — and Bloomberg reports that the company is seeking to sublease 200,000 square feet of it, according to the brokerage Savills, which didn't return a request for comment. (Neither did Twitter, which got rid of its press office.)
Twitter only had 215,000 square feet of space to begin with. And it was already subleasing 11,000 square feet to Lyft, which seems to still be there. So there seems to be just about 4,000 square feet left for whatever ragtag team of New Yorkers remains after the layoffs. This space, presumably, is not being cleaned, as Musk fired all of the janitors two months ago.