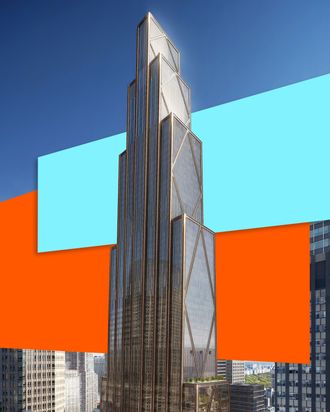 Photo-Illustration: Curbed; Photo: Business Wire
New York City's supertall boom has shot spindly towers into the stratosphere, and the results so far have been … mixed. For every frustratingly handsome 111 West 57th there are allegations of shoddy construction at 432 Park, not to mention gripes about shadows and lack of housing. But the developers of one of the forthcoming supertalls, 270 Park Avenue, claim that their design will actually be a good neighbor because of its climate-friendly construction. Here's everything we know about the 60-story, 1,400-foot-tall building filling the block between Madison and Park Avenues and 47th and 48th Streets.
What is it?
JPMorgan Chase's new global headquarters, built on the site of its former one. About 14,000 employees are expected to work there, roughly double the old building's number.
Why are people talking about it?
It's a real choice to put up so much new office space in midtown while real-estate investors are wringing their hands over how empty the neighborhood is. The building was, of course, planned before the pandemic, and is the first project to take advantage of new height rules under the Midtown East Rezoning. JPMorgan Chase is also promoting 270 Park's environmental credentials: It's all-electric from hydro sources, with super-energy-efficient glass, and reuses 97 percent of the demolition waste from the former building on the site. It's also been in the news because a 50-year-old carpenter fell to his death at the construction site on March 24.
Who's behind it?
Foster + Partners — the architects of Apple's donut Death Star Cupertino campus, London's Gherkin, and the Hearst Tower — designed the 70-story building. The general contractor is AECOM Tishman, which has a lot of expertise at this scale (One Vanderbilt, One World Trade Center). The developer is Tishman Speyer, a company that's invested heavily in Midtown's revival through Rockefeller Center's rebrand and the Chrysler Building renovation.
What will distinguish it from all the other skyscrapers in midtown?
Norman Foster's skyscraper signature is the use of exposed structure as embellishment. Its steel frame is visible at the surface of the glass façade, rather than being concealed behind it, and up top, the tower looks like a squashed ziggurat with symmetrical setbacks. It tapers to stand en pointe where it meets the street, opening up space for a public plaza, a bit like its neighbor One Vanderbilt.
Will it really pull Chase employees back to the office?
JPMorgan Chase's CEO Jamie Dimon believes that a focus on wellness — lots of plants, outdoor space, yoga and meditation rooms — will draw them in from Greenwich and Montclair. There's a food hall planned, too, which might bring lunchtime traffic from neighboring office buildings and potentially an after-work crowd.
Wasn't there a preservation fight over this site??
Yes, though it didn't get far: 270 Park replaces the Union Carbide Building, a 1960 skyscraper largely designed by Natalie Griffin du Blois of Skidmore Owings & Merrill, one of the few women to have worked prominently in mid-century corporate architecture. Union Carbide — wrapped in glass, steel, and metal panels blackened with the company's own chemical products — was an elegant example of what critic Ada Louise Huxtable called the Park Avenue School of Architecture. New York's Justin Davidson described Union Carbide as one of the finest buildings of its kind and called its destruction an act of "ruthless architectural Darwinism."
What do critics have to say about the new building so far?
Alexandra Lange described it as "a son of Hearst Tower grafted on creepy legs." She also argues that JPMorgan Chase's environmental claims are mostly greenwashing. (Renovations are almost always more sustainable than demolishing a sound building and replacing it; the fossil fuel consumed in manufacturing all that steel and concrete, even if the material itself is recycled and reused, has already been expended, and you can't get it back.) One Vanderbilt's green design was already dated by the time it opened, and the speed of new technologies makes it plausible that 270 Park's will be too.
How much will it cost to build?
Reuters reported that 270 Park has a $3 billion price tag, but JPMorgan Chase won't confirm the total cost. For comparison's sake: The company's gross profit in 2022 was nearly $129 billion. It's paying for the building itself.
How far along is it?
The framing is complete and builders are beginning to hang the tower's glass-curtain wall. The hope is for employees to start working there by the end of 2025.