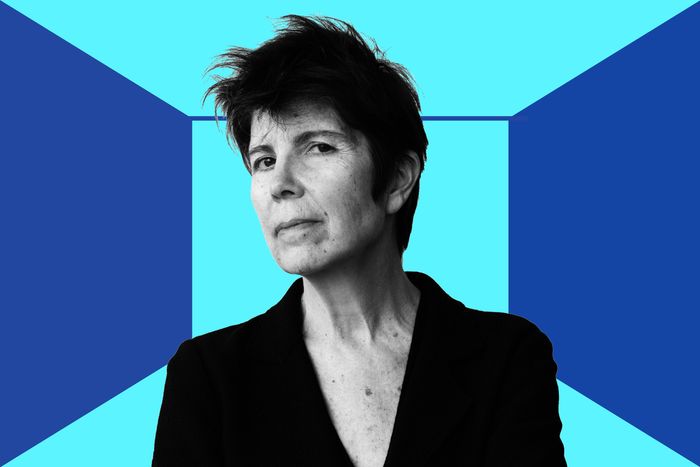 Photo-Illustration: Curbed; Photo: Geordie Wood
You've probably visited at least one — and most likely more — of architect Liz Diller's projects. Her firm, Diller Scofidio + Renfro, which opened in 1981, is the rare office able to build experimental designs, like the High Line and the Shed, prolifically. It's also behind MoMA's $50 million expansion into a megamuseum and the Lincoln Center renovation of the aughts that remade "institutions where I had my first introduction to art and music," says Diller, who has lived in New York since she was 6. Her firm recently finished the Columbia Business School's Manhattanville campus and is renovating a 19th-century warehouse in Cambridge, Massachusetts, that will become the MIT School of Architecture's new home.
Name: Liz Diller
Age: 69
Neighborhood: East Village
Occupation: Architect
What's hanging above your couch?
Nothing, because I don't believe in putting couches against walls. They always have to float in the middle of a room. It's really nice to circumnavigate a sofa, and it's more social. Rather than having your back against a wall, in which there is a sense of empowerment, it's more vulnerable. Aesthetically, I also don't believe in putting things on walls. I'm a protector of walls. I don't like hiding them.
What's the first job you had in New York? 
In junior high, I worked at a dry cleaners in Queens. The smells were toxic and probably shortened my life by about 15 years. I was actually fired because I left someone's lipstick in their pocket and their entire wardrobe became orange and red. It was just so humiliating.
What color are you always drawn to? 
I wear only black, the architectural uniform. But I'm trying to open myself up to a palette beyond what I wear. I have become attracted to colors I hate. It's a psychological shift. I'm very attracted to electric blue, which was off my list until one of my partners suggested that something in a project should be electric blue. I had a terrible reaction to that idea, but then I think, What is so repulsive to me about that color? I try to get to the bottom of it, try to understand it — maybe it's an association with cheap things — and all of a sudden I come around.
What work of art or artifact are you most surprised you own?
I fell in love with an inanimate object! I have this fabulous old-fashioned stapler. I really love it because it kind of loves me back. It has a ball on top that interacts with the bottom of your palm. It's a perfect dome. All the parts and springs are exposed, and it has beautiful proportions. [What make is it?] Um … we moved the office stuff, and I have it in a box — I can't find it.
Which New Yorker would you want to hang out with?
Marcel Duchamp, while he was working on Large Glass. I studied art before architecture, and he was very important to my artistic growth and was a model of someone who pushes a discipline as far as it can go. I would want to have a fabulous dinner and talk about the world and how he was interacting with the system.
What's the last thing you made with your hands?
Yesterday, I made some sketches for a project in Seoul, but the day before was actually the more creative project. I made puttanesca sauce for a party of six. When we ran out of pasta, everyone was just eating the sauce on its own.
Is there one thing you own multiple versions of?
I have multiple copies and editions of certain books, like Complexity and Contradiction in Architecture. Sometimes it's because my old ones are worn out or I lose a volume or the binding breaks. And I want to have The Complete Works of Le Corbusier at home, in my studio, and at my summer place.
What New York City museum do you always go back to?
I have a very special relationship with MoMA. I went to the High School of Music and Art in the late 1960s and '70s, and classes were always canceled because of protests. I spent most of my time then at the museum, sitting in the sculpture garden and wandering the galleries. Many years later, my partner Ricardo Scofidio and I were the first architects invited to do a Project Series at the museum. I salvaged the wall behind Duchamp's Standard Stoppages when it was torn down during the Taniguchi renovation for our retrospective at the Whitney, and kept some fragments as souvenirs. And in 2013, we started to design the expansion. I've been in this institution most of my life, and having something to do with its transformation is a beautiful and poetic experience for me.
What do you always have next to your computer? 
I always have my tea — it's a particular formula of sugar to lemon to tea — in these very thin Jena glass mugs. I also have tons of papers. I take lots of notes during Zooms, but never file them and don't know what they relate to in the end. The act of writing somehow gets the information to stick, but the papers are just kind of junk.
Where is the best view of the city?
I'm going to say something self-congratulatory here: It's the High Line. We tried to produce views that are unofficial to the city. Before the condos went up, you could see down into open car lots with mechanical lifts, billboards with Calvin Klein underwear ads, shafts of space where there were factories and big chimneys. Today, those things are still there but now with views into exhibitionists' apartments — because who else would want those apartments? That's part of the flavor of "Unofficial New York."
What building or object do you want to redesign every time you see it?
The Guggenheim is such a singular building. It was never meant to be added to. The Gwathmey addition is actually a cheat. It's just a regular, orthogonal box. I would try to figure out how galleries could splinter off in a way that combines Wright's organic forms and the genetic code of New York City lots. I don't know what the answer is, but it wouldn't be a box.
What's one thing you would change about your field? 
I would put architects in City Hall to regulate and agree upon some strategy of growth for New York, because all too often it's just sold to the highest bidder. That's what you get in a real-estate city like ours. Amanda Burden did a good job as City Planning commissioner, but that role isn't as strong as it is in other cities like Moscow or Barcelona. There is such a thing as a chief architect in some cities — someone who sets a progressive tone for how a city should evolve.
If you could live anywhere in New York City, where would it be?
On Union Square, to be as close as possible to the farmers' market.
What would you hoard, if it stopped being produced?
These cheesy sweatpants by Oasis that have zippers at the bottom and an elastic waist. I get away with wearing them everywhere, even to black-tie events. I thought they'd be made for  only a couple of years, so I would buy five at a time. It turns out they continue to be made, probably because of other addicts and hoarders like me, and I've been buying them for 15 years.
What do you do to get out of a creative rut? 
I watch really bad reality TV. I love Top Chef, Chopped, Masterchef, and all of the cooking competition shows. I can pay 25 percent attention to these shows while letting my mind wander, and I find myself sketching. It's incredibly relaxing to watch other people suffer creatively.
Where was your first New York City apartment, and how much was the rent? 
My first apartment away from my parents was an 11-foot-wide storefront on East 5th between Second and Third Avenues. It backed up to a sausage-packing factory, and the smell of sausages was always wafting in. I shared it with a roommate and the total rent was $300 or $400. I lived there for maybe five years in the 1970s when I was at art school at the Cooper Union.
Where in the city do you go to be alone?
The New York Public Library's Reading Room. I love the idea of being with others, but being silent.
Worst piece of career advice you've ever gotten?
My mother told me to be a dentist. But more recently: When Lincoln Center asked my studio to participate in a competition in 2003 to reimagine the complex, Frank Gehry said to not do it. He'd presented [a plan] the year before they asked us to participate, after 9/11, and they had a very bad reaction to what he presented, and he had a very bad taste in his mouth about Lincoln Center. I didn't listen to that advice, and, you know, I proved him wrong. It was totally career-changing for me and my studio — the first really mature project, and it made a permanent change in New York. When someone tells me to stay away from something, I want to do it more.
What have you given away to someone that you wish you could get back? 
The only thing that's totally irreplaceable is time, and I feel like I give away a lot of time. For example, I love teaching, but sometimes people don't want to be taught.
What's your favorite New York City restaurant and regular order? 
Omen, on Thompson Street. I went there last night and ordered the agedashi. It's an incredible savory taste with eggplant, sweet potatoes, scallion, and dashi broth. I don't eat tofu, so I leave that part.
What descriptive phrase do you want on your obit headline?
"She liked to jump out of airplanes without a parachute."