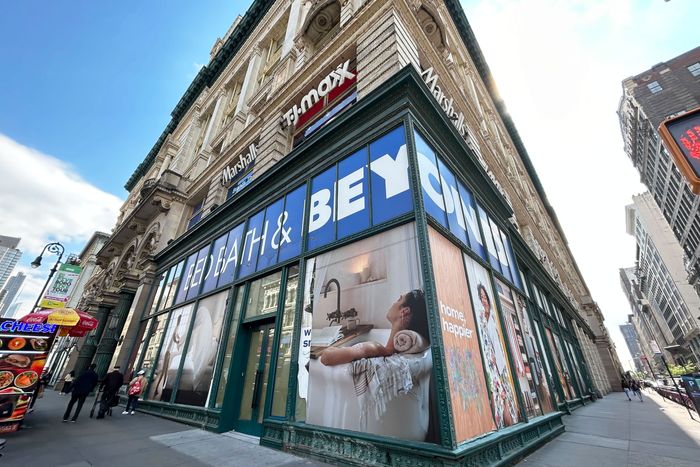 By 10 a.m. on Wednesday, day one of Bed Bath & Beyond's multiweek bankruptcy sale, there are at least 100 people at the Sixth Avenue flagship and betrayal is in the air. "Nothing's on sale. It's crazy!" a man in a blue sweater yells into his phone near the dishware. Another woman I chat with, after I tell her to have fun shopping, replies, "It's not really fun because they tricked everyone." A shopper named Renee, who has come all the way from Brooklyn in search of a deal on an air fryer, looks forlornly at her cart, empty except for a single oven liner: "This is very disappointing." They had come to pick the bones of a once-great superstore; they arrived instead to find their coupons were no longer being honored and the Soda Streams were still $129.99.
When Bed Bath & Beyond planted itself in Chelsea in 1992, it marked the beginning of a new retail era for the neighborhood — once known as "Ladies Mile" for the rich women who frequented the strip between 17th and 23rd — but had been languishing for decades. "Sixth Avenue was dead as a doornail before, but Bed Bath & Beyond has really opened it up," a part-owner of several Fifth Avenue buildings told the New York Times in 1993. The availability of spaces with high ceilings and spaced-out columns was a draw: After the company occupied a portion of what was once the Siegel-Cooper department store, Filene's Basement and TJ Maxx also moved into the building. Other chains soon followed. "The neighborhood is now a destination for New Yorkers in search of shower curtains and discount clothing," the New York Times wrote a few years later as it mourned Barney's closure in the area.
The big-box stores brought a piece of the suburbs to the city, and Bed Bath & Beyond was the cavernous linchpin, growing to encompass two floors and 92,000 square feet of space. The store had its regular customer base: Caroline Goldhush, a nearby resident who has been going to the Chelsea store since it first opened, told me how the area would be mobbed by NYU kids who were shuttled in during move-in month. (She also offered an unsolicited tip for cheaper towels: "Lot Less.") But in recent years, the store has struggled to adapt as people turned to online shopping and discount chains like the Marshalls in the same building. Its own private-label efforts (who can even remember Wild Sage?), made in an attempt to imitate Target's success, flopped. Doom spelled itself out over the past year as Bed Bath & Beyond continued its very expensive bid to buy back its own stock, leaving it with a massive debt that the company tried to stanch with staggered layoffs and store closures while it waited for a last-minute savior. On Sunday, the company filed for bankruptcy and announced it would be closing its remaining stores.
For loyalists and fairweather shoppers alike, this meant one last ride in the historic Chelsea spot. Coupons — supposedly eternal and a company hallmark — are a particular point of tension. "They said up until Wednesday," Carol Wang tells me, clutching a bunch of coupons by the Keurig pods. We discuss the phrasing — does "until Wednesday" include Wednesday? "I gotta get out of here or else I'll get really annoyed," she says. This is more or less the vibe — a woman who overhears me asking about the sale yells, "There's, like, no sale!" People are looking for answers and one confuses me for an employee, while another customer I approach thinks that I've confused her for an employee. Mike, an actual employee, tells me that the store has been packed since the bankruptcy announcement. "Everyone's going crazy over the coupons," he said. While he expects he will lose his job, he's relieved he won't have to deal with the customers anymore: "They've been losing their minds." But he's been touched by periodic displays of camaraderie. In the days before the hotly contested Wednesday "liquidation" sale — when the store was still accepting coupons — he recalls strangers strategizing on how to pool coupons and share deals. "It was the first time I saw them be kind to each other," Mike said. "I've never seen them do that before."
I, too, get my own glimpse of serenity near the bathroom aisle: Hannah and Janie, who are moving to New York from Florida for school, have arrived to complete a Bed Bath & Beyond rite of passage. "We spent 20 minutes picking out color schemes for towels," Hannah says. Their basket is stacked full of them. They tell me they'll miss the company. "Ikea is going to become the main place but it's just so stressful," Hannah says. "I like it here because it's relaxed."