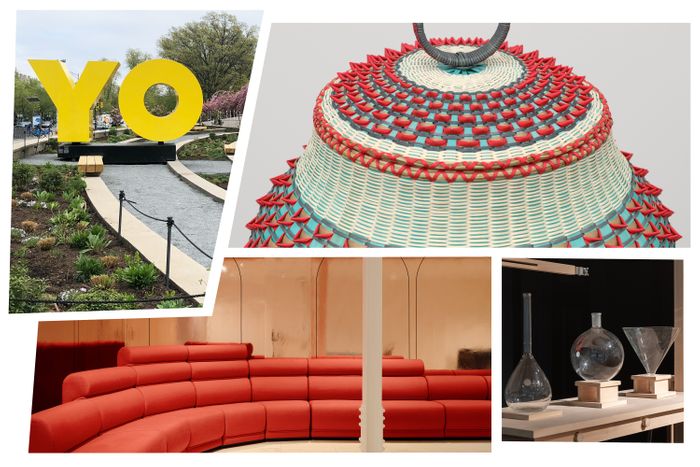 Photo: Diana Budds, William Jess Laird, Courtesy Jeremy Frey and Karma, João Enxuto/Courtesy of The Irwin S. Chanin School of Architecture Archive, The Cooper Union
The objects, designers, news, and events worth knowing about.
The Brooklyn Museum Kills Its Front Lawn
The Kill Your Lawn movement has been infiltrating suburbia; why not art museums, too? Over the next few months, the Brooklyn Museum's front yard will erupt in tall grasses, tiny red flowers shaped like teardrops, and egg-yolk yellow blossoms. It's the work of horticulturist Rebecca McMackin and the landscape architect Brook Klausing, who yanked out the institution's (frankly boring) front lawn and planted a native wildflower meadow in its place. It's not alone in revamping its landscaping; the Morgan Library added leafier and more colorful plants to its garden, new meandering walkways in Theodore Roosevelt Park complement the Gilder Center's organic façade, and the Frick's historic 70th Street garden is getting renovated and refreshed alongside the galleries. It will take some time, at least a couple of years, but once the garden in front of the Brooklyn Museum is fully mature, it will attract pollinators like Monarchs and Ruby-throated hummingbirds — and the people who like to spot urban wildlife.
A Design Scandal at the Milan Furniture Fair
Usually the Milan Furniture Fair is one big, feel-good festival where the design industry shows off new work and the only regrettable moments involve one too many Negronis. But this year, a controversy around racist figurines overshadowed the festival. At Campo Base, an exhibition of six rooms designed by six Italian architects, Massimo Adario presented an installation intended for a fictional collector. It contained a cabinet, which in itself was fine, albeit a little dull. But, as industrial designer Stephen Burks, consultancy Anava Projects, and PR agency Hello, Human pointed out, Adario had filled it with seven 1920s glass sculptures that depict people of African, Asian, Middle Eastern, and European descent with caricatured facial features, without any context or explanation. They argued, "Racism is not a design motif," to which Adario responded by stating that "racism is not fought by destroying works of art," and that he believes in "the right to engage in a vigorous debate" about the historical context of the figurines. But the offensiveness and harm of objects like Mammy jars, Chinoiserie, and Blackamoor has already been thoroughly analyzed over the years. It seems that, for all the forward-thinking work usually presented at the fair, a lot of perspectives are stuck in the past.
French Seats of Power at Demisch Danant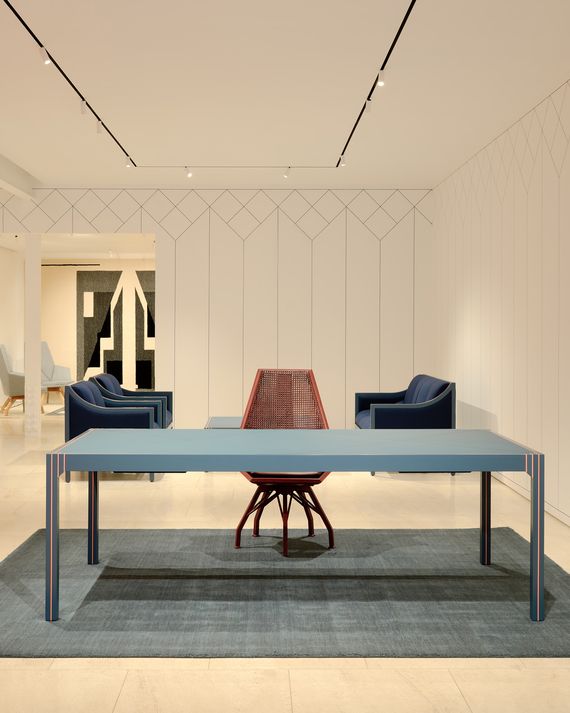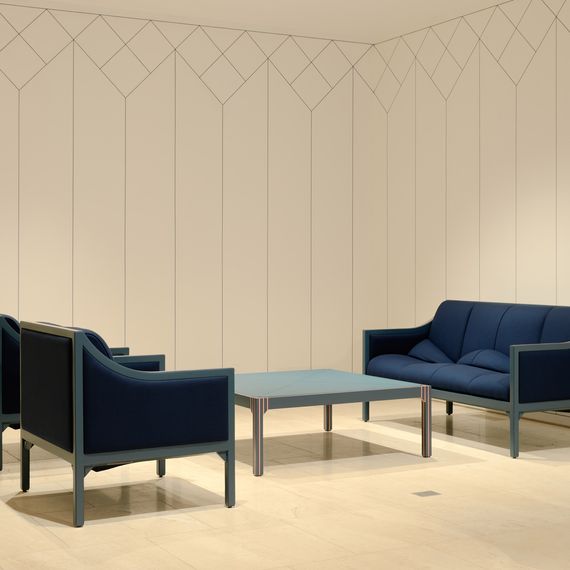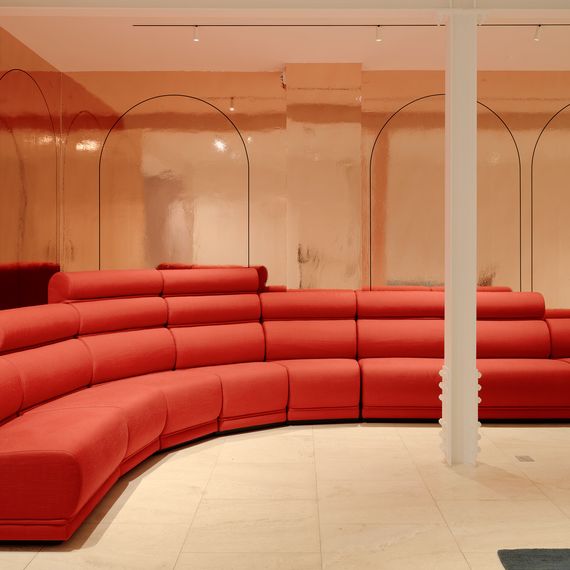 Pierre Paulin is a pop icon: His Ribbon chairs furnished the "Blade Runner 2049" sets, his topographic Dune sofa is in Frank Ocean's living room, and Kanye chose a few of the late French designer sofas for his Yeezy showroom. But he was also entrusted with the very serious and prestigious work of furnishing rooms for French political leaders. Paulin's work for Francois Mitterrand and Jacques Chirac in the 1980s is the focus of "Formal Disruption," a new exhibition of state-commissioned tables, desks, chairs, and sofas at Demisch Danant. When Paulin got the call to design Mitterrand's office in the Elysee Palace, he was experimenting with traditional craftsmanship and historic silhouettes. These references showed up in the office set he designed. There are Empire-style and Art Deco shapes, but Paulin toned down the flourishes and dialed up the color with deep-blue upholstery and teal lacquer adorned with coral stripes. The details are exquisite, from the burgundy caning on a desk chair to the checkerboard marquetry on a coffee table. But you might not immediately recognize them as Paulin designs, unlike the 15-foot-long Maraschino-red sofa Paulin made for Chirac that's also in the exhibition. Through May 27.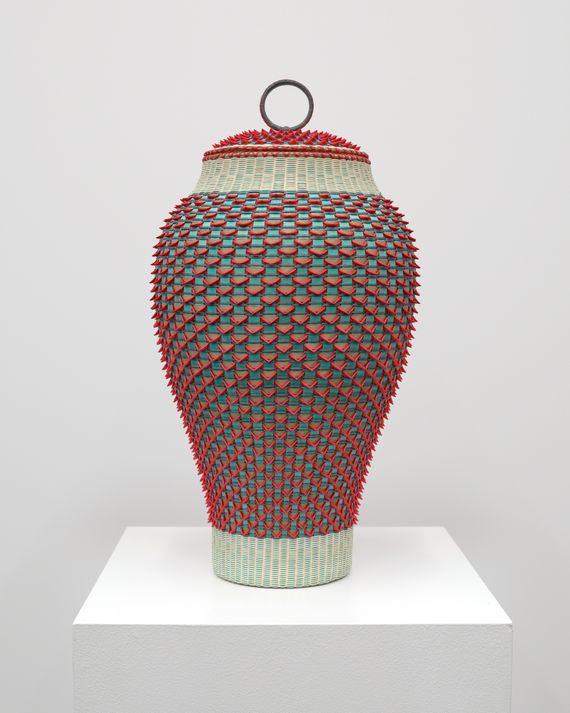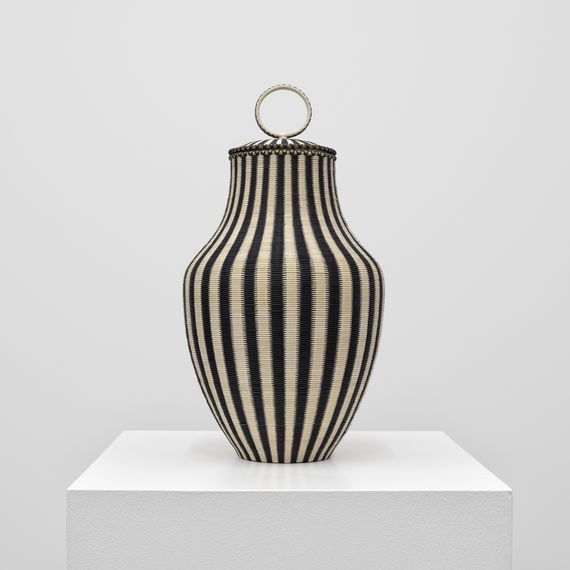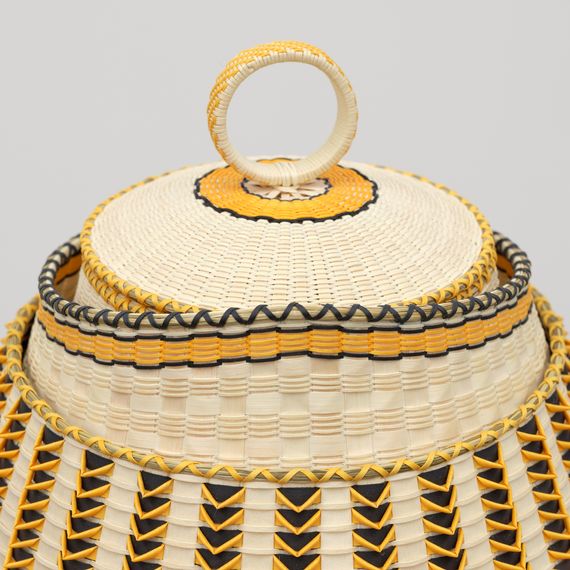 In contemporary sculpture, imperfections and makers' marks are usually a selling point — sort of a middle finger to the idea that machines can ever replace the hand of an artist. But Passamaquoddy weaver Jeremy Frey's baskets are so precise, they look like they emerged from a 3-D printer. He takes Indigenous techniques that have been passed down through generations (from foraging sweetgrass to slicing his own ash splints) and modernizes the art by borrowing the shape of Greek and Roman pottery and using acid-green and neon-red dyes. Over a dozen of his vessels are on view in "Out of the Woods" at Karma through June 17.
Over the past several years, a small Cooper Union exhibition of student work related to the Vkhutemas, an overlooked modernist design school from the 1920s, became a battleground over cultural sensitivity and censorship before anyone even had a chance to see it. It was postponed three times — once because of COVID and twice because of the war in Ukraine — and there were fears that it would eventually just be canceled. But on April 25, "Vkhutemas: Laboratory of Modernism, 1920 to 1930" finally opened to the public.
The work itself is deeply fascinating — including a flying utopia that looks like a SimCity Arcology, a bed that folds into a small table, and explorations of architectural mass that seemingly anticipate the Guggenheim's hivelike spiral. But it's also intriguing to see how the controversy made the exhibition better. I usually crave more historical and political context behind architecture shows, but not this time. In the hallway leading up to the gallery, the curators installed a detailed timeline of 1920s history, context about the Vkhutemas within the early Soviet Union, and letters from historians expressing concerns about holding and canceling the show. Being transparent about these debates makes the exhibition feel more accessible and not just like an inside conversation for academics. Through May 5.