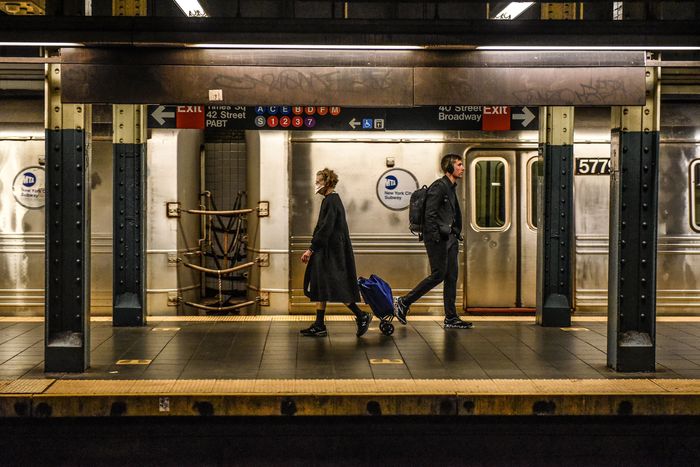 Photo: Stephanie Keith/Bloomberg via Getty Images
Just after rush hour Friday, the MTA's rider-alert Twitter account, @NYCTSubway, announced it was "unable to post service alerts to Twitter due to an API issue" and directed anyone seeking real-time information about their commute to the MTA website. Updates continued, life moved on. But the almost disruption was an unsettling glimpse into the platform's future: Elon Musk wants to introduce a tiered-payment system that could potentially cost the MTA money it doesn't have to let riders know that there's a sick passenger on the Brooklyn-bound R and that they might want to plan their route accordingly.
Transit agencies rely on Twitter's application programming interface, or API, to send automated service alerts so information about train delays or skipped stops go straight to Twitter, no human required (though MTA employees still monitor the account and answer questions). For a system with 28 lines and 472 stations, a bot beats a human every time: The information can be dispatched instantly — and it's a fast, easy way for the agency to divert riders from a station or train in an emergency. It's basically one of the only good things about Twitter. But Musk announced his paywall plan in February and proposed subscription prices late last month. Costs range from a free account for individuals that maxes out at 1,500 tweets per month to what might be as much as $42,000 per month for "enterprise"-level API access, pricing out virtually every public-facing institution on the planet.
Making matters more uncertain is the Musk of it all: No one seems to know when current API access will change. And while there are, of course, other ways for New York City subway riders to get assistance, like going to the MTA website or using a different app (the MTA now sends riders to WhatsApp), @NYCTSubway has 1 million followers on a platform that used to be reliable and free. But potentially disrupting a crucial public service for transit riders seems perfectly on brand for a man who once said only mass murderers ride the bus.