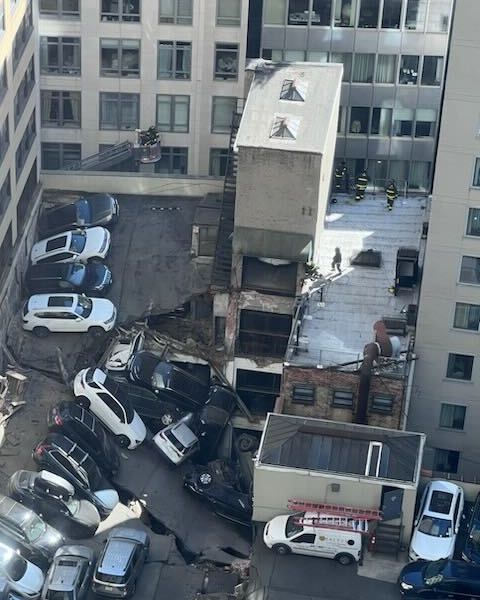 The roof, seen from above.
Photo: Marcel Wolke
A three-story building being used as a parking garage collapsed in the Financial District on Tuesday afternoon. One person, the garage's longtime manager, was killed, and at least five people were injured, all of whom were workers at the garage. The 98-year-old building at 57 Ann Street — listed in city records under the ownership of a Brooklyn company, Western Carpet and Linoleum — came down at about 4 p.m., its cratered roof swallowing SUVs in a cloud of dust as car alarms echoed down the block. At a press conference an hour later, officials said they believed no one else was trapped. However, the entire area, where sidewalks and alleys were showered with broken bricks, remains in an extremely precarious situation as what John Esposito, FDNY chief of operations, called a "very unstable" remaining structure sags toward the street. Here's what we know.
How did the building collapse?
The concrete slab of the second story collapsed into the first, causing the remaining structure to pancake into the basement, said Kazimir Vilenchik, acting Department of Buildings commissioner. Video from a car parked inside captured loud crashing sounds and falling rubble before the ceiling caved in. A person with knowledge of the incident told the Daily News that the "weight of the vehicles left on the roof deck and the age of the building contributed to the collapse."
Was there an explosion?
Some witnesses claim to have heard one, but it hasn't been confirmed and might simply have been the sound of the structure giving way. "We heard a really big boom, like something out of the ordinary," Gabriel Yahoudaief told ABC7. "It was just a really loud noise like something exploded."
Could anyone still be trapped inside?
Although early reports said there were trapped people, officials confirmed at a press conference that all six workers were accounted for and no one else had been found. An employee at a nearby garage told PIX11 that some of the workers were in the garage's office with the manager when the collapse happened, and though those workers got out, the manager did not and was later confirmed dead. One worker who was yelling from atop the collapsed building was dramatically rescued by firefighters, who helped the person climb to safety on an adjacent rooftop.
Was the building known to be unsafe?
Built in 1925, the structure has 64 Department of Buildings violations on record. Six are currently open, including one from 2003 for a "failure to maintain building" when an inspector noted first-floor cracks in the ceiling slab. According to Vilenchik, there was also one open permit for the building related to electrical work.
Did I really see a dog that looks like a robot in the coverage?
You did. First responders used a robot dog painted to look like a Dalmatian — recently reintroduced to the city by Mayor Eric Adams — to assess the structure and search for survivors. At a press conference, Adams praised its performance: "This is ideally what we talk about, not sending a human being inside a building that was unstable." A video showed the robot dog entering the building then falling over into a pile of rubble as someone at the scene says: "Well, that didn't work out for the dog so well." Investigators also flew a drone inside to survey the damage and decided it was not safe for firefighters to reenter.
Is it safe to go home if I live nearby?
Officials closed multiple streets in lower Manhattan and specifically encouraged people to avoid the area bounded by John, Nassau, Beekman, and Gold Streets. Some neighboring buildings were evacuated as officials checked on their structural integrity. Pace University, just up the street, evacuated buildings and canceled classes but has since reopened.
What happens now?
Forensic engineers will collect what information they can from the damaged structure. In the coming days, a controlled demolition will happen at the site, according to FDNY. The process will start with the extraction of the vehicles parked in the garage, some of which are currently wedged vertically into the fragments of shattered concrete. "There's over 50 cars on the roof," Zachary Iscol, the city's Emergency Management commissioner, told ABC7. "The building is not structurally sound. You think about hazardous materials that are in the garage, right? Gas tanks, fluids — further complicated by the fact that there are possibly some electric vehicles in that garage. So there's a remarkable operation that is going that is starting now."