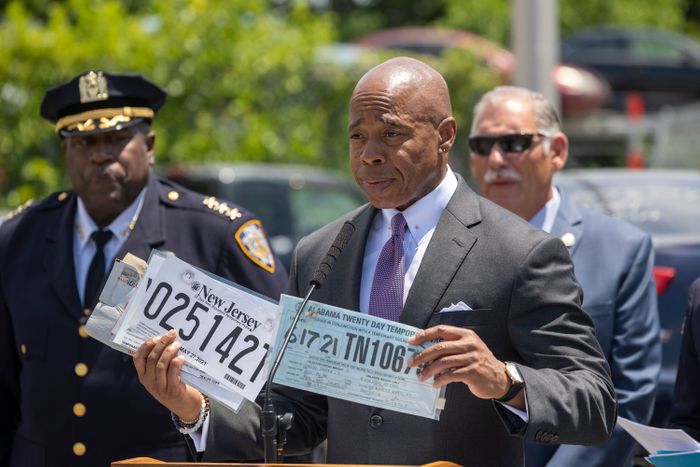 Photo: Howard Schnapp/Newsday RM via Getty Images
If you've noticed a lot more vehicles around the city with temporary paper plates, it's not just that New Yorkers are on a car-buying spree. The market for illegal ghost tags, which allow drivers to hide their identity — evading tolls, traffic cameras, and registration fees — is booming. And many of them are coming from largely vacant car dealerships in New Jersey and Georgia, according to an extensive, three-part investigation from Streetsblog and the New Jersey Monitor.
The paper license plates issued after a car has been sold or leased are meant to be temporary, but loose state regulations have allowed a black market of ghost tags to flourish. As Streetsblog found, many of the fake plates we're seeing around the city are sold by businesses registered to "multi-dealer locations" in New Jersey and Georgia. These compounds, such as an Auto Mall in Bridgeton, New Jersey, essentially cover the bare minimum when it comes to regulations for individual dealerships — office space, exterior signs listing the name of the dealership, space to display two cars — but are devoid of anybody actually working there or any cars being sold. (Dealers pay the company that runs the Auto Mall a fee for office space and helping them get licensed.)
Reporter Jesse Coburn found 53 dealerships registered to New Jersey multi-dealer locations that have been recently caught violating temporary-license regulations. Those dealers issued over 178,000 paper plates. One ghost-tag seller told Coburn that she sold 3,000 temporary plates mostly in New York City through her dealership registered at one of these New Jersey compounds, for $100 each. (When she was caught, her fine was just $500.) A used car dealer in Jersey City, raising the alarm about abuses in the system, created a fake tag using the name of New Jersey governor Phil Murphy on the New Jersey Motor Vehicle Commission website while the reporter watched.
It's not as if these fake plates are a secret: Eric Adams, and his predecessor Bill de Blasio, both pledged crackdowns. But targeting drivers does little to address the root of the issue — the poorly regulated dealerships churning out these tags. As a former official at New Jersey's Motor Vehicle Commission told Streetsblog, "The whole used-car dealership scene is in such need of better regulation." Or as the Jersey City dealer who made fake plates using the governor's name put it: The agency "has never been able to stop this, and they can never stop this the way the system is."