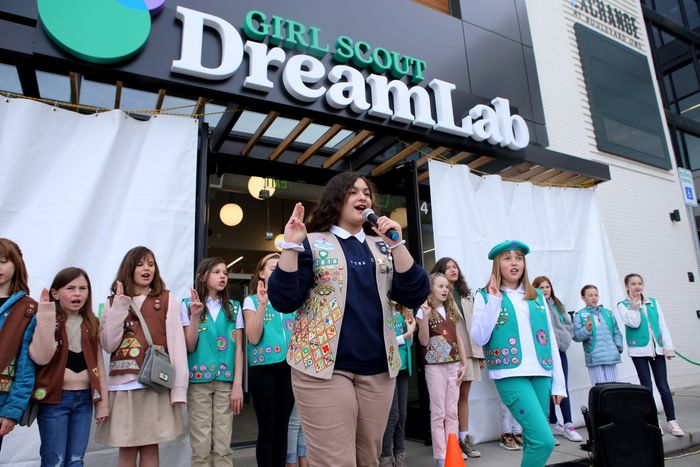 Photo: Girl Scouts of Colorado
The Girl Scouts are entering a new brick-and-mortar era. Last month, the organization opened one of its first new planned community centers in Denver, which it dubbed the DreamLab. The 4,000-square-foot space has a podcast studio, conference rooms, a science-lab area, an indoor camping station, and a bouldering wall. It's kind of like the Wing, except the aesthetic leans more Minecraft than airy blush tones and it's for little girls.
The new space is part of a reassessment of the Girl Scouts' overall real-estate strategy. Historically, troops held their meetings wherever they could — churches, libraries, Jessica Middleton's grandmother's basement — but the organization says COVID has complicated that kind of meetup. Thus, the DreamLab. And while it's primarily intended for Scouts, "anyone is warmly invited to visit, to take some selfies, to record a podcast, do a STEM activity or just hang out," per the website.
The Girl Scouts and its councils already have a large real-estate footprint, owning or leasing 1,000 properties like camps or offices across the country. As Bloomberg reports, the Girl Scouts' total building assets amounted to nearly $62 million in 2022, much of that in New York, where the organization is headquartered.
The Denver DreamLab, which is conveniently located in Girl Scout central (according to Bloomberg, 30 percent of Colorado Girl Scouts live within 15 miles of the building), will also serve as office space for Girl Scout staff. Two more DreamLabs are being built in Louisiana and New Jersey. The shiny new spaces will help market the organization and establish a Girl Scouts presence. And if it ends up opening one in New York, we know a building that's available.