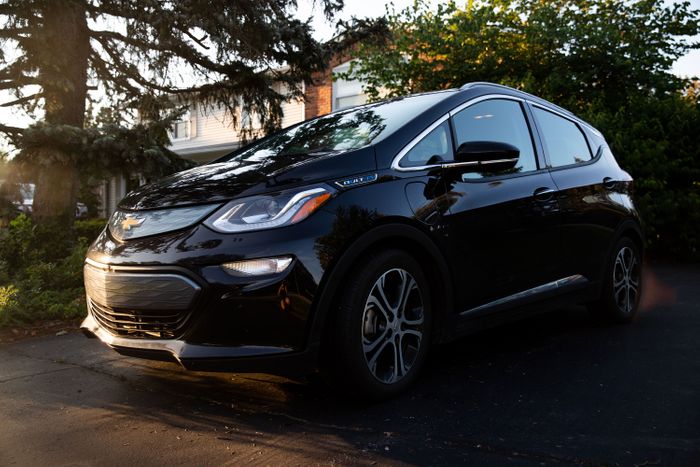 Photo: Emily Elconin/Bloomberg via Getty Images
GM is killing the Chevy Bolt. CEO Mary Barra made the announcement on Tuesday during an earnings call, saying production on the electric vehicle will wrap "at the very end of the year." In an industry increasingly dominated by bigger, heavier, and deadlier vehicles, the Bolt was a refreshingly sensible little car. It's compact and starts at $26,500, and more or less functions like a gateway drug to consumer vehicle electrification. But automakers are largely abandoning small electric vehicles, at least in American markets. That's bad news for our streets — and wallets.
The news of the Bolt's demise came after it delivered GM its best-ever quarter for EVs. Numbers out earlier this month also showed that Bolts made up the majority of GM's EV sales in 2022 — a record-breaking year that sent GM surging ahead of Ford. (Tesla maintained the top spot.) But GM's announcement about the end of its production made the Bolt sound like an antiquated jalopy that needed to be retired: "When the Chevrolet Bolt EV launched, it was a huge technical achievement and the first affordable EV," said Chevrolet senior communications manager Cody Williams in a statement, claiming the vehicle "set in motion GM's all-electric future." That future looks grim and nothing like the Bolt: GM is revamping the Bolt's plant from a factory that made 70,000 electric sedans last year into a factory that makes 600,000 electric trucks every year.
The death of the sedan in U.S. markets has been in the works for a while: Car manufacturers have been phasing out these models across the board, instead prioritizing their larger, pricier electric vehicles. And GM had been signaling that the Bolt wasn't long for this world. The automaker announced in 2020 that it would start making its own battery system for its SUVs as well as its larger offerings like the Hummer EV. Conveniently, the new battery GM makes isn't compatible with the Bolt or even the slightly larger version, the Bolt EUV. Obviously some buyers want fancy electric trucks, but cost is a major factor when most people consider switching away from gas vehicles, and the Bolt was an accessible way into the EV market. It landed right in the sweet spot of what most Americans said they'd want to pay for an electric vehicle.
The federal government isn't helping matters much: The Biden administration's recently released list of EVs eligible for a $7,500 federal tax credit reads like a tightly edited roster of Super Bowl advertisers: large SUV, large SUV, giant truck, large SUV, giant truck. But the Bolt — under $20,000 with the tax credit applied — was the proud exception. And while there are other state and local rebates offered on other makes and models, this now means the only federal-tax-credit-eligible sedan option going forward will be a Tesla Model 3, which, even with Elon Musk's recently announced price cuts, starts at over $40,000. If would-be Bolt buyers want an EV with the full tax credit, they are left to size up to the Equinox, an electric SUV that GM is aiming to sell for $30,000. Or they could spring for the next-cheapest vehicle on the list, the upcoming Chevy Silverado EV truck, which can be reserved for $39,900 plus dealer fees. It's nearly three times the size of the Bolt.