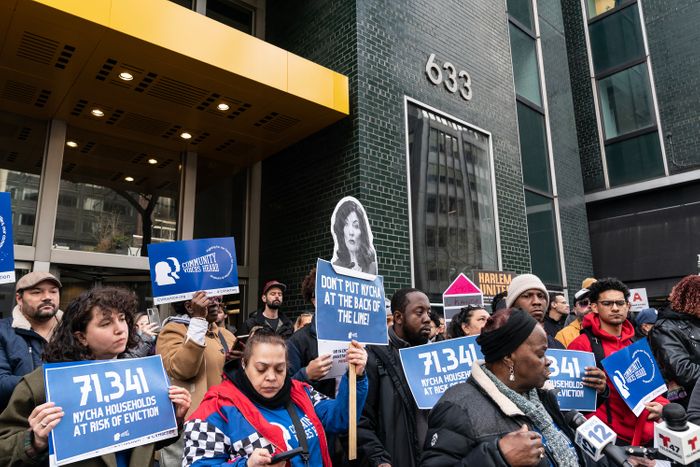 Photo: Lev Radin/Pacific Press/LightRocket via Getty Images
New York State has reached a tentative budget agreement, which includes money for the MTA, charter schools, and a handful of other non-budgetary stuff like raising the minimum wage and a bail measure, Gothamist reports. What it doesn't include is any of the grand pronouncements about housing the governor made back in January. "I want people 150 years from now to look back and say, 'What we did in 2023, investing in these communities, building the housing people need, was a catalyst for a future, which was absolutely unstoppable,'" Governor Kathy Hochul told the Gotham Gazette of her intended legacy. It appears that people 150 years from now will … not be looking back and saying that.
Hochul's ambitious housing plan set a target of 800,000 new homes over the next decade, compelling New York City and its suburbs to increase its supply by 3 percent a year. Crucially, the state would have been empowered to override local zoning, allowing developers to build new housing when cities and towns didn't meet their targets. This particular provision caused convulsions among suburban lawmakers, one of whom described the governor's proposal as "nothing less than an existential threat to our way of life that cannot be overstated or ignored."
But Hochul also struggled to get her allies in line. Both centrist and left-leaning Democrats blamed the governor for introducing her proposal late and failing to build support. "When you want to make transformative change in policy, there has to be an education period," Carl E. Heastie, the Assembly Speaker, told the New York Times. The mandates, a crucial part of making the plan actually work, also seemed to freak out many Democrats: "That represented a threat," Assemblyman Charles D. Lavine, a Democrat from Nassau County, explained to the Times. "Even though there is a Democratic majority in the Senate and Assembly, we Democrats want to make sure we continue to control those majorities."
Housing activists on the left, meanwhile, blamed Hochul for not getting behind good-cause eviction, which would limit rent hikes and prevent landlords from evicting tenants without cause. At a state level, the legislation has been stalled since it was introduced in 2019; cities and towns that have passed their own good-cause measures have faced lawsuits. The governor, State Senator Julia Salazar told the Times, "was completely unwilling to discuss good cause or anything that would provide protections for unregulated tenants."
Also scuttled in the general housing mess: a voucher program, a 421-a extension, and incentives to convert offices to residences. So what did get included in the budget deal? A minimum-wage increase, higher cigarette taxes, and more money for charter schools and the MTA. Meanwhile, half of New York City households can't afford to live here, the Rent Guidelines Board may be considering double-digit increases on rent-stabilized apartments, and in March median Manhattan rents hit a new high of $4,175 a month. But there's totally time to fix this before the legislative session ends in June, right?