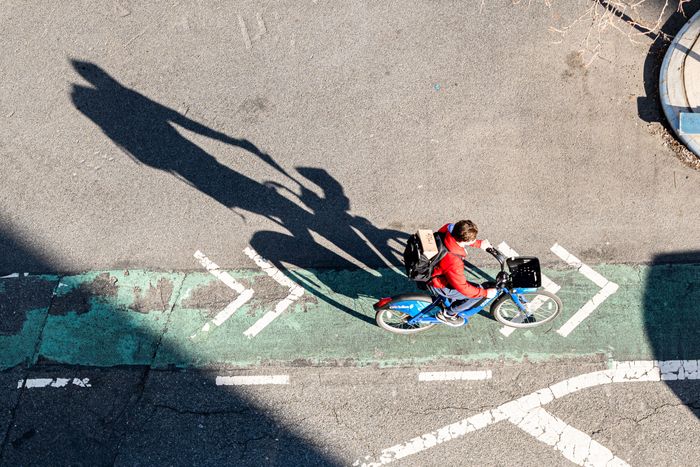 Photo: Noam Galai/Getty Images
It's already been a deadly year for cyclists in New York City. In the first three months of 2023, ten people were killed while riding their bikes, according to data confirmed by the Department of Transportation on Monday morning. The total number of deaths for the year grew to 11 on Monday night, when a 14-year-old was killed by a hit-and-run SUV driver. This is an astonishingly high number. In 2018, ten cyclists were killed in the city over the entire year. Early figures like this have bike-safety advocates bracing for the worst — the city hasn't even hit peak riding season yet.
The uptick in cyclist fatalities reflects an unsettling nationwide trend: traveling in cars is getting safer overall while deaths of people walking and biking continue to go up. In 2021, there were 275 traffic deaths on New York City streets, the highest number in a decade. And even though those numbers, including pedestrian and cyclist deaths, went down slightly in 2022 — 255 deaths — it was still among the highest recorded over the past ten years. (Last year's deaths also included 16 people under 18, the most kids killed in a single year since Vision Zero began in 2013.)
For the past two years, a safe-streets coalition has worked to promote a suite of traffic-safety laws in Albany to reverse the gruesome figures, including a pending bill allowing cities to set their own lower speed limits. But there's a lot that can be done at the city level.
Which makes the Department of Transportation's cheeky, Chubby Checker–inspired "do the twist" campaign focused around dooring feel more than a little misguided. The vast majority of New York City's cyclists are killed because they have to share space with large moving vehicles traveling at high speeds. What needs to happen is the fulfillment of Eric Adams's promise to harden existing bike lanes with concrete barriers, a cheap and effective way to save lives while bigger, more permanent changes can be made to the streetscape. Or as I've suggested before, we could crush all the SUVs in the city (starting, possibly, with the NYPD's fleet). Where's the 1960s pop hit for that campaign?