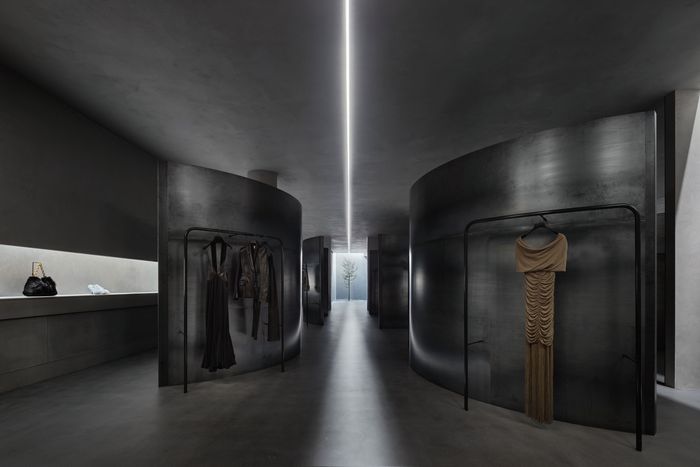 Photo: Courtesy of Khaite
Shopping in Soho, after Acne Studios and Celine and Isabel Marant, we've gotten used to a type of light-flooded, minimalist, luxury environment that strips the spaces down to their industrial bones with a coat of white paint and not much else. But at Khaite, the experience is still more monastic — Spartan, one might say, right down to the name. The new boutique on Mercer Street — the first permanent brick-and-mortar location for the six-year-old New York–based brand — is mostly gray and narrow and somber, lit chiefly by the light emitting from a laser-thin channel inscribed in the ceiling. Color, when it does appear, is reserved for trying on the clothes: Blood-red carpets and lacquer panels line the dressing-room floors and walls; when the doors open, it's hard not to think of the elevator sequence from The Shining.
Khaite has an epic name, a Greek word from antiquity that means "long, flowing locks" (it turns up in a few distinctly un-cheery passages of Homer; before the battle of Troy, Agamemnon "pulled his khaite by the very roots in appeal to Zeus"). But the name of the fashion house is also a play on the name of the company's founder, Cate Holstein, who was already a fashion-world veteran with her own short-lived eponymous label and stints at Vera Wang and the Gap before she launched Khaite in 2016. The clothes are casual, forthright, yet decidedly expensive-looking; worn by celebrities such as Selena Gomez and Kaia Gerber; and won her the 2022 CFDA American Womenswear Designer of the Year. To my admittedly untrained eye, they look a little like what female snipers might wear if Sweden launched an assassination campaign. To more seasoned fashion insiders, Khaite's vibe is "just really hot and sexy and cool" for a woman who "cares but doesn't care too, too much."
But if the clothes are meant to look effortless, the store is a far more labored affair. It's the work of Griffin Frazen, an architect and designer who works under his own banner as well as with the creative agency 11th House. It seems fitting that he has mostly specialized in film sets and exhibitions for the likes of Grimes, Dior, and Thom Yorke; he is also, crucially, Holstein's husband and the father of her first child, who arrived last month. Only a few weeks prior, the duo had put the final touches on the Mercer interior, just in time to host Khaite's fall-winter Fashion Week show in February.
In designing the store, his first commercial project, Frazen seems to have borrowed from the greats. The interior, especially the light channel leading to a tree planted at the end of the store, resembles the work of Tadao Ando, especially his Milan exhibition space for Giorgio Armani. Its massive curling steel partitions seem to be an obvious nod to Richard Serra — an appropriate reference given the sculptor's longtime connection to the Soho neighborhood. But while Serra's and Ando's broody theatrics both rely on extravagant (and pricey) hunks of rusty Cor-Ten and poured-in-place concrete, Frazen manages to conjure a similar mood with a lot more material economy. Those bulky cement-and-aggregate pillars? Hand-troweled plaster over a thin concrete-and-fiberglass sleeve. Those solid metal screens? Welded steel frames with steel panels fastened onto them. Carving the store out of a former garage, the designer discovered skylights toward the western end; opening them up, he let in just enough natural light to see the shoes and bags, allowing the original building to do some of the work. As for the shopping experience, Frazen has tucked the footwear and dresses into recessed niches and isolated them in metal frames, which gives each item an almost totemic aspect.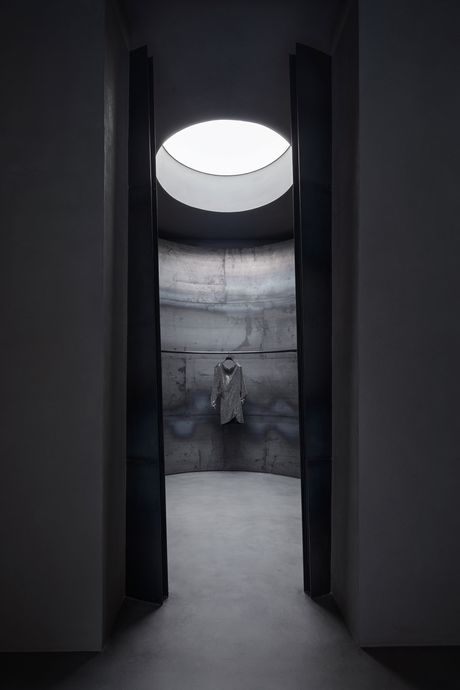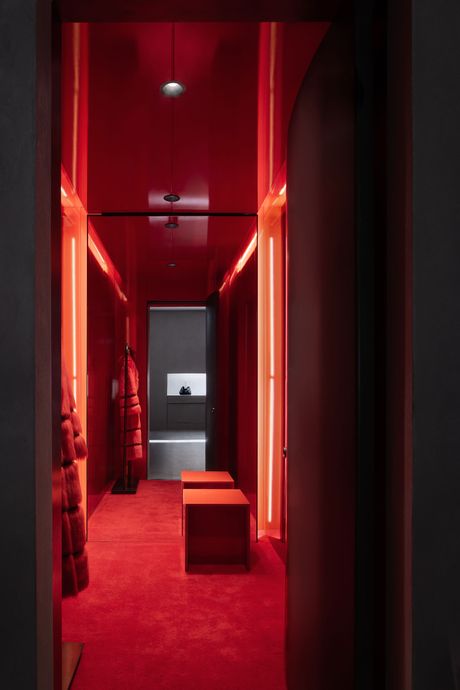 Budget brutalism may seem like a weird move for a business founded on comfy exclusivity. But it kind of works, amplifying the undercurrent of Gothic menace behind Khaite's oh-this-old-thing nonchalance. And terror isn't a bad thing in high-end retail — before shelling out $2,700 for the slouchy Lotus bag or $720 for the black leather Meadow flats, it may help if the consumer is properly cowed, or at least thoroughly disoriented, jolted out of the mid-century-aesthetic fog of most other shopping experiences. It's a glamorous, unnerving experience.