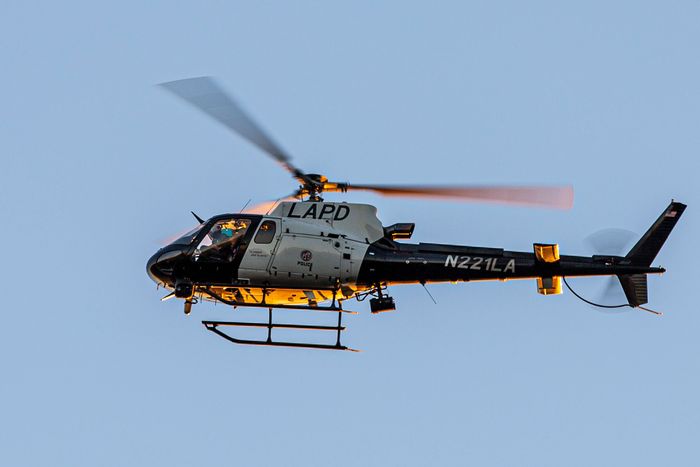 LAPD's short flights over the city are a loud, wasteful environmental disaster.
Photo: George Rose/Getty Images
The Los Angeles sheriff's department recently landed a helicopter in the middle of a busy West Hollywood street, shutting down the neighborhood for eight hours while engaged in a one-sided standoff with what ended up being an empty apartment. This particular show of force was illustrative of an L.A. fact of life: Local law enforcement agencies use their helicopters a lot, and it's not always clear why. The combined helicopter fleet of L.A.'s sheriff's department and L.A.'s police department is the largest of any U.S. metropolitan area, and at least two are in the air at any given time. Helicopters regularly rattle across neighborhoods and are routinely dispatched for the most mundane calls. These 34 helicopters and four small aircrafts also release 11,100 metric tons of carbon-dioxide emissions annually — far more pollution than Kylie Jenner's 17-minute jaunts to park her private jet and Elon Musk's sometimes-daily commuter flights. But unlike the occasional cycle of ire directed at celebrities for their absurdly wasteful reliance on private jets, L.A.'s police-helicopter habit tends to escape climate scrutiny.
The fleet's overall impact, as reported by the climate newsletter Heated and calculated by Nicholas Shapiro, director of UCLA's Carceral Ecologies Lab, is the rough equivalent of having an additional 2,392 additional gas-powered cars on the road. That's not great news anywhere, but it's particularly bleak in a county of 10 million people who are already exposed to some of the worst air pollution in the U.S. And these trips are largely, much like Jenner's super-short hops up and down the 101 freeway, entirely pointless. Police say the county's 4,700 square miles are too sprawling to effectively patrol by ground; in 2016, the LAPD's chief tactical flight officer, Cole Burdette, told the New York Times that L.A.'s low-slung urban landscape required an aerial approach. They also say it keeps crime low; in 2015 LAPD's Newton Division claimed that the number of crimes reported in South L.A. decreased when helicopter flights over the area increased. Sociologist Sarah Brayne, who flew along with the LAPD for months, was told by officers that they determined 51 flyovers per week was enough to keep crime down but often did 80 or 90 just in case.
These justifications for law enforcement's "eye in the sky" presence are thinly sourced. L.A. police often cite a single study about crime deterrence that was conducted in the 1960s by NASA's Jet Propulsion Lab, but even the original study's authors have said it was flawed; it failed to include data from 1965, for example, when the Watts uprising occurred. Elsewhere, the theory has been debunked outright by later studies that have also shown that any money supposedly saved by conducting helicopter patrols is canceled out by their enormous expenses. But the "predictive" paths flown over supposedly high-crime areas still went up: In 2021, the number of these flights increased 30 percent compared to 2019. The result is more noise and air pollution in the city's already most heavily policed neighborhoods. "From a young age, I've been unable to sleep at night as LAPD helicopters loudly prowl overhead," Matyos Kidane of the Stop LAPD Spying Coalition, which is suing L.A.'s sheriff's department for its flight records, told CBS News in February. (L.A.'s city controller office is conducting its own audit of LAPD helicopter use.) Data reported by UCLA's Carceral Ecologies Lab showed that helicopters are lowest and loudest in census blocks that are more than 40 percent Black, subjecting those residents to unwarranted stress, trauma, and sleep deprivation — in addition to blanketing those neighborhoods with toxic airborne pollutants. Which is why the coalition would prefer police helicopters simply be grounded.
LAPD likes its helicopters so much that the agency asked for two new ones in its proposed 2023 budget, claiming that they are mission critical and good for the environment. Using a helicopter can "scale back on the vehicles in an operation which may contribute to reducing greenhouse gas emissions," according to that budget request. L.A. mayor Karen Bass's proposed budget, sadly, only allocated funding for one. Maybe they can carpool with Kylie?