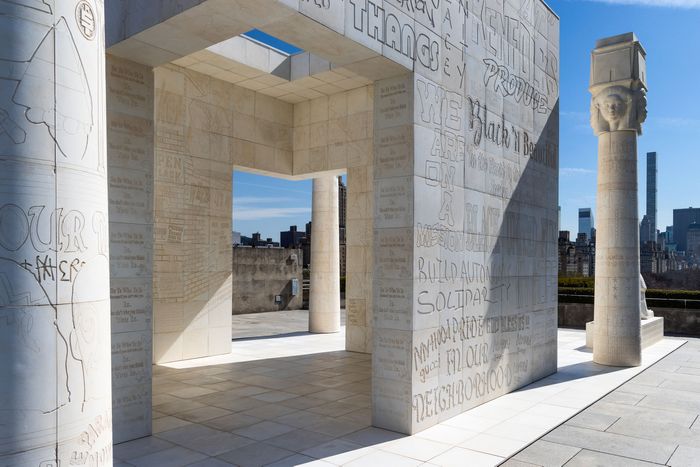 Photo: Courtesy of the Met
Lauren Halsey, a self-described "obsessive collector of objects, of images — of scanning the streets," is known for collaging beauty-store ads, community murals, and "We Buy Houses" signs into glittery, Day-Glo sculptures and bric-a-brac-filled assemblages. But the Los Angeles artist's most recent piece — a two-story-tall off-white temple decorated all over with carvings and guarded by sphinxes — feels like it came from somewhere less familiar. Or more imagined. "It appears like an Afrofuturist, ancient Egyptian, funkified spaceship that's just landed on the rooftop of the Met," says Abraham Thomas, the Met's curator of architecture and design.
The installation, the tenth Met roof commission and its most architectural to date, is an archive of Halsey's own history and embodies her community-focused art practice. (She opened a free-food distribution hub a few blocks away from her studio during the pandemic.) And as Thomas points out, the monument, whose full name is the eastside of south central los angeles hieroglyph prototype architecture (I), does look like a future relic. It's a high-modern gridded box flanked by the aforementioned sphinxes and Hathor columns and etched with graffiti-style references to Simon Rodia's Watts Tower and P-Funk's Mothership and lots more — protest signs, ads for legal services, a DJ wearing a Raiders jersey, acrylic nails — all crashing into one other and layered so densely that you're really forced to look. If it sounds like a cacophonous city streetscape, that's because it is. Ancient Egyptians constructed elaborate temples completely covered in the visual and textual stories of their empire, ways of life, and belief systems. Halsey does the same, except that the gods and Pharaohs of South L.A. are the ones being honored. She clearly reveres what she calls the "maximalism" of Black life in South Central, and sees the monument as a "container for the very full and poetic Black experience."
It's the first time Halsey and her studio have constructed something at the scale of a building: 20 feet tall, on a 2,500-square-foot platform. She previously worked with the hieroglyphic motif in large-scale sculptures for her 2018 residency at the Studio Museum and for a Hammer Museum installation, but this installation is more sophisticated under the skin, with gypsum panels that clip onto a steel frame ("It looks like the Pompidou center underneath," Thomas says). After October 22, it will move to Los Angeles for good, and the plan is for it to become part of a forthcoming community center.
The decision to preserve it is important, because so many public artworks end up languishing in storage or being destroyed. This piece, although it was commissioned by the Met, was made for and by the people of South Los Angeles, not the New York City art world. The Met, like most arts institutions, has struggled to address racial equity. Projects like the Afrofuturist period room have attempted, on a small scale, to reckon with that legacy. But there's always a question of exactly how much a single exhibition or installation can actually do — especially when viewing it requires an admission fee. With the rooftop installation, Halsey funneled the Met's resources (mostly granted by various foundations) into a work of architecture for her neighborhood. It's only temporarily an institutional object — its real home is waiting and the museum's visitors aren't the only audience.
From the path behind the museum and from Cleopatra's Needle, you can spot the monument's enormous columns and a few of the inscriptions, especially the phrase "Black Is Beautiful" and calls to "unite the poor" and "stop gentrification" — a deliberate move by Halsey, who wanted them legible from afar. (Remember that this part of Central Park displaced Seneca Village, a thriving Black community.) Soon, that message will be reinstalled in South L.A., where residents are fighting the twin threats of long-term disinvestment and a surge of new real-estate money that supercharges displacement. Halsey wants her Met commission to stand as a monument to something living, not a somber memorial to lost culture, like the Egyptian architecture that inspired it.