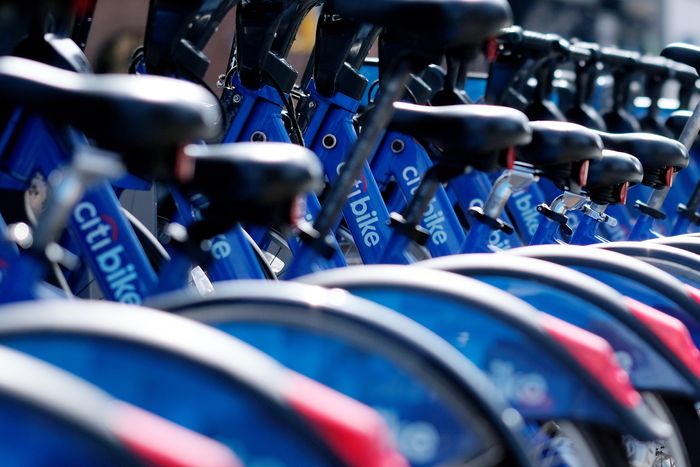 Photo: Dimitrios Kambouris/Getty Images
It's not a great time to be Lyft. The ride-hailing company announced last month that co-founders Logan Green and John Zimmer would be stepping down after months of internal discord over plummeting stock prices, defecting drivers, and a vanishing customer base. The new CEO has described himself as skilled at "doing more with less." Like so many tech companies that swore to solve our urban-transportation problems, Lyft promised to end traffic and lower emissions but, up until the past few years, relied mostly on cars to achieve these goals, making getting around cities even worse. But it's not just the ride-hailing service that's in trouble. Lean times at Lyft could spell trouble for its near monopoly on the country's bike-share market.
If you've taken a bike-share ride in the U.S. in the past few years, chances are very good it was on a bicycle operated by Lyft. Four of the five top bike-share systems by ridership in the country — New York City, Chicago, San Francisco, and Washington D.C. — are run by Lyft, which also runs popular systems in three smaller, bike-friendly cities: Denver; Portland, Oregon; and Columbus, Ohio. Lyft is the operator for other U.S. systems, like Boston's, and in 2022, Lyft purchased PBSC Urban Solutions, a bike-share-equipment company that supplies docks and bikes for 45 systems globally. Even if your city's bike share isn't listed in its app, Lyft may have had a hand in growing it in one way or another.
Lyft's move into the bike-share industry began in 2018, when the company acquired Motivate, the largest bike-share operator in North America, which, at the time of the acquisition, ran the bike-share systems in eight U.S. cities — about 80 percent of all of the country's bike-share trips. Lyft originally positioned its foray into bike share as part of building the ultimate multimodal-transportation app, bundling its ride-hailing services with bike or e-scooter rental or the ability to buy transit tickets. Its rival Uber was plotting the same thing. Notably, Uber, which is rebounding from its pandemic slump thanks to a global footprint and pivot to food delivery, sold off its dockless bike- and scooter-share unit in 2020. But Lyft put money into its acquisition, making new deals with cities that helped to usher many legacy systems into a new era by making capital investments — as U.S. systems hit the decade-old mark, many need new equipment such as docks and bikes.
For many cities, the infusion of Lyft's start-up cash has been a good thing. In New York City, Lyft paid more than $100 million in 2018 for a major Citi Bike expansion that promised to double the existing service area, bring docks into neighborhoods previously underserved by bike share, and triple the size of the fleet, including the addition of some very popular new e-bikes. (Lyft's role in New York City is different from that of Citi Bike's sponsor, Citi, which paid $70.5 million in 2014 for an advertising contract, including naming rights, that runs through 2024.) The timing was fortuitous. During the pandemic, bike share became a lifeline for New Yorkers amid the unpredictability of COVID-variant surges and subway-service cuts. Last September, as transit still struggled to hit pre-2020 numbers, Citi Bike announced record-breaking single-day ridership. Flexible, nimble, and low cost compared with other sustainable-transportation modes such as rail, bike share is a quiet success story.
But because so many cities, including New York, have outsourced their bike-share system operations to the private sector, a single company now exerts near-total control over them. And Lyft's budgeting calculations have previously left riders around the country stranded. Last month, Lyft shut down Nice Ride, Minneapolis's bike-share program, which started in 2010, claiming it was unable to cover the system's $2 million operating gap after a health-care company pulled out as sponsor. (Lyft reported $1.2 billion in revenue last quarter.) Last year, Lyft suddenly pulled its bike-share systems out of Santa Monica, California. And unlike transit agencies, which must vote on operational changes, Lyft can make major modifications to how people get around their cities without consulting anyone. Over the past two years, people who use San Francisco's Bay Wheels system have been shocked by huge price increases and unexpected rate changes. "It's cheaper to rent a brand new pickup truck on @Getaround," wrote an angry user, posting his $48.17 receipt for a two-hour trip. In Portland, riders are outraged by a hike in per-minute fees for new e-bikes that replaced an aging nonelectric fleet, meaning no cheaper options exist.
That market volatility, plus a general wariness of being at the mercy of Silicon Valley start-ups, has led several U.S. cities to investigate forming their own bike-share systems. Some cities own their docks and bike fleets outright, but only a handful of bike-share systems in the U.S. are publicly operated or managed. Boston completely restructured its Hubway system and is now municipally owned as Blue Bikes (though Lyft remains the operator). Detroit's and Pittsburgh's systems are run as nonprofits. In some cities, including Austin and Los Angeles, bike share is managed by and integrated into the public-transit system down to the payment structure. (In L.A., a single Metro Bike ride is $1.75, the same price as a single trip on a bus or train.) The latter model is the one preferred by many advocates. "When you make bike share part of public transit, then you start to see it as this tool to fill in the gaps in areas not served by existing parts of the system," says Kiran Herbert, communications manager at the Better Bike Share Partnership. "You also recognize the need to subsidize it as you would transit."
Even if Lyft starts making bike-share cuts in the name of cost savings, it's unlikely New York City will see the same fate as Minneapolis. Although Minneapolis's Nice Ride was setting ridership records, the maintenance of the older equipment was racking up expenses, and the system would have required a total upgrade to stay functional. This cost would have been peanuts to Lyft, especially as a newly minted owner of a bike-share-equipment company. But Lyft says its deal with the city also changed: In recent years, Minneapolis shifted from a long-term exclusive contract with Lyft to a one-year licensing agreement with multiple vendors. The situation isn't similar for a system like Citi Bike, says Alex Engel, spokesperson for the National Association of City Transportation Officials and one of the authors of its December 2022 micromobility report. "Shared micromobility is no stranger to the boom-and-bust cycle of VC-funded ventures," he says. "However, the largest systems are fundamentally strong: They have high ridership and, importantly, high utilization with each bike used numerous times per day, cutting down maintenance costs per rider." Citi Bike — which has seen a 33 percent year-over-year increase in ridership so far in 2023 — also has the model that's preferred by Lyft: an exclusive, multiyear, public-private partnership that Lyft says justifies infrastructural improvements and service expansions. "Systems work best when there is a long-term partnership with the city and a smaller number of operators to allow for mutual investment and partnership opportunities," says Lyft spokesperson Jordan Levine. That bodes well for Citi Bike. But if smaller bike-share systems can't offer the same type of funding, commitment, or exclusivity, it might make them victims of Lyft's bottom line.