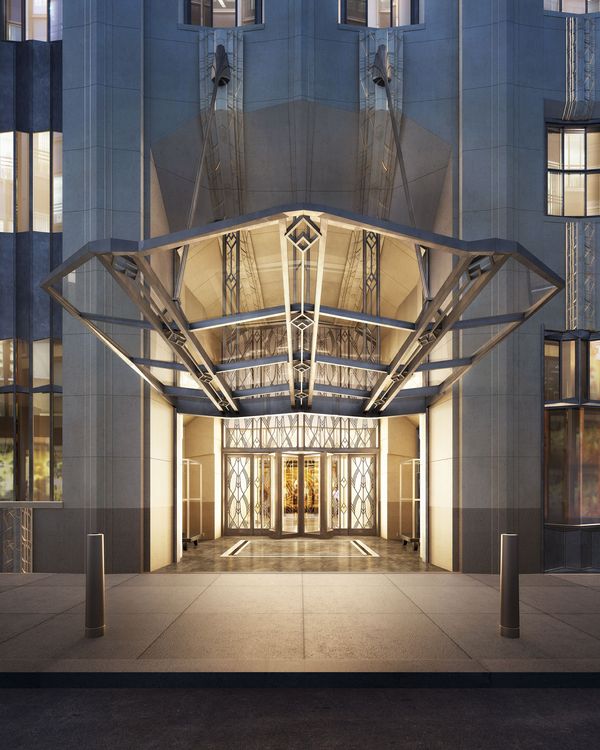 The building was originally designed in the 1920s by Ralph Walker, as a home for Irving Trust bank.
Photo: DBOX for Macklowe Properties
Before the first of the superrich moved into 432 Park Avenue, its developer Harry Macklowe liked to say the building was "the culmination" of his life's work — the tallest residential tower in the Western Hemisphere, a mogul and celeb magnet. And yet, even before its topping-out ceremony, in the fall of 2014, Macklowe had started developing a residential tower that was almost 432's antidote. His new tower would have no private elevators or wine cellars, no parking spaces or service entrances. Instead of an "executive boardroom" walled in mahogany, there would be a co-working space with a printer. And instead of the palatial, 4,000-square-foot floor plans with three or four bedrooms, the 566 units at his next tower skewed toward one-bedrooms and studios — smaller apartments that Macklowe initially conceived of as rentals. Almost half of them were designed with home offices.
This is One Wall Street, Macklowe's tower for the working, rather than the obscenely, rich. It also happens to be the largest office building to be converted into apartments in New York City. (For now, at least: The former Daily News building, now under construction, will be the next largest when it opens.) The building was originally designed in the 1920s by Ralph Walker as a home for Irving Trust bank. And it was still seeing bankers walking through its doors when Macklowe paid $585 million for it in 2014. Macklowe, whose company made headlines for a demolition on West 44th Street the night before a city statute would have outlawed the teardowns, was an unlikely candidate to invest in a landmark. But he also had a personal connection to the bank: He says it's where he cashed his first checks when he worked in advertising, and where he later met with lenders. When he took over, he threw money down on features that give the building a certain patina. A few old elevator doors and a mailbox have been polished and displayed in the Whole Foods that is taking 44,000 square feet on the lower levels. A vestibule, walled in mosaic to impress banking customers, has been cleaned tile by tile to serve as the flashy entrance to the Printemps department store, which is taking 54,000 square feet.
Retail leases on the ground and basement levels are part of how Macklowe Properties was able to reconfigure the building to meet zoning requirements for living spaces. Apartments have been pushed against exterior walls, with their valuable windows, and everything else is pulled into the core: Hallways, elevators, and storage space are all found in the windowless middle. Life Time Fitness, a gym, is taking 75,000 square feet at lower levels. That tenant and its neighbor, Whole Foods, are selling points to everyday workers. "Commute by elevator" reads a pamphlet, advertising future buyers on the idea of the flex workspace. Whole Foods is an answer to any plebe who might answer yes to the pamphlet's question, "Tired of lugging your groceries for blocks?"
One Wall did lure some buyers who want to walk to work nearby in finance or at downtown law firms, says Kirk Rundhaug, a Compass broker who is head of sales. But others tenants have been drawn to the aesthetic of finance more than to the reality. Units on the sixth and seventh floors stare directly down into the trading floor of the New York Stock Exchange next door, and sold quickly, Rundhaug says. "It has that draw of, 'Wow! The money is in the neighborhood.'" A lot of buyers have come to One Wall looking for pieds-à-terre or seeking apartments for adult children studying at colleges uptown, he says.
Others, like Dr. Michael S. Aronoff, 82, and Dara Welles, 70, were just charmed by the building: the mosaics in the lobby, the thickness of the prewar walls. "It was luxurious and not ostentatious," Aronoff says. "This is not a building that was just slapped together." He's now unpacking in a two-bedroom whose kitchen cabinets are by the same Italian cabinetmaker who crafted the kitchens in 432 Park Avenue.
"It does show a certain excellence that Macklowe has in terms of bringing product to marketplace," says Matthew Chook, the senior vice-president of sales at Macklowe Properties. "This is rich, but — by the way, we have studios starting from a little over a million dollars, right? So it's not only for the rich."