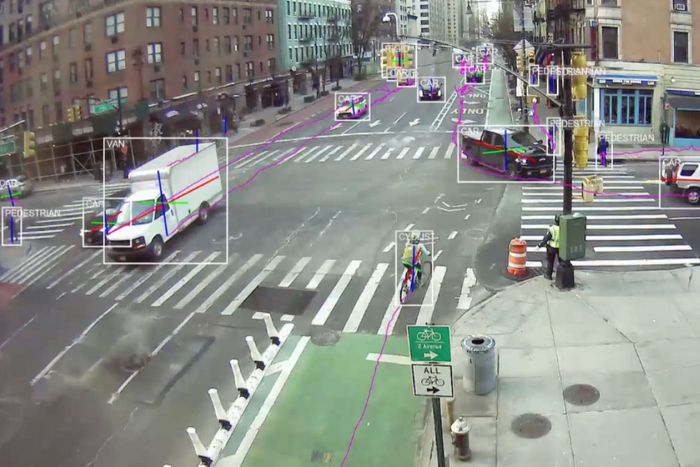 New sensors installed at a dozen New York City locations use machine learning to count nine different types of street users and how they interact.
Photo: Viva
Pedestrian activity picks up as soon as the barricades for the 34th Avenue open street in Jackson Heights are put in place at 7 a.m., the first wave of commuters emerging from the early-morning quiet. Peak walking hours at the intersection of 77th Street, bisected by a leafy median and threaded with a pair of bike lanes, is 2 p.m., when the number of people on foot spikes to nearly 400. Prime time for cyclists hits a little later, around five. A spirograph of brightly colored arcs track these movements over time, captured throughout the day by a tiny sensor installed by the city as part of a pilot program earlier this year. The resulting data is a frenetic, Pollock-esque snapshot of how people get around.
Understanding how people use streets is crucial information for transportation planners to recommend adaptive changes (a wider bike lane, a mid-block crosswalk), but the accuracy of the tools the city uses to capture these patterns of movement varies widely from pneumatic tubes on the ground to observational hand counts. The new sensors, from the London-based transportation-technology start-up Viva, are small street-light-mounted cameras that use machine learning to clock activity with more consistency and precision — including modes of transportation and route. The data is collected using what's called "edge computing," meaning the footage is processed then immediately deleted from the device, and the city says it plans to make the data sets open source. (The New York Civil Liberties Union's Daniel Schwarz points to the issues with LinkNYC's data policy as a reason for "rigorous guardrails" and regulation around the tech.)
So far, New York has just a dozen locations involved in the pilot, but the cameras are already widely deployed in cities such as London, where 1,000 sensors have provided critical information about the impact of its congestion-pricing program. Viva co-founder and chief operating officer Peter Mildon says the data is being used there "to understand if this increases cycling and walking, and to capture the change in demand on the remaining free roads" — all highly relevant to New York as it puts together a similar plan.
The sensors sort movement into one of nine modes: pedestrian, bike, e-scooter, motorcycle, car, van, light truck, semi-truck, and bus. The detail they capture is intriguing. For vehicles, the patterns created by the data are mostly redundant, like a marker underlining the same word over and over. It's a striking illustration of the vast unused roadway — similar to the way snow becomes an urban-design tool showing the potential for new pedestrian plazas. The paths of cyclists and pedestrians often look more like meandering doodles, moving from street to sidewalk and back again. These more unpredictable paths are called "desire lines" and can reveal decisions made in stressful situations like a scooter rider veering out of a bike lane blocked by an Amazon van or a busy deliverista taking a shortcut on a curb ramp. This part, visualizing the sections of streets people avoid or favor, is important, says Megan Ryerson, the UPS chair of transportation at the Stuart Weitzman School of Design at the University of Pennsylvania: "We're closing the gap between what we, as individuals, use to plan our safe routes and how the city is doing its planning." And instead of waiting for real-world crash data should two modes collide, the sensor's ability to track near misses — where two paths almost cross but don't — has the potential to identify a dangerous spot before someone gets hurt.
The pilot will help the city understand how the use of streets change over time, according to Transportation Commissioner Ydanis Rodriguez, who says the data from the sensors will inform the "actions we can take to keep New Yorkers safe." All that sounds good, but the city already knows a lot about how to proactively prevent crashes: by slowing drivers down and making more space for pedestrians, cyclists, and transit riders. New data, even with the capacity to track such granular contortions of movement, won't do much to make people feel safer if the city continues to drag its feet on how it implements its own stated goals for fixing its streetscapes. Eleven cyclists have already been killed in 2023 — a number that can't be explained away by a lack of data sets. "In some ways, what we need isn't more data," says Ryerson. "We need the will to build safer infrastructure."