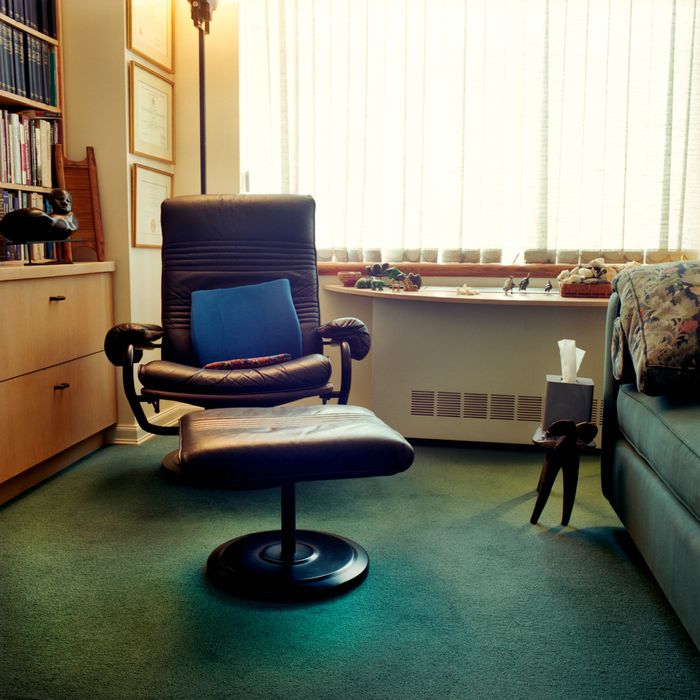 Offices for therapists across New York emptied out through the pandemic, turned into other businesses, or are now being split up by therapists who see patients in person for a day or two per week.
Photo: Glasshouse Images/Getty Images
During the pandemic, I noticed that my psychologist, Sharon Sommers, was Zooming from a room that didn't look like a typical therapist office. As I remember it, the walls were powder blue, and sometimes the frame was wide enough that I could see a floating shelf with what seemed like a Star Wars–battleship figurine. I wondered where she was Zooming from, but I was afraid to ask. (Boundaries is a Sharon word.) Eventually, I asked anyway. "It was my son's room." He's in college now, and Sommers, like most therapists at the beginning of the pandemic, had switched to telehealth, giving up her office in midtown as soon as she could get out of the lease.
But then, about a year later, her patients started talking about how they longed to meet in person. So she rented an office two days per week in a flex setup. She was amazed by how cheap it was — $600 per month, about half what she would have paid for the same amount of time before the pandemic. "It was not hard to find and very inexpensive."
Since 2020, therapists across New York have been backing out of old leases and finding deals or just staying home. Meanwhile, the offices they're giving up are landing in a market where there's less demand. A lot less demand. A survey by the platform Alma, which helps therapists run their businesses, found that three-quarters of respondents in New York State are still fully remote. Nationally, almost a third of the members of the American Psychological Association said they see all their patients remotely, according to the APA's latest survey. So therapist offices have been seeping onto listing sites, sticking out from the sea of Calacatta marble and city views with their worn armchairs and patterned, old-school rugs. One ground-floor unit with a maisonette entrance, hardwood floors, and a view of Central Park has been lingering on the market for 14 months, per broker Terri Stone. The price recently dropped to $529,000, about $220,000 less than its appraisal. "It's sitting there crying out and saying 'Buy me, please buy me!'" says Stone, who has gotten about 50 calls from people who would like to live there. The problem is that the office is in a co-op with a board that would prefer the next tenant be another therapist — one who's willing to put down 50 percent cash. "I've never had a listing this inexpensive or for this long," Stone says. Just a few blocks away, at 180 East 79th Street, the former office of a doctor who died just before the pandemic has been on and off the market for years. Paul Wexler, a Corcoran broker who specializes in medical space, first had the listing in January 2022, failed to sell it, and now has it again.
There's no data tracking how many therapist offices are currently for sale or how long they tend to linger. Therapist offices get lumped with other medical suites, whose doctors and surgeons are far less likely to be working from home. But anecdotally, "I've seen them sit on the market for quite some time," says Mark Roopchan, a managing director at Prime Manhattan Realty. "You're lucky if you get a showing a week," says Adrienne Berman, a Brown Harris Stevens broker who specializes in medical real estate. It's cold comfort to Allan Zapadinsky, of Keller Williams, who says a therapist office he failed to sell this year is one of only three listings he hasn't closed in his entire career. "This was the most frustrating experience," he says. "There's not a huge return back to in-person in a lot of fields, and this happens to be one of them."
But the therapists who are coming back are not always returning to the same neighborhoods. "I can find you medical spaces on the Upper East Side. There's no shortage of it," says Roopchan, who currently lists two former therapist offices: one on East 72nd Street and the other closer to the river in Yorkville. Meanwhile, his therapist clients who are looking for space want to be in Nomad, Chelsea, and Union Square — addresses that are easier for them and their patients to get to. Except those neighborhoods are swamped with ground-floor-retail leases, not tiny two-room hideaways. "So I see an excess of space, but then I also see a need for space," Roopchan says.
Converting these offices into residential isn't always possible for the same reason that all office conversions aren't: zoning for residential requires more windows. And conservative co-op boards can require that the office remain a medical space — but other medical specialties can't always make good use of a small, dark therapist office. And some businesses that would want that space aren't welcome tenants. "They don't want a psychic or someone putting a sign out there that says 'Two-for-One Massage,'" says Faye Samim, a broker with Douglas Elliman. "They prefer less traffic." Which is why Samim is showing a former therapist office at 122 East 82nd Street, off Park Avenue, to other buttoned-up corporate professionals who might want smaller spaces — like lawyers and accountants. Arsen Atbashyan, who helps connect commercial landlords to tenants in Brooklyn, says he got four calls in the past year to replace therapy suites of between 2,000 and 3,000 square feet. Those suites can't just become anything owing to their quirky layouts — tiny rooms off a central corridor — so he turned them into beauty salons and Botox spas.
Other landlords turned suites they used to rent to doctors full time into (kind of) co-working spaces, accommodating the schedules of doctors who only see patients in person once or twice per week. "You have to get the jigsaw puzzle together," says Jeremy Feit, a real-estate investor who runs two therapy suites. This requires landlords to throw down for furniture and think about what, in 2023, a therapist office should look like. Kathleen Maher, a therapist who ran two suites of mental-health office space for 38 doctors before the pandemic, downsized and rebranded as TherapyHive NYC, furnishing suites from the liquidation sales of other Nomad businesses and pulling items from West Elm and Wayfair. The company bought couches and chairs but also desks — so therapists could Zoom between in-person patients — and the website advertises offices with low sofas, Eames lounge chairs, and mid-century-modern tables. "It's very tranquil. It's the look and the feel of a space you want to be in," says office manager Tai Campbell. "Our vibe is kind of high and low." 
My therapist gave up her lease on her new office after six months — it just wasn't worth it, she says. "My patients were first saying, 'Oh I want to come in.' Then when they did, they started saying, 'Oh, wait a minute. It will take me 45 minutes to get there and get back. Actually, okay, Zoom is fine.'"