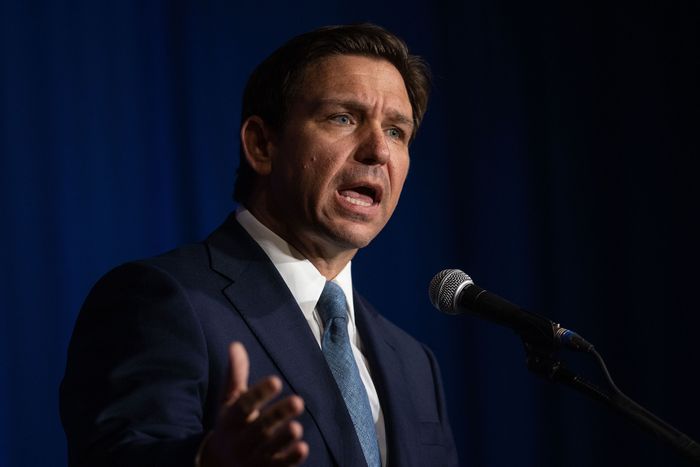 Photo: Scott Eisen/Getty Images
The power struggle between Ron DeSantis and Disney struggles on. The Florida governor announced on Monday that the Republican-controlled state legislature will void Disney's recent move undermining the board of his allies he installed to control the special tax district around Disney World. This is now the third undermining that has transpired, for those keeping track.
For decades, Disney has essentially governed what was formerly called the Reedy Creek Improvement District as a "kingdom within a state." But DeSantis went after the company after it acted on employee pressure to condemn the state's "Don't Say Gay" law, seizing the district, renaming it the Central Florida Tourism Oversight District, and putting a handpicked board in place. Then it was revealed that prior to the takeover, the former, Disney-aligned board of supervisors granted the company control over nearly every aspect of the district "until twenty one (21) years after the death of the last survivor of the descendants of King Charles III, King of England." (It took DeSantis's administration a month to realize Disney's subterfuge despite the fact that the document had been publicly filed.)
Now, DeSantis is retaliating against the retaliation to the retaliation. "This is far from over," a senior DeSantis administration official told the New York Post, "and he's going to have the last laugh." Seems like that resolves things, and nothing else will happen.