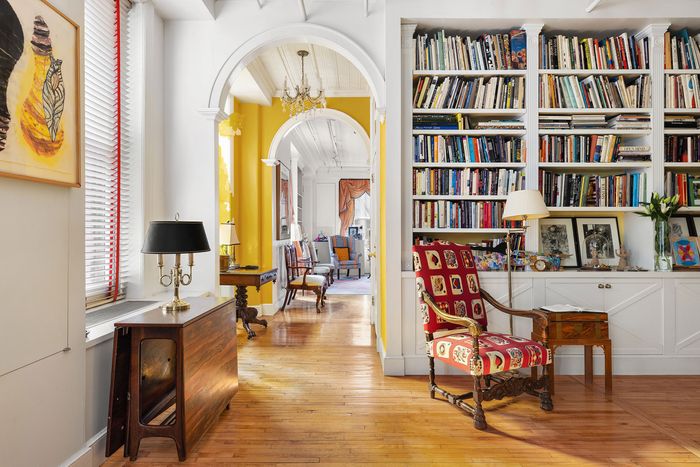 Susan Paul Firestone added arches and built-in bookcases to turn part of her Soho art studio into a living space.
Photo: Hayley Ellen Day at DDreps
Susan Paul Firestone bought her Wooster Street loft in 1985, when she was making sculptures with neon and living in Washington, D.C. She had a studio near home but craved a space in New York that put her closer to the art world. Back then, 59 Wooster Street was at the center of it: Fluxus Foundation was across the street, and the Brooke Alexander Gallery was on the second floor. Artists who lived and worked in the building have included Lowell Nesbitt, David Novros, Jim Sullivan, Joni Wehrli, and George and Michel Negroponte. "This is where I wanted to be," said Firestone. "I just didn't realize I was going to live here full time."
Of any Soho building overtaken by artists, 59 Wooster was ideal. Designed in the 1890s as a showroom for clothing merchants, the chocolate-colored six-story Romanesque Revival has high ceilings, industrial elevators, and large, arched windows on two sides of its corner lot that fill the spaces with light. At the same time, its ornamental exterior, with carvings of twisting leaves and winged griffins, could charm even 1980s minimalists. In Firestone's 3,000-square-foot loft on the third floor, a 17-foot-wide half-moon window looks out over Broome Street. "I needed the light, I wanted the light, and I still sit by that window all the time," Firestone said.
Firestone, who studied art in college, had married into the Firestone tire empire in 1973 and was raising a family in D.C. when she bought the loft. She came up once or twice a month to work on vibrant oversize paintings and massive sculptures made of neon, bronze, and steel. There was no kitchen. But 12 years later, Firestone divorced, losing her home in D.C. She ended up moving to the loft simply to "survive," she said. "It was the place I had. I had to make it a home." She renovated the open-plan square, dividing it up with shelving, floating closets, and new walls. She set off the living space from the working space with flat files and gallery-style walls she can tack paper to ( which wasn't a structural addition). She installed a kitchen. As a divorcée, Firestone took up a new career as an art therapist.
The space brims with color: The kitchen ceiling is painted yellow, the bedroom built-ins are backed in Barbie pink, and the windows that overlook Wooster Street glitter with clear plastic flowers that Firestone hung after finding them discarded on the street by the nearby Kate Spade store. (She misses the days when it was easier to collect discarded scrap metal in Soho to use in her sculptures.) It still has some traces of her past life. "This is sort of my living room from Washington," she says, pointing out curtains from her home in Kalorama and chairs she upholstered for an apartment in the Watergate, which she'll take with her. "It's an uptown apartment in a downtown space." To show the space to buyers, Firestone has cleared out some of her art and sent more of it on the road; a show of her cutout collages is now at the Smith Center for Healing and the Arts in D.C.
For broker Marie Evans, who has been selling in Soho for 35 years, the space is a rare find — a square-shaped corner unit that's almost just as it was in 1985 and hasn't yet been chopped up into narrow rectangles. A buyer could redivide the space to fit any lifestyle, but Evans admits it's not always easy to find a buyer with a Firestone-esque vision. "This is for someone who has a big wallet and a big imagination."