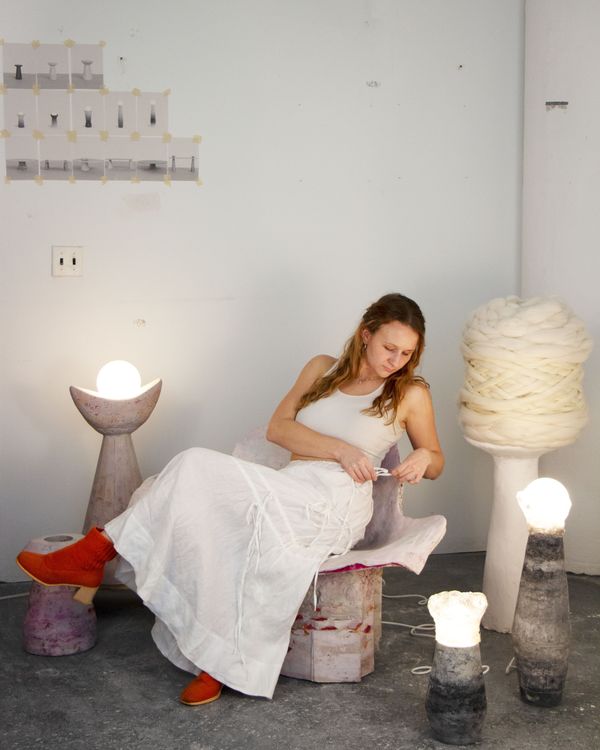 Susannah Weaver's Long Island City studio almost looks like a test kitchen. There are heaps of icy-pink and baby-blue wool that appear to be cotton candy, five-gallon buckets of licorice-black dye near the sink, and nougat-y wedges of marbled concrete stacked on a shelf in a rainbow gradient. "My boyfriend calls it the forbidden cheese," she says of an experiment that resembles a hunk of Stilton. But none of it is edible; it's a mixture of dyed wool and concrete that she first created five years ago and uses to make lamps and tables and chairs.
Modern designers often invent materials that end up shaping what comes next. The Eameses, perhaps the best-known example, built their own plywood molding machine that led to their famous Lounger; Gaetano Pesce cooked up his own resin mixture to mold his gloopy chairs; and Jane Atfield minced plastic bottles to make a composite that eventually led to the first furniture collection made entirely from post-consumer waste. Like Atfield, Weaver chose to design a material first and then see what sorts of objects it would yield. At the Healthy Materials Lab at Parsons, where she was a student researcher, Weaver learned that sheep's wool was a more sustainable alternative to foam upholstery. She especially appreciated its living qualities. ("You can see a sheep's emotions through their hair," she tells me. "If they're stressed, it's more dense and frizzy.") But to build anything out of it, she needed to make it stronger, so she tried mixing it with concrete. Applying a technique used in rammed-earth architecture, Weaver layers concrete and wool into a mold and compresses the mixture with a very long wooden spoon. As the mixture cures, the dyes from the wool bleed into the concrete, creating a marbled look. Once it's dry, she removes the object from the mold and sands the surface, which frees tufts of fuzzy wool from the concrete, giving it a more tactile, softer finish.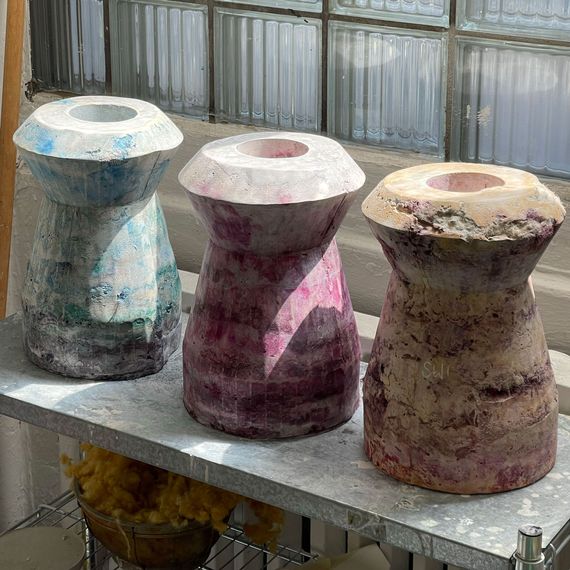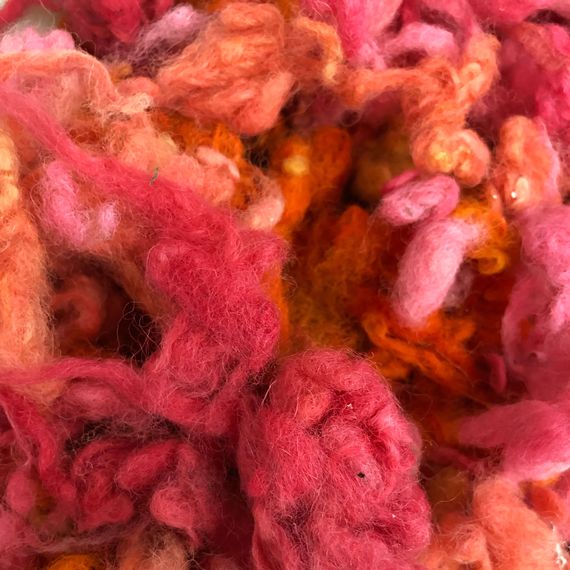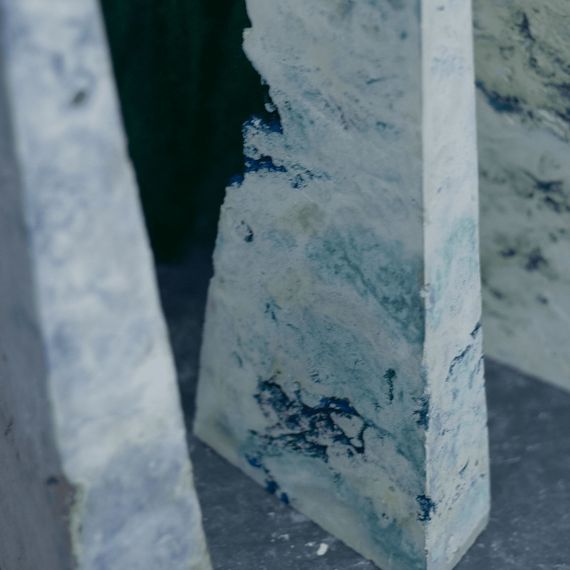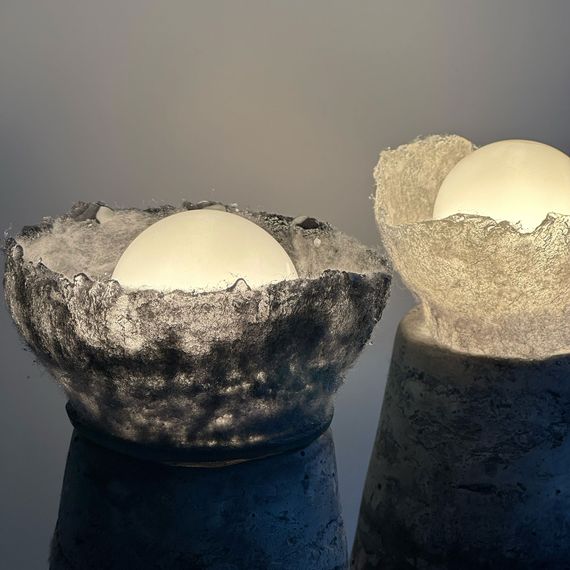 So far, Weaver has made some small-scale pieces out of the material: a dark-gray table lamp that looks almost like a frozen lava lamp, hourglass-shaped planters big enough to hold a monstera, and pedestal-style side tables. She finds that the fuzziness of her finished pieces either attracts people who think it's cute or repels people who "are a little weirded out," she says. But "the girls who get it, get it." It's also grabbed the attention of curators. Wava Carpenter, Design Miami's former curatorial director, included a lamp and vessel in an exhibition of emerging artists held at Carpenter's Workshop's New York gallery. The Mexico City design gallery Ángulo Cero included two of her lamps in its "New Solid" installation at Casa Nueva during Design Week Mexico. In May, for Frieze, she's exhibiting her work at C1760 Gallery. Next, Weaver wants to scale up, although the material is so heavy that anything bigger can easily top 100 pounds. To fashion a lounge chair, for instance, she's testing out a new technique to make lighter, organically shaped pieces inspired by the molded fiberglass method the Eameses used.
Correction: The story has been updated to reflect that Wava Carpenter is no longer the curatorial director of Design Miami.