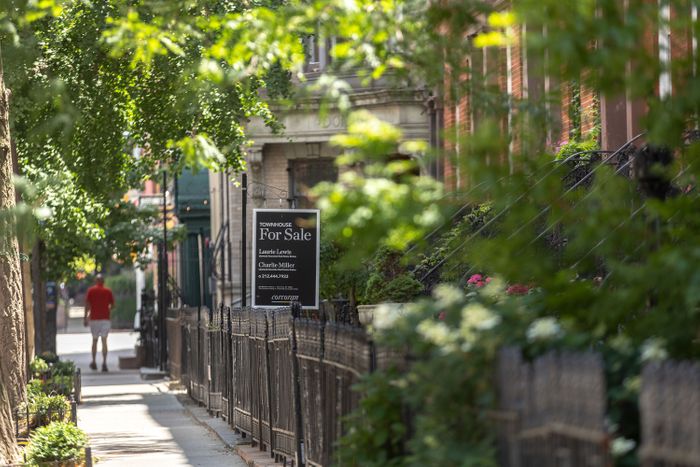 Photo: Jeenah Moon/Bloomberg via Getty Images
After nearly a year of high interest rates, high housing prices, and meager listings inventory, buyers and real-estate brokers have been looking forward to the spring, when a flurry of new listings typically come on the market. So far, however, the pickings have remained depressingly slim. "I've been telling my buyers that it's spring and there's going to be good inventory coming on," says Lauren Cangiano, an associate broker at Brown Harris Stevens. "But it didn't. It just didn't."
It's not that there's nothing on the market, clarifies Kimberly Jay, an associate broker at Compass, "it's that there's very little that's good." Most listings are either overpriced or have been sitting for months, brokers say. Usually both. A handful of sellers are willing to take offers — Jay recently represented two different clients who bought at 530 Park Avenue, a condo conversion on the Upper East Side. The deals happened, she says, because the owners were open to negotiation — going down to $1.63 million, for example, on a unit asking $1.84 million. But most sellers are standing firm, convinced that they'll eventually find a buyer willing to pay last year's high prices. "I have a seller who made an offer on something and the broker said, 'Oh, we've had higher offers than that and we turned them down. We're not even going to consider it.' There's no sense of urgency," says Jay.
Of course, the sense of malaise may, in part, be a comedown from the frantic bidding wars of the last few years, which were fueled by historically low interest rates. The number of contracts signed in Manhattan in March — just under 1,200 — is historically on par with pre-pandemic years, according to real-estate data firm UrbanDigs. And the number of contracts signed and listing inventory, though down year over year, have been up several months in a row, according Douglas Elliman's March market report. But the market, everyone agrees, is weird right now. Interest rates are high, which would usually force down prices, but the inventory is so low that it hasn't happened. Brokers say they've found that a listing either sells immediately, usually because it's well-priced, or not at all. "If you don't price right, you're fucked," says one. There are also still a fair amount of bidding wars, according to Jonathan Miller, founder of appraisal firm Miller Samuel. About half as many as before the interest rates shifted — down from around 50 to 25 percent in Westchester and Fairfield counties and 9 to 5 percent in Manhattan — but still "a substantial amount, given that interest rates are double," says Miller.
Lisa Chajet, associate broker at Coldwell Banker Warburg, recently had a buyer looking for a two-bed, two-bath apartment on the Upper East Side. They went to see 12 listings, which ranged in price from $2.1 million to $2.9 million. Many were overpriced and had been sitting, but they made an offer on a $2.19 million apartment that had been listed for less than a month and are now in contract.
"We grabbed it," Chajet says. "I thought it was a very fair price." She says that she looks at the last comp in the building line and makes every effort not to go above it. "If you bought in 2014, 2015, or 2016 and did no work, don't expect to put an apartment on the market for more than you paid. Brokers are going to ask you where you came up with that price."
Almost everyone is frustrated right now, including owners, says Sydney Blumstein, associate broker at Corcoran. "They feel like inventory is low, they list, they don't get good traffic, and then they sit on the market for a while." Getting clients to price right is a challenge, though. The slow market has left some brokers so desperate for listings that they're calling any seller with an expired listing and telling them they can get them a buyer at the last asking price. The broker feeding frenzy gives sellers false hope and, subsequently, stymies actual sales. One of Blumstein's listings in the West Village was on the market for a year and a half with another broker asking $12 million, later dropped to $9 million. When she took it over, she convinced the seller to go down to $7.5 million. But in the two weeks the apartment was off the market before it relisted, the seller got calls from 30 brokers. "I said, 'Give them my number if they have a buyer.' No one had a buyer. No one wanted to see it," says Blumstein. But the seller, convinced he'd be leaving money on the table at $7.5 million, insisted on asking $7.99 million. The price has since dropped to $7.85 million and they have yet to find a buyer.
Buyers still fight over certain types of listings — like a three-bedroom co-op Blumstein listed in Prospect Park South recently. It went for $30,000 more than the asking price. "We had 70 groups at our open house and several offers," she says. "There are just so few renovated resale co-ops under $1 million." Three-bedrooms in Tribeca are similarly prized, according to Collin Bond and Boris Fabrikant, brokers who head up a team at Compass and recently listed one. It got multiple offers and went into contract after two weeks on the market.
For the most part, however, buyers aren't feeling any sense of urgency either. "Something we hear a lot is 'We really like the place, but we want to see what else is coming to market,'" says Fabrikant. "Even though there's not a ton of inventory, buyers don't feel the pressure. With the rates being where they are, they feel like they can afford to be choosy."