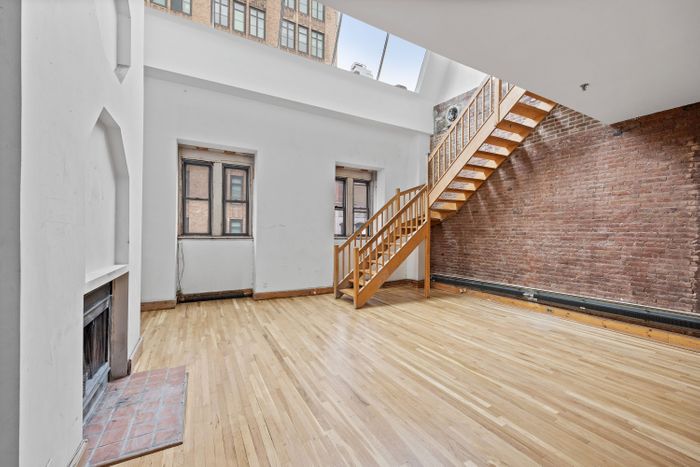 The duplex penthouse atop a former fire station features wall-to-wall skylight windows that follow the slope of the mansard roof and a working fireplace.
Photo: MYC & Associates
The penthouse at 160 Chambers Street is a rare light-filled 2,200-square-foot duplex in a neighborhood where luxury condos are now clamoring for every last particle of light. The main living area has 20-foot-high ceilings and wall-to-wall skylight windows that follow the slope of the mansard roof. Across from a working fireplace, a floating staircase winds up to the second floor, where the primary bedroom opens onto a roof deck. There are three bedrooms in all, two bathrooms, and a seven-by-nine-foot den, all carved into a landmarked building — one of the first three police stations in New York City, where cops worked through the Civil War before the city turned the building into a hospital, then a fire station whose insignia, Engine 29, still hangs over the commercial space on the ground floor.
At $2.5 million, the duplex seems like a steal, which is partly because it needs an update. "The bathroom needs to be gutted. The kitchen needs work," said broker Marc Yaverbaum. "Someone's going to come in and put a high-end renovation in this place and make it beautiful." That someone can also push the co-op board to install an elevator, an idea that's been floated before. But the low price may not just be because of the walk-up or the renovation. The penthouse is being sold as part of a Section 7 bankruptcy sale, which is offloading the assets of Lawrence Omansky, a criminal-defense attorney, real-estate investor, and tabloid character who didn't just live in the penthouse — he turned the whole building into a co-op, then dragged its reputation through court.
In 1979, Omansky bought 160 Chambers for $128,000 and sponsored its conversion, saving himself the top unit and a ground-floor lease. An architect friend had suggested the building was a sound investment, Omansky says, and it ended up that way — Tribeca gentrified around him, and in 2017 the former fire station achieved landmark status. In 2003, things took a strange turn when Omansky was accused of holding his former business partner at knifepoint inside the penthouse, binding him with duct tape, and stuffing him into a crawl space under the second-floor bathroom — the former partner says he struggled for 28 hours before escaping to tell his story to police. Omansky is a free man because prosecutors said "sufficient" issues with the victim's credibility undermined the case. (Omansky says he's innocent.)
Afterward, Omansky managed to keep bringing 160 Chambers back into the courtroom: In 2008, he sued the co-op board, alleging it was the board's responsibility to repair a leak in his roof. Eventually, the case was dismissed, which still bothers him. "How can you possibly give a rational explanation for why you shouldn't compel them to fix their own roof?" he says, and he believes the board had the resources to make the repairs. He also sparred with his neighbors over the building's failure to install an elevator, over the legality of his roof deck, and over the relative security of his sliding glass door. "Nice friends, nice neighbors. Show you how evil and sleazy people can be," Omansky says. Now, Omansky is happy to get out — even if it is through a bankruptcy procedure. "I got away from all these sleazy people that were doing all these terrible things, some of them very spiteful; it wasn't a conducive atmosphere to live," says Omansky. He'd attempted to keep the apartment by shielding it from creditors, but that strategy didn't work — which is why the apartment is now being sold.
Yaverbaum says the top offer will have to be approved by a bankruptcy-court judge before it's sent to the co-op board, though he anticipates the board will be accommodating. "The board is beyond excited that a new owner is going to come in."