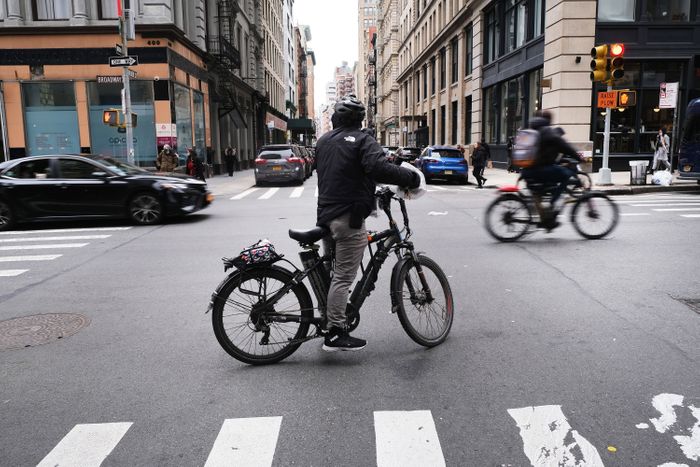 Photo: Spencer Platt/Getty Images
Uber will sponsor two programs to help the city's deliveristas buy or rent safer e-bikes, the company announced this week. As the largest delivery app operating in New York, Uber's interest in the issue is obvious: The city's 65,000 delivery workers who rely on e-bikes and e-scooters to make a living (or to just barely get by) are generally zipping around on the company's behalf. And with 59 fires and five deaths in 2023 so far — including two children who died in Astoria on Monday — and everything we know about the dangers of the shoddily manufactured, non-UL-certified lithium-ion batteries of some e-bikes and e-scooters, Uber's move seems to be as much about protecting its own brand as protecting New Yorkers.
The two "cash for clunkers"-style pilots sponsored by Uber are an immediate way to get dangerous bikes off the street. The first is a partnership with Zoomo, which makes micromobility vehicles that are popular with delivery workers. Zoomo will accept old e-bikes of any make or model in exchange for a credit to put toward a UL-certified e-bike. (The value of the credit has yet to be confirmed, but Streetsblog reported it at $200, which would pay for a bike rental for one month, the down payment for a $3,348 rent-to-own bike, or one-third of a $675 refurbished bike.) Uber will also work with the New York–based Equitable Commute Project coalition to help workers to trade in noncompliant models at local bike shops and receive discounts on UL-certified e-bikes. (The value of the credit has not yet been set here either.) Both programs would be open to all workers — even if they don't deliver for Uber Eats.
As demonstrated by wildly popular e-bike incentive campaigns elsewhere, the most effective way to get safer, cleaner vehicles on the road is by giving people money to buy them. Both Zoomo and the network of local retailers participating in these trade-in programs will serve as strong complements to existing projects seeking to prevent deadly battery fires: The city is rolling out its own slate of reforms — including the first public charging hub (a huge victory for deliveristas), a law requiring new micromobility vehicles to be UL-certified, and an action plan with strategies for safer battery storage. The state legislature is currently considering a "clean rebate" proposal that would be publicly financed and administered — a way to ensure access to safe, UL-certified e-bikes and e-scooters for everyone.
These are all good things, but what Uber is offering is nowhere close to what it actually owes its workers. The company's existence hinges on an employment scheme that denies people basic labor protections, and earlier this month, Uber successfully lobbied against a minimum-wage increase for the city's delivery workers. All of this leaves people with little choice but to use a bike that's cheap and deadly. Uber is trying to leverage this sponsorship as an attempt to solve the problem, with the company's senior director for public policy, Josh Gold, saying, "Delivery workers should not have to choose between making a living and safety." But clearly, they do.