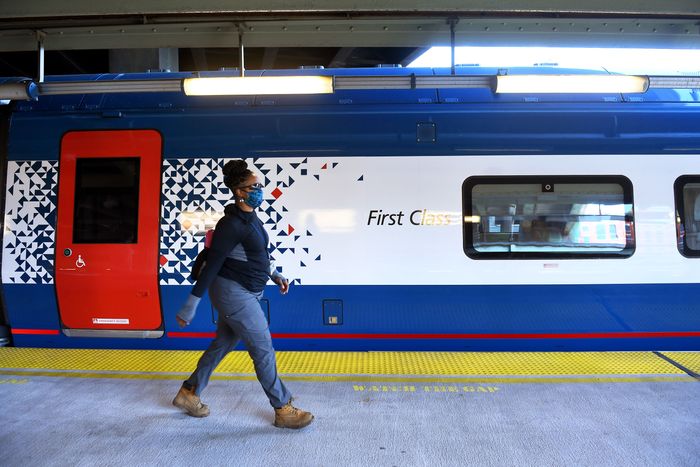 Photo: Katherine Frey/The Washington Post via Getty Images
Amtrak's new, high-speed Acela fleet is one of the country's largest-ever public-transportation investments, ringing up at $2 billion. But over the last three years, as each of the 28 new Acela train sets rolled off the Hornell, New York, assembly line, they have been languishing in a rail yard, all dressed up with nowhere on the Northeast Corridor to go. Now the major Acela upgrade, once planned for 2021, might not be on track until sometime in 2024.
The Wall Street Journal reports that the new Acela cars are being held up by requirements that mandate the trains are run in a range of real-world conditions before boarding passengers. The problem is, unlike their siblings in other countries that have their own dedicated rights-of-way, the new Acela trains — like all the service Amtrak runs — have to share tracks with existing freight and passenger trains, severely limiting what track is available for testing. And among the greatest concerns for the new rolling stock is how it will navigate those antiquated 100-year-old rails, including how trains designed for France's stick-straight TGV routes negotiate our curvier stretches. (The answer: slowly.) Right now, Amtrak is still using computer modeling to replicate various scenarios that the new cars might encounter during their trips up and down the Eastern Seaboard; so far, the supposedly superfast trains haven't seen speeds faster than 90 mph.
Veteran commuters will remember that similar issues derailed delivery of the first Acela fleet — cracks in brakes took 20 Bombardier train sets temporarily out of service — but Amtrak's current woes are more infrastructural. And, in a way, more existential. As the federal government grapples with demands to speed up passenger rail service across the country, the conflicts with freight-dominated tracks — including the growing threats of deferred maintenance and dangerous derailments — will only become more pronounced. Other countries are building trains that exceed 200 mph as well as the dedicated infrastructure to keep them blurring between cities on schedule; by the time these brand-new Acela trains get rolling, they'll only barely qualify as high-speed rail. The promise of Andy "Train Daddy" Byford, who recently worked magic for the MTA, taking over Amtrak's high-speed network could finally spark the U.S. rail revolution we deserve. But with every year, we're lagging further behind.