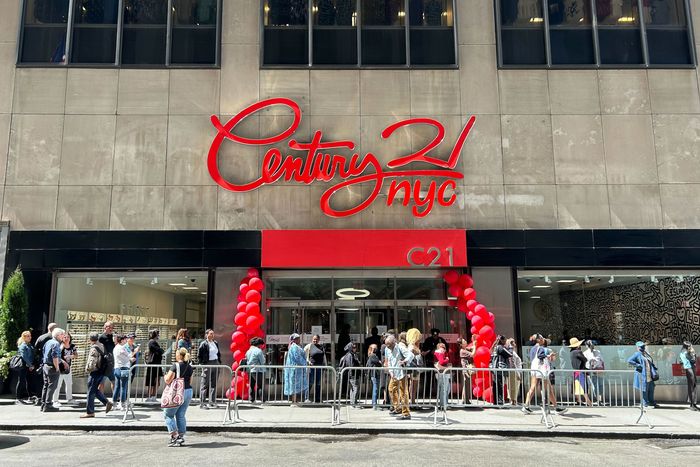 Charnae Da Costa screamed when she saw the line: "I thought you were all at work!" Hundreds of people were snaking around Dey Street, some in folding chairs they'd brought from home, waiting for the long-anticipated reopening of Century 21. "I thought I was gonna get the jump on it," Da Costa tells me, laughing. Doors were at noon; some had been there since 6 a.m.
When the company went bankrupt in 2020, another pandemic business casualty, the city lost a retail legend: a place where you could score a Valentino wedding dress for 90 percent off, a Prada bag to try and look rich on vacation, or a Theory pantsuit for the law-office temp job you found yourself in after college. The line on Tuesday was full of the faithful, each with their own story of a high-end bargain victory: Debbie, a lifelong Century 21 devotee ("the price is good" she says), waxes romantic about the Missoni she's scored in the past. Robert Nelson, second in line, has been going to the store since he was 17 and got his first Burberry sweater right here.
The Financial District flagship opened in the 1960s, founded by Al and Sonny Gindi and occupying what was once the East River Savings Bank. While the franchise expanded well beyond the city in the decades since, the Wall Street store held a hallowed position in New York City culture: Carrie Bradshaw called it "the best part of jury duty." Its proximity to the Twin Towers meant employees evacuated during the 9/11 attacks, with the store itself coated in the debris. (When the store finally reopened five months later, customers lined up as a show of loyalty — and Rudy Giuliani–inflected commerce-patriotism — with one telling the New York Times, "I really don't need a thing, but I'm coming to show support.") The pandemic was a different kind of cataclysm. The Gindi family filed for bankruptcy on September 10, 2020, closing all locations. Thousands of employees lost their jobs across the company. (One hundred and fifty legacy employees have returned to the flagship, per the company, with the union pushing for former bargaining-unit members to be offered their jobs back.)
News of the reopening of the 22 Cortlandt Street location — a pared-down "Century 21 NYC" — came in May of last year. "It's more curated, elevated, and relevant," IG Gindi told Women's Wear Daily. The new store is smaller than its predecessor, with four floors and 100,000 square feet of space, down from its previous footprint of 250,000 square feet. But the essence remains — handbags (from Moschino to Yves Saint Laurent) displayed in glass boxes and lighting that's dependably bargain-store fluorescent. Employees rush around setting out carts and signs. "It's nerve-racking," one cashier said as she eyed the throng of people waiting at the door.
Despite what was advertised as a 12 p.m. opening, the doors unlock at 11:30 a.m. Someone shouts, "We moving!" and the line cheers — keeps cheering (and cheering) as hundreds of people stream into the building. "Oh my God, I'm emotional," one shopper says as she finally walks in. Another grabs a red cart and takes off in a run. "I gotta go downstairs, that's where the shoes are!" she announces, while her adult daughter sprints after her, shouting, "Mama, where you going!" People stake out familiar corners and peruse the updated directory. Shoppers knock over bags in the luggage section as they rush around in a frenzy; one woman desperately asks an employee for a cart (there are no carts left). Homewares are no longer being sold, to some customers' dismay. It's a homecoming for the deal minded. "This is like my Bible," Da Costa says, before quickly correcting herself: "My second Bible."
Downstairs, in a rare quiet, two women named Julberthe and Jael, who have pilgramaged from East Flatbush and Queens, sit down to try on shoes. "I've been waiting for it for three years," Julberthe says. They used to get everything at Century 21. Then, suddenly, it was gone. I ask them how life has been without it. "Miserable," Jael says.