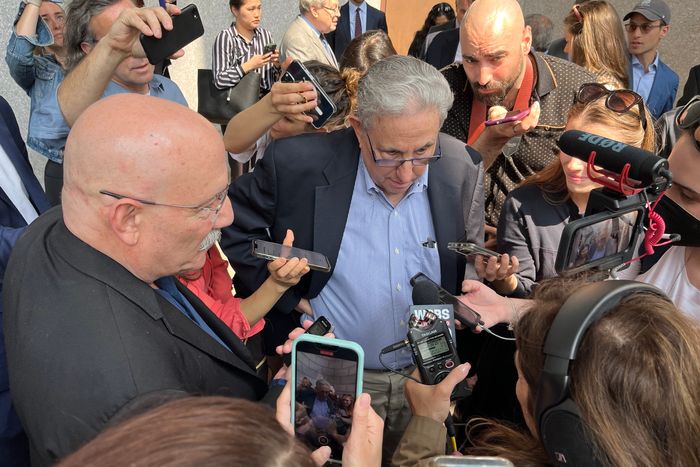 Jeffrey Gural, (winning) bidder No. 25.
Photo: Christopher Bonanos
Jacob Garlick sat this one out. His absence was perhaps the most exciting part of today's auction of the Flatiron Building. The court-ordered sale, meant to finally settle the deadlock between one of the building's five partner-owners and the remaining four, ended more predictably this time around. Several weeks ago, as you perhaps will remember, Garlick — a Virginia resident unknown in New York City real-estate circles — outbid everyone at $190 million, then flaked on the payment. He'd won out over the expected buyer, Jeffrey Gural, whose family firm, GFP Real Estate, currently runs the building and who, with his partners, wants control over the outstanding 25 percent. Today, there were seven bidders registered with Mannion Auctions — Garlick noticeably not among them — and the atmosphere on the New York County Courthouse steps was spirited, with lots of media on hand as well as what seemed to be a few just plain gawkers. How often, really, does one of the most recognizable buildings in America go up for sale? (In this case, the answer is "a couple of times per century." The last real sales were in 1933 and 1945.)
Izek Shomof, a Los Angeles developer who's done a lot of office-to-residential conversions (and a film producer, because Los Angeles), was registered as bidder No. 1 and got there early. He's never done a project here, but he seemed beguiled by the idea of starting with such a high-profile one — "either hotel or residential" — and unfazed by the headaches New York adds. "It's a challenge," he admitted, sounding like he'd love a go at it. Lajos Horvath, bidder No. 3, gestured to his son Leon — the latter a Corcoran seller, all of 20 years old, fresh out of NYU — as he referred to their prospective purchase as "his first company."
As soon as Jeffrey Gural (No. 25) got there, all eyes turned to him. He told the assembled scrum of reporters that after the first auction, Garlick had met with him, said that he had "partners everywhere," and promised to deliver a check by the next Monday morning that never appeared. "I feel sorry for the guy," Gural said, "because I really think he wanted to buy the building. Somebody told me he had Flatiron windows in his living room" — by which he meant the copper sashes that were replaced a couple of decades ago and are now sold as architectural souvenirs. Gural seemed fairly confident that he'd get it this time, if only based on the math: "Even if we're overpaying, it's only on 25 percent."
And then they were off: Auctioneer Matthew Mannon read the rules, including (this time) a section noting that bidders had to submit a $100,000 check beforehand to indicate seriousness of intent and that "the auction is not over till the money has been deemed good." Bidding started at $50 million, in $2 million increments at first, and ping-ponged among four principal bidders — Gural, Shomoff, Horvath, and a slim, soft-spoken fourth figure, who held paddle No. 6. Gural seemed patient, offering bids only as he needed to, not jumping in.
Around the $80 million mark, a fifth person suddenly raised his hand. "Are you registered?" Mannion asked him, to which he mumbled something along the lines of "No … but I emailed you." The auctioneer noted that his rules precluded such moves, declined the bid, and swiftly moved on. Back to the four main parties, who were upping the price by millions with every passing minute. A brief pause in the bidding at $126 million left people wondering if there was a real bargain to be had, but only for a moment. As things slowed around $154 million, Mannion made the increments smaller, and at $156 million the mystery bidder No. 6 asked for a recess to confer with someone. He got one minute, and after that, he jumped back in. Another 60-second recess at the $159 million mark, a couple more half-million-dollar increments, and we were done. Jeffrey Gural got it for $161 million, about $30 million less than he would have paid last time.
"So we saved seven and a half million," he said afterward. "A little excitement!" he added, with a laugh. "I thought for a minute I was paying about 125." He answered lots of questions about the building and the bidding and then paused in mid-sentence. "What'd we pay again? $161 million or 161.5?" (It was the former.) As reporters surrounded Gural, mystery bidder No. 6 slipped away down the steps, declining to give his name. The winner lingered: The likeliest plan for the building, he said, is that either the top floors become apartments while the lower ones remain offices or the whole thing goes residential.
As the crowd thinned, his sister Jane Gural-Senders, who runs the building for the company, came over to give him a hug. She noted that the reconstruction of the interior that's already begun means that the single ornate staircase up the center of the building — grandfathered in and not up to code — would soon be replaced with a dual stair and that the old one would be demolished, "which is very sad." I asked her about the prospect of a bar or restaurant in the basement, as was floated in some of the company's recent Landmarks Preservation Commission paperwork, and she explained that it was mostly a hedge: "With Landmarks, you can't do anything that wasn't there before, and there was once a big speakeasy in the basement, so we included it." Apple, she said, had considered leasing in the building at one point and talked about putting an employee cafeteria down there. And what does the family plan to do first, now that its ownership of the building is complete? "If I told you that," Jane said cheerfully, "I'd have to kill you."