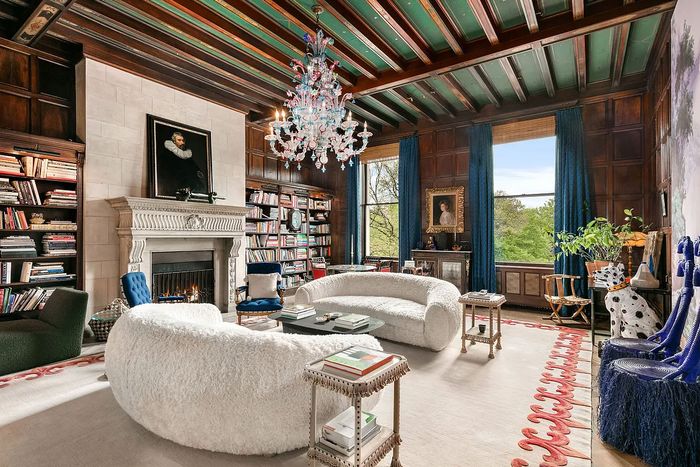 Photo: Evan Joseph Studio
Compared to its exuberant neighbor 972 Fifth Avenue, a bow-fronted 45-foot-wide showboat now used by the French Embassy, the Gilded Age mansion at 973 looks rather modest — almost like an annex or wing. But as one of the few remaining single-family homes on what was once Manhattan's mansion row, the townhouse (now back on the market for $72.5 million) is more extravagant in its way — an opulent relic to live in rather than a place to conduct official business.
Many of the mansions of upper Fifth Avenue have been lost to time — torn down in the early 20th century, some only decades after they were completed, and replaced by grand apartment buildings. Over the years, the handful of mansions that survived were almost all converted into international cultural centers, nonprofits, schools, or art galleries: the American Irish Historical Society, for example, or the Ukrainian Institute of America next door at the corner of 79th Street. But 973 Fifth, originally built for banker and railroad tycoon Henry H. Cook, has remained a grand, single-family home — its leaded and stained-glass windows, marble-mantled woodburning fireplaces, and 16-foot-ceilinged entertaining rooms each preserved as they were when the house was completed in 1907. (No drop-ceilinged offices or institutional bathrooms to sully its original architectural glory.)
Cook, who once owned the entire block from Fifth to Madison between 78th and 79th Streets, originally lived in an even bigger free-standing mansion on the property but became tired of "the large place," according to Christopher Gray — the late New York Times columnist, social historian, and architectural detective — and commissioned something cozier: this 25-foot-wide, 15,000-square-foot townhouse, hiring Stanford White, the architect of Gilded Age New York, to design it. It was one of the last buildings White designed before he was shot and killed by his former lover's husband. Neither he nor Cook, who also died before the home's completion, saw the finished mansion. But Cook, who placed deed restrictions on the block limiting the height of buildings to no taller than a townhouse, ended up guaranteeing the survival of this strip of what was once known as Millionaire's Row.
The house went to Cook's daughter, Georgie, a socialite and hospital founder who barely used it, then passed through various pampered hands before selling, in 1977, to businessman Victor Shafferman, for a mere $600,000, according to the Times. It came back on the market in 2011, a few years after Shafferman's death, asking a good deal more — $49 million. It sold for a little under the asking price a year later (the house needed some work) at a nonetheless impressive $42 million.
The buyer, former Goldman Sachs partner David Leuschen, modernized the home with "the highest caliber electrical, plumbing, HVAC, elevator, and security systems," according to the most recent listing, with Adam Modlin of the Modlin Group, but left the original floor plan intact. There's an eat-in kitchen on the lower level that "faithfully replicates the aesthetic of the times," says the listing, albeit with "restaurant-sized Wolf, Sub-Zero and Hobart appliances. An adjacent scullery has been restored to its original glory, and features a walk-in Master-Bilt refrigerator, a freezer chest, and a dumbwaiter, and opens to a large, service dining room built to service an estate. The laundry room features seven industrial-sized W/D and a deluxe Miele professional rotary iron."
But Leuschen is going through a divorce, and the former couple has been trying to offload the house since at least 2021, when they listed it with Corcoran's Leighton Candler for $80 million — a sum one broker thought was about $25 million more than it could reasonably expect to fetch. "Yes, it's beautiful, it has the provenance, White, the Cook block, blah blah blah, but it's too close to 79th, and it's only 25 feet wide," the broker says. (The $77 million townhouse record, set in 2019, at 14–16 East 67th Street, was for a property that was nearly twice the size with a swimming pool and theater in the basement.)
There is also the fact that it's on Fifth Avenue. Charming though it surely must be to walk out one's front door into Central Park, there's a reason so many of the other mansions there have been converted to institutional use. Fifth Avenue is clogged with tourists, heavy foot traffic, buses, and cabs — things that most billionaires prefer to look down on from the soundproof windows of a 12th-floor co-op, not come eye to eye with from their living rooms. A townhouse on a side street may not be as unique, but it's certainly more peaceful and private. "They're not going to find a buyer at that price, I don't think," the broker says. "Unless a miracle happens." And he wouldn't expect any miracles in this market.