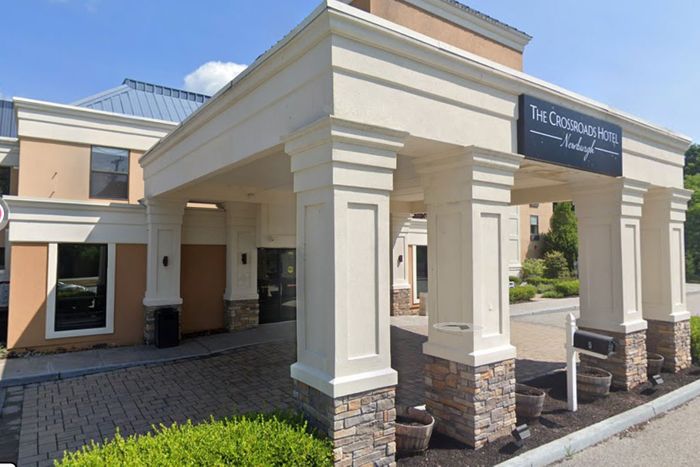 It was a sensational story combining the most divisive issues roiling New York State. Sharon Toney-Finch, the CEO of a veterans-oriented nonprofit in Orange County called the Yerik Israel Toney Foundation, told the New York Post on May 12 that nearly two dozen "struggling homeless veterans" were being kicked out of upstate hotels to make way for migrants being bused from New York City by the Adams administration. Toney-Finch shared harrowing specifics, like that one of the men was "a 24-year-old man in desperate need of help after serving in Afghanistan," per the Post. Fifteen of the veterans were kicked out from the Crossroads Hotel in Newburgh, where many of the asylum seekers had been bused on May 11. Republican state assemblyman Brian Maher promoted Toney-Finch's story, making appearances on conservative TV stations and even introducing legislation that would prohibit the displacement of veterans.
The story now appears to be almost entirely made up. On May 18, Maher told the Post that Toney-Finch had admitted to him that she had lied. The Crossroads Hotel and two others that Toney-Finch mentioned denied that any veterans from her organization had ever been staying there. And, the Mid-Hudson News reported on May 19, Toney-Finch had done something more egregious than simply making up a story: She allegedly recruited 15 men from a Poughkeepsie homeless shelter to pose as her displaced veterans, coached them on what to say, and promised to pay them for their time.
To Andrew O'Grady, the CEO of Mental Health America of Dutchess County, the organization that runs the shelter from which the men were recruited, Toney-Finch's story always smelled fishy. "There are only 19 total homeless veterans temporarily placed in hotels throughout the seven-county region of the Hudson Valley," he says. "Twenty of them in one hotel seemed awfully strange. That number was ridiculous off the bat." O'Grady has already been navigating heated community resistance and political opposition in the Hudson Valley to housing for the houseless and migrants, and says Toney-Finch's stoking of anger and resentment will "further the stigma, rile people up, and cause hate and discontent." Toney-Finch did not respond to a request for comment.
Two of the men who say they were recruited by Toney-Finch, Douglas, 55, and Bill, 52, currently living at the Poughkeepsie shelter, called the PODS, also spoke with Curbed. The conversation, below, has been edited and condensed for clarity.
What happened on Wednesday?
Bill: Two people came into the PODS trying to recruit 15 guys, ages 40 to 60 years old. They said that they only wanted males, and they said that we'd get paid $100 for, like, two, two and a half hours of work. Toney-Finch showed up two hours later with three vehicles to take us all to the Daily Planet Diner.
And Toney-Finch bought you lunch. What did you eat?
Bill: Whatever we wanted. I had a smokehouse burger. There were several other guys that had alcohol.
Is that a more extravagant meal than you've had in a long time?
Bill: Yeah, for a lot of us. And we were told we were going to Connecticut, to help veterans.
When did you find out you were going somewhere else?
Bill: After the meal, we met out in the parking lot and Toney-Finch gave us the rundown of what we were gonna be doing and what she wanted us to say. We were to say that we were either picked up from Crossroads hotel or Windgate hotel. And if we didn't want to answer any other questions, to say we were distraught or, being vets, that we were suffering from PTSD and we weren't really keen on talking with people.
Douglas: I was told to say this and that, or be quiet. That's what I did. I kept quiet.
Bill: And then we went to the Disabled Veterans Association in New Windsor, to meet with the president, the CEO of the Chamber of Commerce. I only know her first name, Heather [Bell-Meyer. Bell-Meyer did not return a request for comment].
Was she asking a lot of questions, or did she just accept who Toney-Finch said you were?
Bill: She accepted Sharon's story. I remember Heather saying, "If you need help, I will sit with you and I will guide you through it. I'll hold your hand. I just need somebody to go on-camera and tell their story to prove that there were veterans put out on the street."
How long did the meeting last?
Bill: About half an hour long. We made it back [to the shelter in Poughkeepsie] just before 7 o'clock. When we got outta the vehicle, she called us over, and she said, "You'll get paid on Friday." I'm like, Well, wait a second. We were told we would get a hundred dollars at the end of the day. She said, "No, it's $200 on Friday." And since then, they've been giving us the runaround.
Douglas: If she would've paid us like she was supposed to pay — now she's exposed. It's on her, now she's gotta deal with it. It's really messed up.
How has this impacted you?
Bill: I've been in the PODS for a month and a half. This is better than living on the streets. But it's like, you dangle a carrot in front of a starving horse and then you're not giving it to them. Another thing [Toney-Finch] told us is that within a month and a half, I will have you all in housing.
Douglas: That's a lie.
Bill: I have family in the military, and I'm afraid, I don't even want to tell them about what happened. I know I'm gonna get yelled at. They'd be like, as soon as "veterans" was mentioned, you should have walked away.
But you were desperate.
Bill: Yeah, pretty much.
Douglas: We hope to get some justice. It's not right. We're human beings.