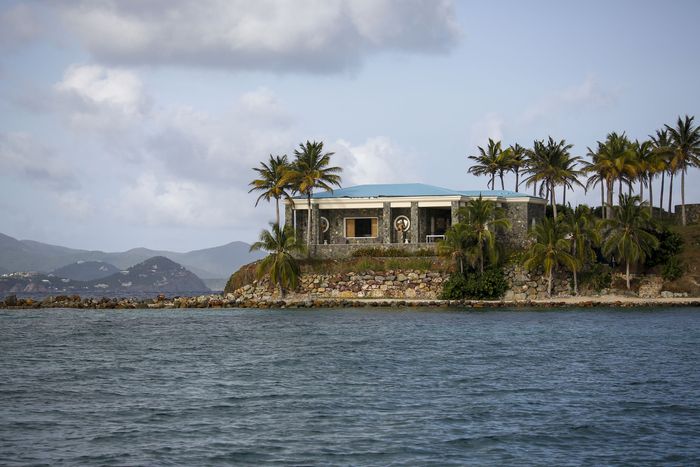 Photo: Marco Bello/Bloomberg via Getty Images
An investor has purchased the two Caribbean islands owned by late sex offender Jeffrey Epstein. Stephen Deckoff, the founder of Black Diamond Capital Management, plans to build a "state-of-the-art, five-star, world-class luxury 25-room resort" on the property, according to Forbes, which first broke the news of the sale.
Deckoff, who specializes in distressed assets, paid $60 million for Great St. James and Little St. James, which were originally listed for just over double of that. (Properties with grim histories often trade at a hefty discount.) Little St. James was the 70-acre island where Epstein and his associates sexually assaulted girls as young as 11; a young woman once tried to escape the island by swimming through shark-infested waters to nearby St. Thomas.
It's unclear what, if anything, will remain of Epstein's original structures: a residential compound, tiki hut, gym, music pavilion, four guest villas, and two pools. Deckoff didn't address the islands' history or how he intended to attract rich tourists, but he made sure Forbes knew he had never met Epstein or visited the islands before touring them as a potential buyer.
The islands are some of the last Epstein properties to sell. His 50-foot-wide Upper East Side townhouse sold in 2021 for $51 million, a steep cut from the $88 million it had originally asked. Epstein's Palm Beach compound also sold at a reduced price, though the real-estate developer who bought it made a tidy profit on the land after razing the structure.
In December, Epstein's Paris apartment sold for $10 million, a relatively minor reduction on the $11.9 million asking price. The remote New Mexico ranch that Epstein reportedly planned to use "as a base where women would be inseminated with his sperm and would give birth to his babies," according to the New York Times, is now the final Epstein property on the market. In July, it dropped its asking price to $21.5 million — $6 million less than when it first listed. Not enough, apparently, to attract a buyer. Maybe they're waiting to see how the Caribbean-island rebrand goes.