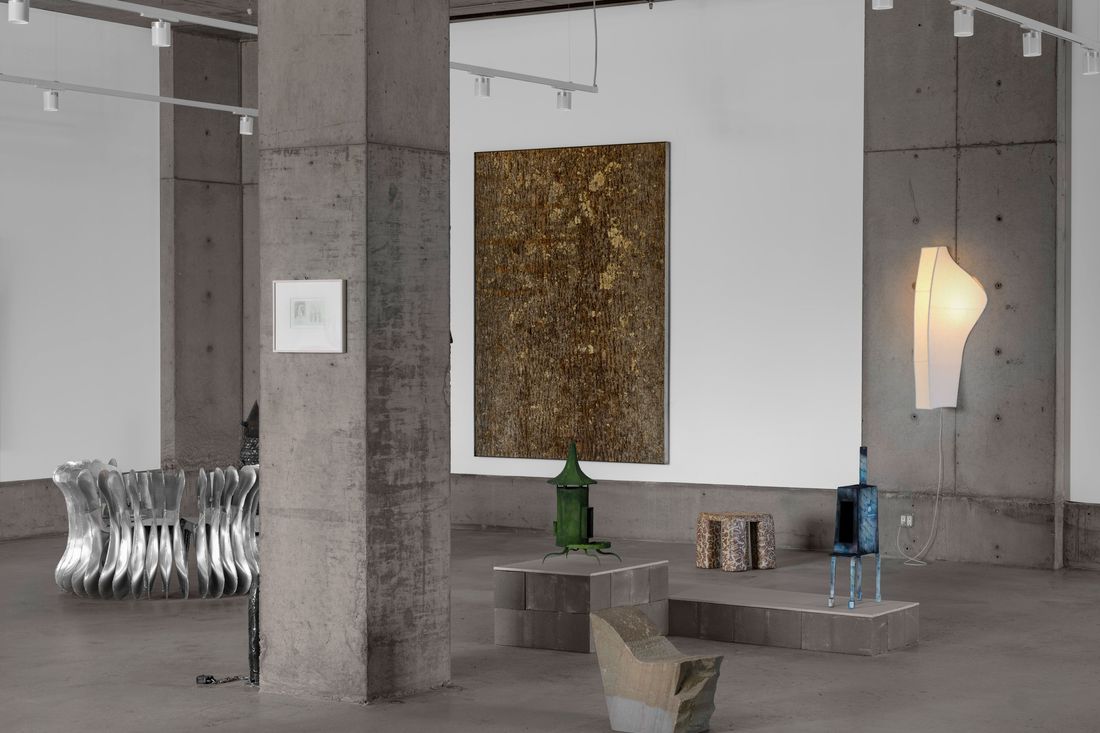 From left: an aluminum bench by Zachary Besner, a sculpture made from tree bark by Nick van Woert, a stone chair by Max Lamb, ceramic table by Isabel Rower, stoves by Nicholas Sullivan, and a light sculpture by Marrow are part of "Local Objects."
Photo: Courtesy International Objects/
Walking through International Objects, a new gallery on the raw fifth and sixth floors of a soon-to-be-finished Bushwick building, I saw wood chairs carved to look as though they had plush upholstery, a cabinet composed of melted milk-jug and plastic-bag panels, and flayed tree bark framed and hung like a canvas. This was just a sliver of the surprising textures, shapes, colors, and materials at "Local Objects," the gallery's first exhibition. As two of its co-founders — Matt Taber, an artist, and Trang Tran, a director at Salon 94 Design (who are also married) — explained to me, there's a reason for this: Fabrication has become more accessible and more important to New York's artists, regardless of their style or medium. "Everyone's making things themselves," Taber says.
"Local Objects" feels like PS1's "Greater New York" survey except it's for those who work in the blurry zone between fine art and design. Some of the pieces look like furniture or familiar household items, but everyday functionality isn't the point; figuring out new ways to create objects is. Most of the pieces on view — and there are a lot of them, over 85 items spread across two floors and two outdoor terraces — were made within one and a half miles of the gallery. Taber, Tran, and fellow co-founders Annaka Olsen, a graphic designer, and Nate Heiges, an artist, noticed their friends were experimenting with new techniques over the past several years, supercharged by the reset (and enhanced unemployment) of the pandemic. Some artists changed their medium completely, like Chang Sujung, a video artist, who made a miniature replica of her apartment in alabaster for the show. Looking at Zachary Besner's Four Inflated Aluminum Chairs, I was impressed by his creative application of the puffed-up metal bags typically used to separate marble slabs in stone quarries as the structure of the piece. Artists even invented their own materials: Gerardo Ismael Madera slathered a mixture of ground-up mahogany pods and yucca flowers over cockfighting chairs arranged in a circle. You can't really sit on the gritty finish, but it's oddly satisfying just to look at them and imagine what it feels like.
"Local Objects" is on view at International Objects (53 Scott Ave., Bushwick) through May 28.