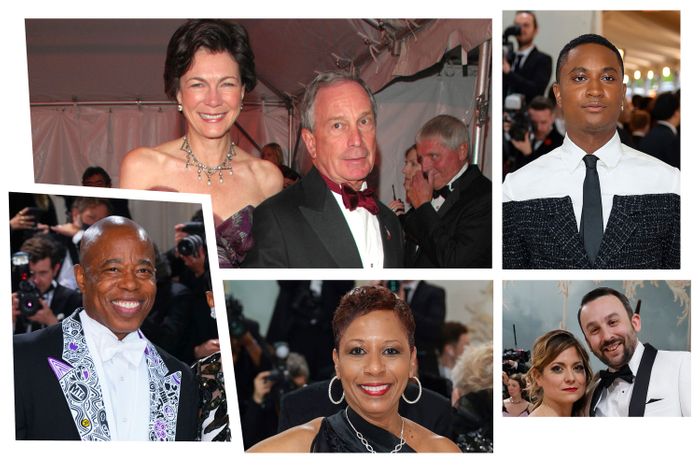 Photo-Illustration: Curbed; Photos: Getty Images
The Met Gala is a gathering of the rich and famous, a fashion spectacle, and a place for Doja Cat to show up as Karl Lagerfeld's cat. But a lot of other people attend, too, including an assemblage of New York City politicians and civic notables faced with the unlucky and often unfamiliar task of trying to dress well. Low-profile bureaucrats — commissioners, comptrollers, City Council members — get free invites as ex officio trustees of the Met or guests of Vogue. (But not Gale Brewer, the City Council member whose district includes the Met, who told City & State that Anna Wintour has "never invited me.") And while they may not shine as brightly as Lil Nas X in his silver body paint and rhinestones, they are … there!
Here are some of the city's local politicos who were spotted at this year's Met Gala — and some who've gotten the invite in years past.
Who Showed Up This Year?
Adrienne Adams, Speaker of the New York City Council 
Adrienne Adams, Speaker of the New York City Council, told City & State, "Let's go Met!"
Keith Powers, City Councilmember 
City Councilmember Keith Powers attended the gala last year dressed in a black tux and bow tie. The year before, he was in a blue tux and bow tie. But this year, he showed up in a white tux and bow tie. "I'm just wearing the tux that I own," Powers told City & State. Humble!
Chi Ossé, City Councilmember 
City Councilmember Chi Ossé, who was elected at the age of 23, attended last year's gala dressed in an outfit by the House of Aama — one of its lead designers lives in Bed-Stuy, part of the district Ossé represents. This time, he showed up in Advisry.
Laurie Cumbo, Commissioner of Cultural Affairs 
This year's Met Gala is actually Commissioner of Cultural Affairs Laurie Cumbo's anniversary — she got engaged at the event last year.
Susan Donoghue, Commissioner of Parks and Recreation
Parks Commissioner Susan Donoghue showed up to this year's gala in a light-pink dress and white blazer — a fittingly floral palette.
Mike Bloomberg, Former Mayor
Former mayor Mike Bloomberg was spotted shuffling behind the Kardashians this year as they posed for the cameras. He's a regular at the Met Gala, while his successor, Bill de Blasio, chose to skip the event for most of his tenure. In 2015, "Page Six" reported that Bloomberg responded to someone asking him about de Blasio's absence, "You have a mayor here." This year, he attended in what seems like nearly the same exact look as last year.
Brad Lander, City Comptroller
The city's comptroller, Brad Lander, planned to put down his budget sheets for a night to show up to the gala, according to City & State. He was, however, apparently not photographed.
Attendees of Met Galas Past
Eric Adams, Mayor 
Eric Adams attended his first Met Gala last year, when he dressed in a suit that said "End Gun Violence" made by Nigerian designer Laolu Senbanjo and ate a plantain chip topped with coconut ceviche ("Vegan," the server told him). This year, he skipped the gala despite his love of Anna Wintour and rubbing shoulders with celebrities at credit-card parties. (Don't worry, he had invites to two other galas last night.)
Bill de Blasio, Former Mayor 
For years, de Blasio shunned the Met Gala, describing it as "the kind of place where the elite goes and likes to be with each other," which drove said elite nuts. ("They have made themselves socially irrelevant. It is a major shortcoming not to mingle with all classes," an event publicist told The Wall Street Journal of the de Blasios in 2015.) He finally attended for the first time in 2021.
Carolyn Maloney, Former Congressional Representative 
Carolyn Maloney capped off her congressional tenure with a Met Gala scandal: An ethics probe launched last year dug into whether she had solicited an invitation to the event in 2016 after she was dropped from the list. ("She is unhappy to say the least that she is not receiving an invitation to the Party of the Year" the museum's former president wrote of Maloney in an email.) The last gala Maloney attended was in 2021, and she showed up in an Equal Rights Amendment–themed gown.
Scott Stringer, Former City Comptroller
Scott Stringer, disgraced former New York City comptroller and mayoral candidate, attended many a Met Gala in years past.
Corey Johnson, Former City Council Speaker
Corey Johnson, former City Council Speaker, dragged de Blasio for not attending the Met Gala, telling the New York Post in 2019, "You have to go and celebrate the city of New York." Johnson celebrated meeting Sophie Turner at the gala, saying, "I'm still shaking after meeting Sansa Stark … The North remembers!"
Christine Quinn, Former City Council Speaker
This former Speaker of the City Council showed up to the event in 2009. She is, to our knowledge, the only Christine Quinn to have gotten a Met Gala invitation.
Honorable Mentions
Alexandria Ocasio-Cortez, Congressional Representative
AOC is too famous for this list, but she attended in 2021, wearing a "Tax the Rich" dress that incited a congressional-ethics inquiry.