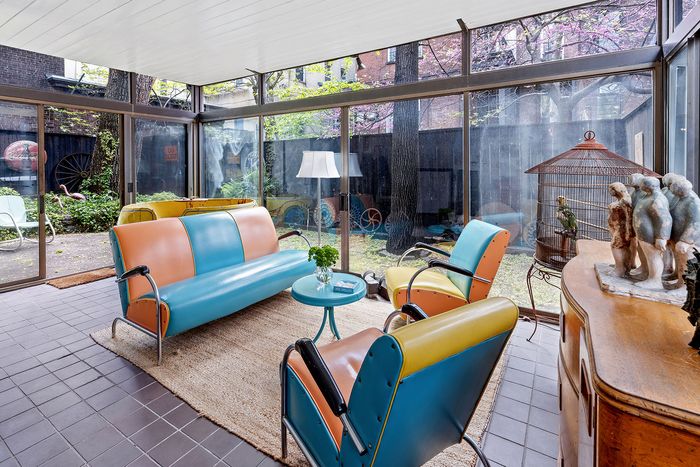 When Naida McSherry first came to 264 Waverly Avenue, this sunroom was the dining room of Joe's Place, an Italian restaurant. It's surrounded by a garden, which broker Roslyn Huebener said is an unusual find behind a former carriage house.
Photo: Rayon Richards for Corcoran
Naida McSherry first came to 264 Waverly Avenue as a broker. The 19th-century carriage house had been the home of Joe's Place, a Clinton Hill spaghetti joint with cane chairs and an old-world vibe. The owner had retired, and McSherry thought the place should be sold as a single-family home. But it was difficult to get that vision across to buyers distracted by the industrial kitchen and wall-to-wall carpets. McSherry showed the building over and over until her sales pitch finally wormed its way into the head of a buyer who'd also been on the fence: herself.
"They couldn't see its potential," said Roslyn Huebener, McSherry's friend and the Corcoran broker entrusted to sell 264 Waverly on behalf of her estate. But McSherry, who died in December at age 85, did.
The house at 264 Waverly is the last of McSherry's homes across the neighborhood that she poured herself into. Over the course of her career, which began in 1979, she ended up selling 400 homes in Clinton Hill and Fort Greene — including one to Joe Klein, who wrote in New York Magazine about the feeling of being "hooked" by her. "She came over here back in the day, when there were boarded-up houses," recalled her friend and neighbor, writer and designer DK Holland. McSherry didn't just sell the homes. She bought them herself, served as her own general contractor, and flipped them. She found tenants for the properties she kept, buyers for the ones she didn't, and sometimes turned tenants into buyers.
This is what happened at 264 Waverly. When McSherry bought the place in 1995, there were two small apartments upstairs: the owner's suite and a one-bedroom that had been rented to Jennifer Gerakaris, who was then a waitress at Joe's and had just graduated from Pratt. "She said, 'Let's go shopping,'" remembered Gerakaris, and soon, she and her fiancé were in McSherry's car, whipping through the neighborhood and making an offer on a brownstone the broker insisted they could afford — thanks to three rental units. "We didn't have two pennies to put together, and here we are buying a brownstone," said Gerakaris, who still lives on the top floor, where she raised her family.
With Gerakaris settled into her own home, McSherry started tearing into 264 Waverly. She combined the downstairs restaurant with the two apartments and turned a sunroom that Joe's had used as a seasonal dining room into an informal sitting area that she furnished with carnival-colored retro furniture. She pulled out the industrial kitchen but kept Joe's old butcher block, which she integrated into her kitchen countertop. The living room was organized around the original restaurant fireplace, which had once given a romantic charm to Joe's. "Her renovations were not drastic," said Kurt Wohlfeil, a friend who was a former McSherry tenant and credits her with turning him into a property owner.
Wohlfeil and other tenants knew the place well, because McSherry turned the four-bedroom house into a neighborhood hangout. Huebener remembered McSherry hosting parties in the sunroom and serving wine —"only white wine," so it wouldn't stain the furniture. Jazz pianist Aziza Miller remembered playing her grand piano at McSherry's 75th birthday. And McSherry sometimes hosted the neighborhood Newcomers Party to welcome new Clinton Hill transplants. Watching the action at such gatherings from a corner was a taxidermy parrot — one of many specimens that had the house smelling like formaldehyde, remembered Holland. Other objects included a Civil War leg prosthesis, antique condom dispenser, and machine for giving permanent hairdos. "She saw art in common things," Huebener explained. "Her sofas are mohair. Everything is very special here." (Most of the objects and furniture have been claimed, Huebener said, but interested buyers should still inquire.)
Gerakaris was thinking about McSherry's eye on a recent tour through 264 Waverly. Now a 51-year-old practicing architect, she was interested in buying the building. But like the clients McSherry had once brought through, who couldn't imagine an Italian restaurant as a family home, Gerakaris found that she couldn't see past what McSherry had done with the place. "It's hard for me to imagine changing it," she said. "Naida had this ability to see visions of things. It was kind of unique."