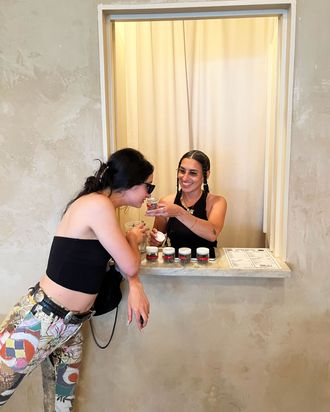 Angie Chavez lets a friend smell the wares at Drug Store, a weed store founded by a rapper and two members of the IRAK graffiti crew.
Photo: Adriane Quinlan
People walking by 178 Lafayette Street sometimes press their faces to the glass and peer in, trying to figure out what's sold inside. No clues hang on the khaki-colored walls. There are no racks of jackets, no jewelry cases or espresso machines. In the center of the room, three rust-covered rectangular cases placed at even intervals are as impenetrable as a Donald Judd installation.
Patia Borja, the salesperson roaming the floor, said some people don't seem to notice any of that and just waltz right in asking for ibuprofen. She has to clear up the confusion. Yes, a sign over the entrance reads "DRUG STORE," and yes, Drug Store sells drugs. But only marijuana.
"It came out of this kind of simple idea of Why can't a weed store look nice?" said architectural designer Nick Poe. He designed the space to be deliberately "abstract," a rejection of the aesthetics of the 1,500 or so illegal weed bodegas that have sprouted up across New York City with their jumble of Rick and Morty murals, Bart Simpson bongs, and blazing LED lights. Poe — who has designed downtown's pared-back yoga studios (Sky Ting), restaurants (Time), and event spaces (Lee's) — brought a similar warm minimalism here, inspired by the original details of an old-world space. "I wanted it to feel like you were going in to buy diamonds," he said. At Drug Store, shoppers peer down into Poe's Judd-inspired metal cases, in which edibles and pre-rolls are displayed on blue velvet. Customers scan menus of prices that Borja hands out, then place their orders in the back, where salespeople bring the goods to two square windows.
"I think we were trying to, like, create a brand and a space for people who are not into corny, bad shit," said one of the three business partners, all of whom preferred to go by pseudonyms given that their business is technically illegal. They knew each other, in part, because they live and work downtown: Alex and Matt had both been in the art-adjacent graffiti crew IRAK (which spawned Ryan McGinley and Dash Snow) and knew Dan (who did graffiti with the Queens-based Smart Crew) because their paths crossed in the hip-hop and streetwear scenes. To launch Drug Store, Matt brought his knowledge of design and branding from his day job as a creative director for brands like Supreme and Nike. Dan, a rapper and entrepreneur, had experience running an omakase bar. "Restaurants are a bigger risk," he said. And he, as well as Alex, had sold weed before.
Last weekend, the store had its grand-opening party with Borja and DJ Semen Sperms taking turns spinning in the window and chef Shyan Zakeri cooking his downtown-famous Shy's Burgers out of a tent on the street. Kim Hastreiter, co-founder of Paper Magazine, showed up in a pink scarf and bought some indica edibles but not a T-shirt — she didn't have enough cash. "I'll give you one," said Matt, patting her on the shoulder. Donald Cumming, who used to front the Virgins, joked that the shirts seemed to be an attempt at starting a streetwear brand. "This is the first illegal business to be a front for a legal business," he said. Hastreiter ate a burger and chatted with artist Clayton Patterson. At the front of the line for burgers stood skateboarders Adam Zhu and AJ Rodriguez, who had come for the free food. Everyone looked like an extra in a Safdie brothers movie — a very downtown crowd that included David Komurek (the owner behind Dr Clark and the River), artist Jeremy John Kaplan, performer Dese Escobar, and Clyde Ramos, who showed up on an electric Inokim scooter in Gucci pants. Poe's "plaster whisperer," Sabio, who had created the textured walls inside, stopped by with a backpack cooler: He sells açai bowls to other skateboarders and had an extra. Dan took it.
Inside, browsing the wares, were musician AYLA and her friend Dylan. "If I came here really high, I wouldn't feel overwhelmed," said Dylan, who wore a shell necklace from Indonesia and a man's necktie through the belt loops of her jean shorts. "It's a bougie shopping experience." The concept is highbrow, but prices are not: House pre-rolls are $15 for two, and a bag of ten 100-milligram gummies (you read that correctly) is only $25. There's also high-end stuff from the Maine grower B's Trees. "Weed just brings everyone together," observed Angie Chavez, who runs the store's day-to-day operations.
Dan, Alex, and Matt have put real money into Drug Store and have no illusions about making a profit. "I don't really care, as long as it pays for itself," said Alex. "It's just, like, a project at the end of the day." An art project? Matt sometimes thinks of it that way, but sometimes reality intervenes and he'll find himself answering an email. "It's very 2023," he said. "The lines have been perpetually blurred, and there's no going back." To Dan, the store is a kind of conceptual piece. "It's art to see if we could sell weed as an art performance," he said. "So it's performance art."