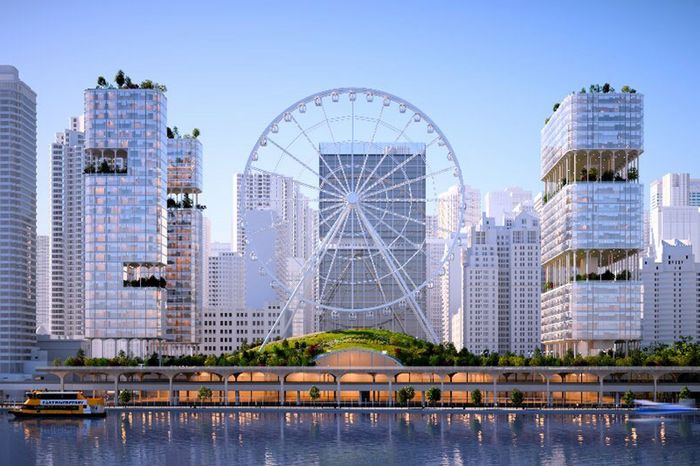 Soloviev's first proposal featured a giant ferris wheel, since scrapped in favor of a flower light installation.
Art: Soloviev Group
It's been a few months since New York opened the bidding process for the three downstate casino licenses, and billionaires have spent much of that time falling all over themselves to win New York City's. Owning a casino is widely acknowledged to be like printing money (unless you're Donald Trump, but even then, also, sort of), something that few among the obscenely wealthy business types can resist. Right now, real-estate giants like Related and SL Green, hedge-funder/Mets owner Steve Cohen, real estate scion Steven Soloviev, and Coney Island magnate Joe Sitt have all thrown down a $1 million application fee to be in the running. They'll need to win over a six-member community advisory committee, then spend $500 million on the license and another $500 million in capital investment. It's up to the applicants to figure out what kind of proposal and community perks package will persuade the committee to pick them, which leaves a lot of room for creativity.
The proposals started out a little underwhelming — flashy-but-not-too-flashy renderings with a few hotel towers thrown in, locations that made a certain kind of sense: Coney Island, Times Square, Hudson Yards.
But lately, the billionaires have been upping their game. Possibly in anticipation of a potential end to the bidding process, which could come as early as 2023 (though the state hasn't announced anything definite yet). Possibly just because the other billionaires are doing it.
Last week, in an attempt to woo a resistant community board, the Soloviev Group, whose initial pitch for a giant ferris wheel didn't go over very well, announced that it would install 17,000 fiber optic flower lights on the long-vacant lot by the U.N. where it hopes to build a casino. The massive light installation, expected to cost $1.5 million, would be "a gift to New York," an executive from the Soloviev Group told The New York Times. And the casino license would be a much, much larger gift to Soloviev. As the Community Board 6 chair told the Times: "These are just distractions to get the real moneymaker through. In the end, we get the bread crumbs." At least Soloviev says they'll spend half a million fixing up the cracked sidewalks around the site. Sidewalks that, to be clear, were already their responsibility to maintain as the owners of the site.
Then Jay-Z, whose entertainment company Roc Nation is partnering with SL Green and Caesar's on the Times Square casino bid, posted an open letter on Instagram, pleading with New Yorkers to pick him. "This is too important of a moment in our city's illustrious history" the letter warned. New Yorkers should go with an operator who puts them "at the top of their agenda." New Yorkers may be forgiven for having some doubts that a Times Square casino would really have their best interests at heart. Especially as the biggest sweetener — $115 million for diverse theater programs that include daycare for Broadway workers — seems aimed at softening up a group of Broadway owners who've been trying to block the Times Square casino. (Nor is it the first time Jay-Z has been deployed to win over casino skeptics: "I remember one of the companies excitedly told me about Jay-Z. 'He's coming on board. Maybe you want to meet him?'"  state senator Liz Krueger told Bloomberg earlier this year.)
And then there's Steve Cohen. "Uncle Stevie" has, of late, become something of a beloved New York figure for spending gobs of money on the Mets. Now he's spending gobs of money — more than anyone else so far — on winning a casino license. (You may also remember when Cohen, a few years back, spent gobs of money paying the government an $1.8 billion penalty after his hedge fund was found guilty of securities fraud.) Cohen has hired eight firms, employed nearly two dozen lobbyists and spent over $1 million on a multimedia lobbying campaign, according to Bloomberg.  There have been 14 'visioning' sessions to win over Queens residents, hundreds of hot dogs, social media campaigns and "a website called 'Queens Future' to promote Cohen's vision of building a Vegas-style casino in a parking lot next to Citi Field. "In Queens, we never settle for the status quo," the website boasts. "We deserve better than 50 acres of asphalt." Hard to disagree with that.
Not everyone is pulling stunts. Saks Fifth Avenue is, true to form, appealing to New Yorkers' snobbery, pitching a Monte Carlo–style casino atop its Plaza District flagship. "Why should Manhattan have another slobby casino?" the chief executive of Saks's parent company asked the Post. "The casino at Saks will attract an affluent global tourist and not prey on people who shouldn't be in casinos." There's also Vornado, which is considering the site of the now-demolished Hotel Pennsylvania for a casino. It had been slated for a supertall office tower as recently as last summer, before Vornado conceded that building a bunch of huge new office towers wasn't the best idea right now. Having the site of the former Hotel Pennsylvania not be a huge pit in the ground for the next few decades until the office market sorts itself out? Pretty compelling.