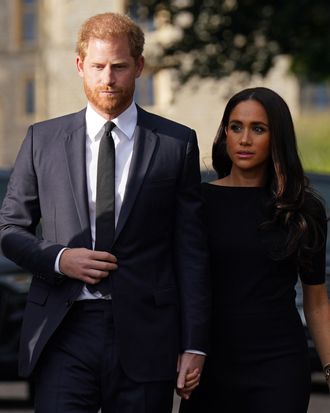 Photo: Kirsty O'Connor - WPA Pool/Getty Images
Prince Harry and Meghan Markle say they were in a "near catastrophic car chase" after attending a Ms. Foundation gala at the Ziegfeld Ballroom in midtown Tuesday night. The two were with Markle's mother when "a ring of highly aggressive paparazzi" began chasing them, according to their spokesperson. "This relentless pursuit, lasting over two hours, resulted in multiple near collisions involving other drivers on the road, pedestrians, and two NYPD officers."
The pair's spokesperson claimed that paparazzi were driving on the sidewalk and running red lights while pursuing their vehicle. ​​A source told "Page Six" that "it started off with 12 paparazzi, then ended up with four chasing" them. The paper also reports they exited their SUV and moved into a yellow cab in an effort to escape the chase, and photos circulated on social media showing the couple and Markle's mother in a taxi.
Sukhcharn Singh, the taxi driver who says he picked them up from the NYPD precinct on East 67th Street, painted a much less dramatic account to the Washington Post. According to Singh, photographers did follow them as he drove around for ten minutes, before the couples' security guard asked him to return to the police station. "I don't think I would call it a chase," Singh told the Post. "I never felt like I was in danger. It wasn't like a car chase in a movie. They were quiet and seemed scared, but it's New York — it's safe."
In his book, Spare, Harry wrote about the experience of seeing the paparazzi images of his mother's fatal crash in 1997 and how it shaped his view of the industry. "Not one of them was checking on her, offering her help, not even comforting her," he wrote. "They were just shooting, shooting, shooting."
The couple was in New York City so that Markle could receive a Women of Vision Award from Gloria Steinem. That vision, I'm sure, did not include being in an hours-long car chase.