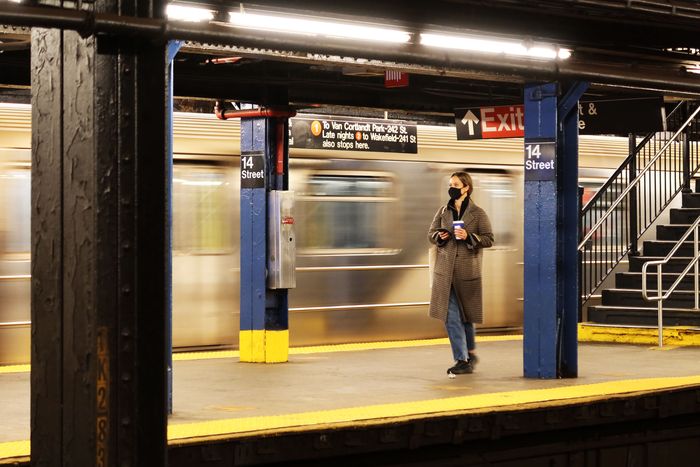 Photo: Gary Hershorn/Getty Images
New York City's public-transit system, perennially facing a fiscal crisis, is now teetering on the brink of something more existential. Three years into the pandemic — and despite finally hitting 4 million daily rides for the first time since March 12, 2020 — commuting patterns haven't stabilized and revenue remains down. For the MTA, slumping ridership forfeits nearly 2 million fewer daily trips, creating a $600 million annual budget gap, and officials have been desperate to make up the shortfall. Kathy Hochul seemed to grasp the gravity of the situation, at least partially, with the addition of $300 million in transit aid during last-minute budget negotiations earlier this month. In addition to the one-time influx of cash, there's $35 million explicitly set aside to improve mid-day, overnight, and weekend service — an investment that reflects the ways that public transit has been transformed by the pandemic. The new normal for big-city transit agencies is the off-peak rider.
The pandemic subway is a different system than what cities have known in the past. The same numbers of people aren't flooding into central business districts every weekday, but ridership for many agencies has surged on afternoons and weekends. "Because of reduced daily commuting, many cities are working to expand midday and evening service in order to capture more ridership and provide service that is useful for a different mix of trips," says Matthew Dickens, director of policy development and research for the American Public Transportation Association. In New York City, advocates and legislators have been demanding better service for those off-peak riders who have returned — or who never left in the first place. "Shorter waits and faster trips for riders who often suffer long commutes to in-person service jobs, after-school pickups, and necessary appointments would give New Yorkers more time back to their daily needs — and promote increased ridership," said Councilmember Amanda Farías, who introduced New York City's off-peak funding resolution as part of the #6MinuteService campaign advocating for more frequent service systemwide. Existing MTA schedules specifically fail workers who have shift or service jobs that don't follow nine-to-five commuting patterns, according to the "Round the Clock is the New Rush Hour" report by the City Comptroller's Office. The 2021 report found that 61 percent of those New York City jobs are located in Brooklyn, Queens, and the Bronx — boroughs that don't have the same level of off-peak service that's always been more standard in Manhattan. During the pandemic, ridership in those boroughs also recovered to higher rates than in Manhattan, according to the report, and weekend ridership has also rebounded faster than weekday service, a trend that's become even more pronounced over the last year. All of this points to an inflection point for thinking in a completely different way about who New York City's transit prioritizes.
These off-peak riders are the people the MTA had in mind when it announced a four-phase plan to increase off-peak service by 2024. The service expansion will start in July with weekend enhancements on three lines — G, J, M — selected because their ridership trends are already demonstrating faster recovery compared to elsewhere on the system. "As we have said throughout this whole process, once the funding is there, we can expand service to better align with post-COVID ridership trends," said MTA chairman Janno Lieber. The next phases, to deploy over the next year, will focus on increasing midday and weekday evening service on a range of lines to more closely match peak-hour waits. "Riders entered this budget season facing a devastating fiscal cliff, and came out victorious with substantial investments in more reliable subway and bus service," said Lisa Daglian, executive director of the MTA's Permanent Citizens Advisory Committee. "These increased frequencies reflect the changes in when we ride."
Public-transit ridership nationwide is estimated to stabilize right around where New York City is now, at 75 percent of pre-pandemic ridership, meaning most agencies will have to choose between increasing fares, finding new sources of revenue, or making major service cuts. But the MTA's strategy here — use new funding to shift operations dollars away from the nine-to-five commuters who no longer exist — is the right way to be thinking about how to reallocate resources. On the San Francisco Bay Area's BART system, where weekday ridership compared to 2019 is holding steady at about 40 percent — a figure that has tracked almost exactly to downtown office occupancy rates, which also appear to be plateauing — a new plan will boost night and weekend service from 30- to 20-minute frequencies to better serve off-peak riders. (Weekend ridership is also rebounding faster on BART, just like on the MTA.) The plan will similarly alleviate crowding at rush hour on the Yellow line, but because the proposal is simply reallocating some weekday trips to nights and weekends, this plan to make BART "more useful and relevant" will cost no additional money. "We know that commute ridership is not coming back. We're not going to capture them five days a week," said BART board member Rebecca Saltzman, who pushed for the plan despite opposition from business leaders. These changes, which will go into effect in September, are a good example of how agencies can attract new ridership while improving service for the riders who rely on off-peak transit now, says Amy Thomson, transportation policy and programs manager for TransForm, part of a "Help Transit Survive + Thrive" coalition that's calling for Governor Gavin Newsom to allocate $5.15 billion to the state's transit agencies over five years to avoid further service reductions. "We've always prioritized whiter and wealthier people who worked nine to five and also owned cars and who are now able to stay home," she says. "We want these transformations to focus on the folks who have been riding the longest, who are also the folks who are most likely to ride."
Is boosting off-peak service enough to steer transit away from the fiscal cliff? Transit expenditure expert Alon Levy estimates increasing MTA service to six minutes or less systemwide could increase ridership by 15 percent. But as Levy notes, because those estimated ridership gains would be mostly due to regular riders opting to take more off-peak trips, it's difficult to extrapolate revenue increases from service increases. Washington, D.C., managed to increase off-peak frequency specifically to better serve shift workers starting in September 2021, including on nights and weekends, according to data from TransitCenter, which manages equity dashboards for the largest transit systems in the country. WMATA is in a slightly better place financially, but in ridership terms, D.C.'s recovery still lags, although more changes like a bus system redesign are coming. (Some midsize transit agencies have restored or surpassed pre-pandemic ridership in part due to smaller, bus-heavy fleets that are able to accommodate more responsive changes.) Shorter headways also don't tell the whole story when agencies are confronting the overlapping challenges of running a transit system in an ongoing crisis: operator shortages that result in canceled runs, supply chain-related equipment delays in an era rampant with inflationary costs, or buses that get stuck in car congestion which has rebounded to pre-pandemic levels even as transit ridership has not.
Increasing off-peak service is only the first step towards making traveling without a car a safe and obvious choice in a 24-hour city, says Sarah Kaufman, interim executive director for NYU's Rudin Center for Transportation. "Frequent, reliable service is essential to getting riders back on board," she says. "However, some riders' experiences are also colored by a concern for personal safety — investments in tools like 24/7 station managers, better lighting, and last-mile safety solutions are simultaneously important to reassuring riders." Luckily, the MTA now has other funds on deck. Also in the 2024 budget, Hochul increased the payroll mobility tax paid by employers which is estimated to bring in $1.1 billion for the MTA per year. And congestion pricing — finally approved — will bring in another $1 billion annually, in addition to (hopefully) alleviating traffic as well. Rescuing transit will take more than just a dedicated source of new funding, it will require a more comprehensive approach that finally gives riders the service they deserve to get around, no matter when they want to ride.